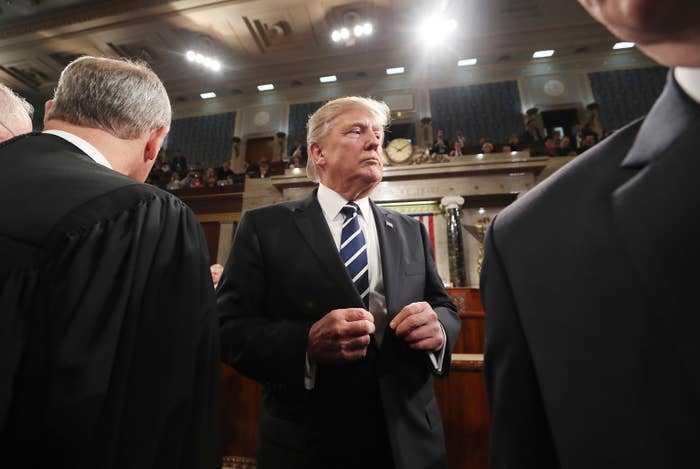 WASHINGTON — In his first address to Congress, President Donald Trump talked about his plan to create an office for the victims of crimes committed by immigrants, and Democrats immediately decried it as a cynical attempt to stoke fear.
Boos could be heard throughout the House chamber on Capitol Hill after Trump declared that he had told the Department of Homeland Security to create an office called VOICE, or Victims Of Immigration Crime Engagement, to give "voice to those who have been ignored by our media, and silenced by special interests." He then spoke about the families of three Americans who had been killed by illegal immigrants, pointing them out in the crowd.
Democratic Sen. Chris Coons said after the speech that he understands Americans' desire to be safe but that the creation of the office, and the president's focus on those killed by immigrants, "continues to inflame passions against immigrants and to highlight a divisive aspect of his focus on immigration."
"Across the entire speech, there were sections where it seemed he was trying to say something positive, and then there would be almost immediately after sections that I thought were taking us in a more divisive or negative direction," Coons said.

"That was to me one of the darker moments of his speech," he added.

Sen. Ben Cardin said Trump's characterization of violence in the US during the speech "was just so biased and one that was aimed at promoting his agenda, which is fear."
"Yes, we all want safety," Cardin said, "but if you look at violence in America, the amount of violence occurring by undocumented individuals is so much smaller than the overall violence."
New York Rep. Eliot Engel called Trump's focus on crimes committed by immigrants "troubling."
"I'm against all kinds of crime, whether it's done by immigrants or whether it's done by anybody," Engel said. "But to talk about immigrants that way sort of implies that all immigrants are crime-committers or crime-ridden; it's sort of a stereotype that he sets up, and I don't like it."
Rep. Ruben Kihuen, an immigrant himself, said Trump is giving the impression that immigrant crime "is a crisis in this country." He said the majority or immigrants "are law-abiding, honest, hard-working, tax-paying residents of this country."
Rep. Marc Veasey, who represents the border state of Texas, said he believes the creation of the office will "cause more issues," and that he'll be contacting Homeland Security for more details on the new office.
"I'm going to be reaching out to the Department of Homeland [Security], to ICE, finding out exactly what their plans are with this office, because I think that's scary," he said.