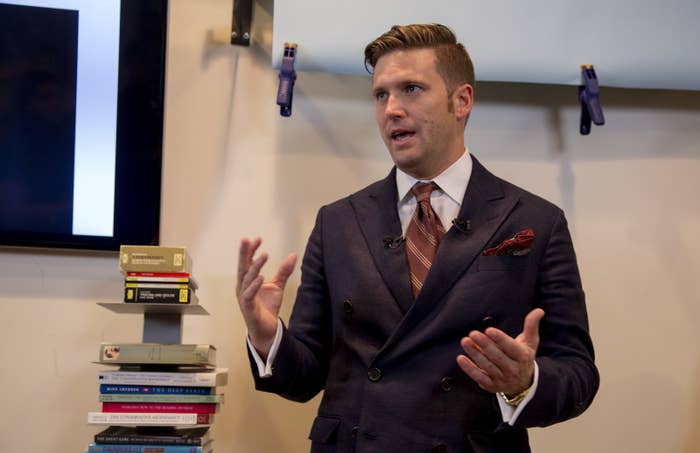 Following violent clashes at a white supremacist rally in Charlottesville, Virginia, over the weekend, white nationalist Richard Spencer tried to hold a private press conference in Washington, DC, on Monday. But two different hotels in DC canceled on him before the events were scheduled to start.

In the end, Spencer, a leader of the alt-right movement, had to hold the press conference in an apartment he calls an office and part-time residence across the river in Alexandria, Virginia.
Spencer, who was in Charlottesville and participated in the rally, has denied that he was one of the organizers of the events there this weekend. He was, however, prominently displayed on flyers advertising the rally.
Spencer declined to join organizers at a press conference in Charlottesville this weekend, but said he would hold one in DC on Monday. He initially planned to hold a press conference at 3 p.m. at the Sofitel Hotel in downtown DC, just a few blocks from the White House. The location was kept secret and only shared with those who submitted a request to attend. "For everyone's safety, please do not share this information with any you do not trust," read the email Spencer sent to approved attendees.
But less than two hours before the event was scheduled to begin, Spencer announced that the location had been leaked and that the Sofitel had canceled the event. "Please stand by for an alternate plan," he wrote.
The next plan was to hold the press conference an hour later at the nearby Willard Hotel, a part of the InterContinental chain. But that, too, was leaked online, and the hotel received a barrage of tweets questioning its decision to host Spencer and his cause. A hotel receptionist, reached by BuzzFeed News shortly after, confirmed that the event had been canceled.
Representatives for the hotels did not respond to requests for comment about whether they had canceled the events due to Spencer's white nationalist views.

Spencer then emailed attendees saying he had "secured a location in Old Town, Alexandria," a charming neighborhood in the Northern Virginia suburbs not far from DC. The email, containing a link to a Google map of an intersection, said: "We have security personnel who will escort you safely to our location."
Two young men, one in a red polo, stood in front of an alley that serves as entry to units in a white-brick apartment building at the intersection. One of the men posted outside held a clipboard and pen, crossing off hand-written names as attendees arrived.
Spencer reportedly moved into an apartment at the intersection, leading neighbors to complain in January. Spencer said Monday that the two-story apartment is his workplace and part-time residence. "I can live here part time, yes. But this is my office," he said.
Up a set of metal stairs, an open door led to a back room lined with shelves of books with titles such as In God's Image and Race Differences in Intelligence. Elsewhere in the apartment, another young man in a polo shirt stood in a well-appointed kitchen. Bottles of water, later handed out to attendees, and a lone box of Chewy bars sat on the counter.
Beyond that, Spencer stood in the living room, speaking to about 20 reporters and camera operators. He was joined at the press conference by Nathan Damigo, the founder of a white supremacist group, Identity Evropa, that also participated in the rally.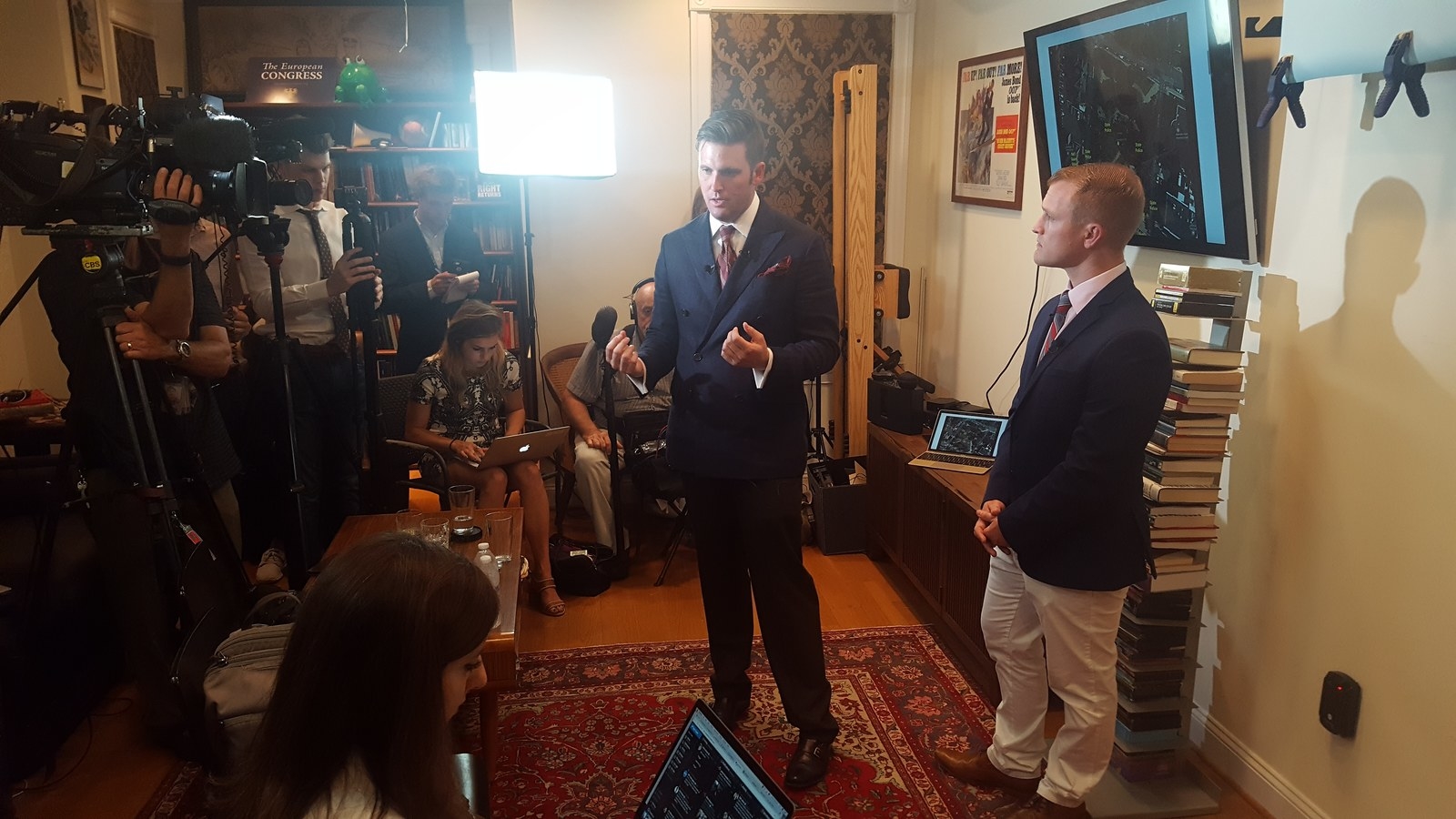 Spencer, wearing a slightly wrinkled, double-breasted navy jacket with a maroon tie and pocket square, attempted to distance himself and his movement from the violence in Charlottesville, saying he "absolutely" does not have blood on his hands. "I absolutely don't want violence," he said, laying much of the blame for the chaos on local police, who he claims failed to control the situation.

Spencer pushed back on police riot shields in Charlottesville, alongside other white nationalists, in a failed attempt to hold their position over the weekend.
Spencer said Monday he had "never heard of" James Fields, the man accused of killing a young woman and injuring nine pedestrians while mowing down anti-racism protesters with his car in Charlottesville, but admitted Fields may have been affiliated with the alt-right. Spencer said he would condemn Fields "if he engaged in that kind of malicious violence intentionally" and would "get rid of anyone that thinks that that's okay," but said he believes "there's a very good chance" that Fields might not be guilty of murder.
Spencer said Fields might have been "extremely scared," citing a video that purports to show Fields' car being hit with a bat before he accelerated into the crowd of protesters killing 32-year-old Heather Heyer. "I'm just going to reserve judgment until more facts come out," he said.
Damigo, for his part, said Fields was not a member of his group.
Spencer also called on President Donald Trump to denounce antifa, a group of anti-fascist protesters, as well as police in Virginia, calling Trump's statement Monday denouncing racism and white nationalists "vapid nonsense."