Cuba Gets Ready To Bury Fidel Castro
"When I'm old, I will say to my grandchild, 'I went there when Fidel died.'"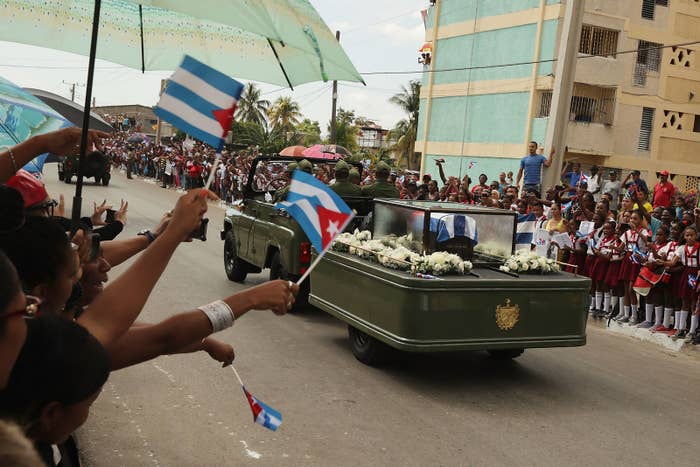 SANTIAGO DE CUBA, CUBA — Marta Jacobs Infante and her young daughter were among many in Santiago de Cuba anxiously awaiting the arrival of a military convoy carrying the ashes of Fidel Castro, their late president, on Saturday morning.
"The death of Fidel is a very significative moment in the life of every Cuban person because he has been part of our history, of our development as a country," said Jacobs Infante, 37, sitting on a rose-patterned couch in her airy, sage green living room. Daniela, 6, sat eating a banana by her mother's side.
"He made a lot of good things for his people," Jacobs Infante said. "I think every one of us has something to be grateful for."
Castro's ashes were scheduled to arrive in Santiago, the southeastern city where Fidel declared his socialist revolution was victorious in 1959, on Saturday afternoon after a days-long journey across the country from Havana, where he died at age 90 last weekend. His funeral is scheduled for Sunday morning following a gathering at Santiago's Antonio Maceo Revolution Square the night before.
Jacobs Infante said she was thankful to Castro for the fact that she was able to go to university for free and have a career as a teacher. Now she rents her home, nestled on a small street in central Santiago, to visitors. This weekend, a French journalist covering Castro's funeral was staying with her.
"We live in a free country," she said. "We don't have violence. Our children can live in our country without being in danger of being killed or kidnapped or anything like that. We are most of all free and we are most of all healthy and educated because of what he did."
Castro implemented a socialist agenda that included greater access to education and health care, but he also clung to power for nearly 50 years, jailing political dissidents and stifling free speech.
Some critics, including Cubans who have fled the country, celebrated his death. Many Cuban-Americans took to the streets in Miami to herald the demise of the man they viewed as a dictator.
"That's politics," Jacobs Infante said. "It's true that maybe there are people that are not agree with the way he made socialism in Cuba."

"I have the freedom to express myself because I don't have the wrong expression, the wrong thoughts about the revolution," she said.
The country has been in an official state of mourning since Castro's death. Freshly painted signs and greetings praising "el Commandante" can be seen along the roads where his ashes will pass. Cuban television has shown near-nonstop coverage of the longtime president's life, death, and voyage to his final resting place.

The constant talk about Fidel, as he's commonly referred to by Cubans, prompted a curious Daniela, who's been asking about who he was and what's happening, to write him a letter on Friday, her mother said.
"Fidel, I love you with all my heart," the letter read in Spanish. "Fidel, you are our commander in chief."
Jacobs Infante said she and her neighbors would be going to watch the caravan pass through the city's winding narrow roads. Daniela wore a red and black armband with "26 Julio" written on it, a reference to the day the Cuban revolution is said to have begun.
"This is a historic moment," Jacobs Infante said, smiling. "This is a moment that won't be repeated in our history in a long time. So when I'm old, I will say to my grandchild, 'I went there when Fidel died.'"