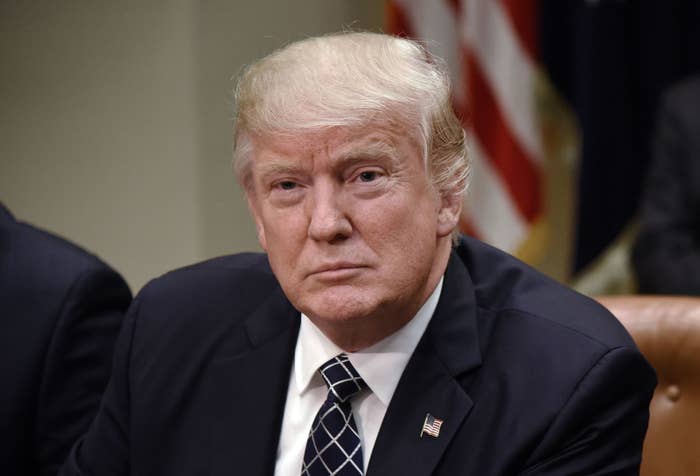 President Donald Trump asked Congress to give the administration $3 billion to start constructing a wall along the US–Mexico border. On Tuesday, Republicans said they won't provide it — at least not in a funding bill to avoid a government shutdown this week.
A Democratic aide confirmed to BuzzFeed News that Republican leadership presented Democrats with a spending plan that doesn't include funding for the wall, stalling progress on one of Trump's biggest and most controversial campaign promises. Republican lawmakers hope that the exclusion of wall funding will help win over enough Democratic votes to keep the government from shutting down at midnight on Friday.
"I think it was just kind of a recognition that it was going to be very hard to get votes to move this bill forward," Sen. John Thune, the number three in the Senate GOP leadership, said of the decision to leave out wall funding this time around.
The proposed plan does, however, contain funding to increase border security, the Washington Post reported.
Democrats have long said that they will not support a funding package that includes money for a wall along the entire southern border. "If they insist on the wall, they're insisting on the government shutdown," Senate Minority Leader Chuck Schumer said Monday night. Schumer added on Tuesday that Democrats could support other forms of border security, however.
Some Republicans were also wary of funding the border wall this week, citing concerns about its cost and effectiveness. "I don't know anybody that thinks that's possible," Sen. John McCain said of building an actual 2,200-mile wall. The Arizona senator said Tuesday that a better option might be fencing monitored by drones.
The Trump administration insisted as recently as last week that Congress include border wall funding in the package. But on Monday night, Trump reportedly told a group of journalists from conservative outlets gathered at the White House that he could be satisfied, for now, with funding for other border security measures. And on Tuesday morning, Trump adviser Kellyanne Conway told Fox News that funding for the wall remained a priority, but could happen later this year. (Congress needs to pass another government funding bill in September.)
"If that's so, I think he's facing reality," Republican Sen. Orrin Hatch said of the reports that Trump would hold off. "It doesn't mean that he can't have some form of a wall. There's different forms that he can use," Hatch said.
The administration has repeatedly said that regardless of what happens with the spending bill, it remains committed to building the wall.
Republicans — who now control both chambers of Congress and the White House — are under pressure to work with Democrats to avoid a shutdown on their watch. GOP Sen. Richard Shelby said Monday it would be "insane" to allow a shutdown to happen and that the question of border wall funding would hinge on whether it was "doable."

Once a shutdown is averted, Republicans and the White House could use the additional time to negotiate.
"As far as the wall goes, I'd like to see a proposal about what it looks like, and I think we need to have a discussion about the various different types of ways you secure the border, whether it's surveillance or a physical wall," Sen. Lamar Alexander said Tuesday. "We need to have hearing in the appropriations committee about that, then we need to decide how much it costs."
Still, the White House spent much of Tuesday attempting to deflect claims that one of the president's most discussed campaign promises has been shelved or delayed.

"No, no, no, no. I never — no one said 'delayed,'" White House press secretary Sean Spicer said during his Tuesday press briefing. "Right now, we're going to end [fiscal year 2017] this week. We're hoping to continue to get funding in that, as the president laid out, for both border security and Homeland Security and national defense, as we've always maintained."
Spicer said the White House would "continue to seek funding" in the 2018 spending bill and beyond "to make sure that the [wall] is completed," but that "there's plenty of planning that can be done" before then.
Trump himself dodged a question from the press pool Tuesday about whether he would sign a funding bill that doesn't include money for the wall. "The wall's going to get built, folks," he said. "And the wall is going to stop drugs and it's going to stop a lot of people from coming in that shouldn't be here and it's going to have a huge effect on human trafficking."
Asked about a construction timeline, Trump would only say the wall will be built "soon," adding that preparations are underway.
Trump signed an executive order in January on constructing the border wall. Since then, US Customs and Border Patrol has begun the solicitation process for plans and prototypes.
But Sen. Lindsey Graham argued on Monday that the border wall has actually "become symbolic" and "a code word" for increased border security, and that Congress likely wouldn't ever fund an actual wall across the entire southern border.
"There will never be a 2,200-mile wall built, period," Graham said. "I think he probably is well aware that we're not going to build a 2,200-mile wall, but he's right to insist on more border security."
Outside Your Bubble is a BuzzFeed News effort to bring you a diversity of thought and opinion from around the internet. If you don't see your viewpoint represented, contact the curator at bubble@buzzfeed.com. Click here for more on Outside Your Bubble.