Congress Scrambles To Pass Funding For Flint Before Leaving For The Year
It's been nearly a year since the White House declared a federal emergency over water contamination in Flint, Michigan. Now, a fight over drought relief in California is putting funding for the city in danger.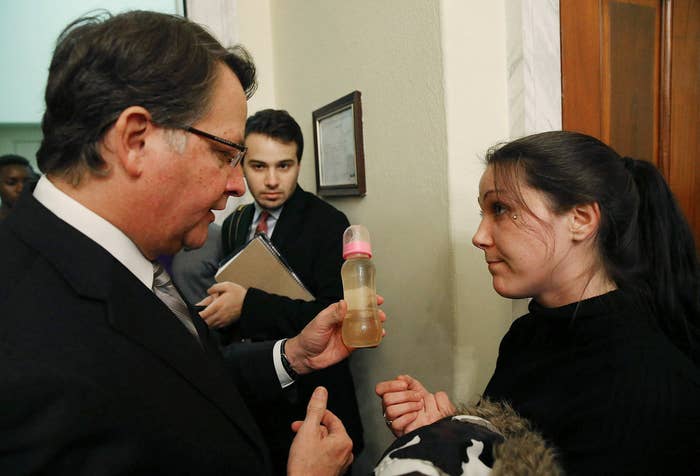 Lawmakers are scrambling to pass legislation to provide funding to address the Flint water crisis — nearly a year after the White House declared it a federal emergency — before members of Congress break for the year.
But the push to secure funding for Flint and other water-related issues over the next week could face a challenge from California Sen. Barbara Boxer who has vowed to do whatever she can to block one of the bills, claiming it was burdened at the last minute with an "outrageous poison pill" that is unrelated to Flint.
Two pieces of legislation — a stopgap funding bill and a water infrastructure bill — that are on the House's schedule for this week would provide $170 million to address lead contamination in Flint's water.
The Water Resources Development Act (WRDA), filed in the House on Monday, authorizes the funding, while the continuing resolution filed Tuesday night actually appropriates it.
"This is bipartisan legislation that will strengthen our nation's infrastructure and commerce while investing in the safety and reliability of our drinking water — and, as colleagues know, it includes aid for families in Flint," Senate Majority Leader Mitch McConnell said Tuesday.
But Boxer has promised to do everything she can to block the WRDA because of language added this week that addresses droughts in California. The outgoing California senator accused House Majority Leader Kevin McCarthy of jeopardizing "a very bipartisan WRDA jobs bill" with a provision that she argues bypasses important environmental protections.
"This bill won't go anywhere in the Senate if I have anything to do with it," Boxer said in a statement, "because it will result in the loss of thousands of fishery jobs, it will roll back the Endangered Species Act which was signed by President Nixon, and it will also take away power from Congress to approve new dams all over the country."

Boxer cannot single-handedly prevent the Senate from passing the WRDA, as Senate Majority Whip John Cornyn, who supports the bill, pointed out this week. Sixty senators will need to agree to move forward on the bill, while just 51 will be needed to actually pass it.
But Boxer alone can hold up the vote for a few days under Senate rules by refusing to give unanimous consent to send it to a vote. That would keep members who are eager to head home in their districts in Washington for a few extra days, and potentially force late-night votes, with hopes of getting members to listen to her concerns.
Should the WRDA bill go down, members of Congress could put funding for Flint and an authorization into the stopgap spending bill instead.
Michigan Sen. Gary Peters, a Democrat, said in a statement that he was also troubled by the "last-minute, controversial drought provision," but that he's staying "focused on holding Republicans to their commitment to complete a Flint aid package before Congress adjourns — even if that means using the end of year spending bill as a vehicle."
The water crisis in the Michigan city of about 100,000 people — many living in poverty — began in 2014, when local government decided to switch Flint's water intake from the Detroit River to the Flint River to save money. The water, which was not treated properly by the cash-strapped city, eventually caused the pipes to corrode, which led to high levels of lead contamination. The water contamination made people sick and has been linked to an outbreak of Legionnaire's disease.
Michigan Gov. Rick Snyder declared the situation in Flint an emergency in early January 2016. President Barack Obama declared it a federal emergency not long after.
The House's funding bill includes money to repair water infrastructure, collect more data on lead contamination, and help to screen children for possible lead poisoning.

When asked about opposition to the California drought language in the WRDA, McCarthy's office said that it's a bipartisan bill. Indeed, Democratic Sen. Dianne Feinstein has broken with her California colleague in supporting the drought language.
"After three years and dozens of versions of legislation, I think this is the best we can do," Feinstein said in a statement. "If we don't move now, we run the real risk of legislation that opens up the Endangered Species Act in the future, when Congress will again be under Republican control, this time backed by a Trump administration."
The push to secure funding for Flint this week comes after lawmakers averted a government shutdown in September by agreeing to include the funding in the WRDA, which would be finalized and passed later in the year.
McCarthy's office said the House will vote on the WRDA on Thursday, but did not say when the continuing resolution would be put to a vote. Then it will be up to the Senate to vote on both pieces of legislation before leaving for the year.
Congress is running out of time to pass funding legislation for Flint before the new session begins next year. Lawmakers must pass a new stopgap funding bill by Friday, when the previous one expires, and are expected to leave for the holidays once they do so. Members could pass a short-term bill to extend the funding deadline into next week, but are not expected to stay long after.