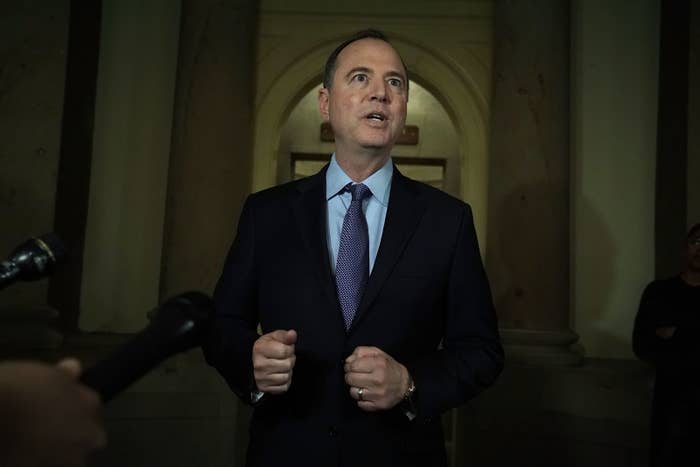 The House Intelligence Committee will investigate the revelation that President Donald Trump ordered his longtime personal attorney to lie to Congress about a potentially lucrative real estate project in Moscow.
On Thursday, BuzzFeed News reported that in 2017, Trump directed Michael Cohen to lie to Congress about when negotiations to build a Trump Tower in the Russian capital ended and to obscure then-candidate Trump's involvement in the discussions surrounding the project.
"The allegation that the President of the United States may have suborned perjury before our committee in an effort to curtail the investigation and cover up his business dealings with Russia is among the most serious to date," committee chair Adam Schiff said in a statement Thursday evening. "We will do what's necessary to find out if it's true."
On Friday, Schiff issued another statement saying the allegations against Trump "may prove unfounded, but, if true, they would constitute both the subornation of perjury as well as obstruction of justice." Schiff also said the committee "is already working to secure additional witness testimony and documents related to the Trump Tower Moscow deal and other investigative matters."
"As a counterintelligence concern of the greatest magnitude, and given that these alleged efforts were intended to interfere with our investigation, our Committee is determined to get to the bottom of this and follow the evidence wherever it may lead," Schiff concluded.
Cohen has pleaded guilty to lying to House and Senate intelligence committees about the Trump Moscow deal, and Schiff has already said his committee would like to re-interview him when Democrats reopen the committee's shuttered Russia probe. Cohen misled lawmakers to "minimize links between the Moscow Project and Individual 1," a person believed to be Trump, "in hopes of limiting the ongoing Russia investigations," according to special counsel Robert Mueller.
Other Democrats on the House Intelligence Committee agreed that the new revelation about Trump's involvement in the Moscow project and Cohen's testimony should be investigated as part of the panel's reinvigorated Russia inquiry. Democrats, who won control of the House and its committees in November, plan to restart the probe in the weeks ahead after Republicans shuttered it last year.
"As a member of the House Intelligence Committee, I believe Congress should immediately investigate Michael Cohen's claim, based on this reporting, that the President directed him to lie to Congress during its Russia investigation," Rep. Joaquin Castro of Texas told BuzzFeed News. "Such an instruction would amount to obstruction of justice."

Another Democrat on the committee, Rep. Eric Swalwell of California, said he views Trump's actions "as powerful evidence of collusion." Speaking with MSNBC Thursday night, Swalwell said, "I say that because it is a consciousness of guilt. He is asking Michael Cohen to lie because the truth would expose what was going on with the Russians early on in the candidacy."

Asked whether the committee will be investigating the revelation, Swalwell told BuzzFeed News: "Oh yes. It will be."
Democratic Rep. Sean Patrick Maloney, a new member of the Intelligence Committee, tweeted Friday that the panel should not "ignore credible allegations that the President may have suborned perjury before the Committee."
"We must learn the truth and defend the rule of law," Maloney said.

The Intelligence Committee will be joined in its efforts to examine Trump's actions by the House Judiciary Committee, chairman Jerry Nadler confirmed Friday. "We know that the President has engaged in a long pattern of obstruction," Nadler, a Democrat from New York, tweeted. "Directing a subordinate to lie to Congress is a federal crime. The @HouseJudiciary Committee's job is to get to the bottom of it, and we will do that work."

BuzzFeed News has also reported that as part of the Trump Moscow negotiations, the Trump Organization planned to offer Russian President Vladimir Putin a $50-million penthouse as a gift. Democrats on the House Intelligence Committee have vowed to investigate that plan as well.

Cohen is set to testify before the House Oversight and Reform Committee in a public hearing on Feb. 7.