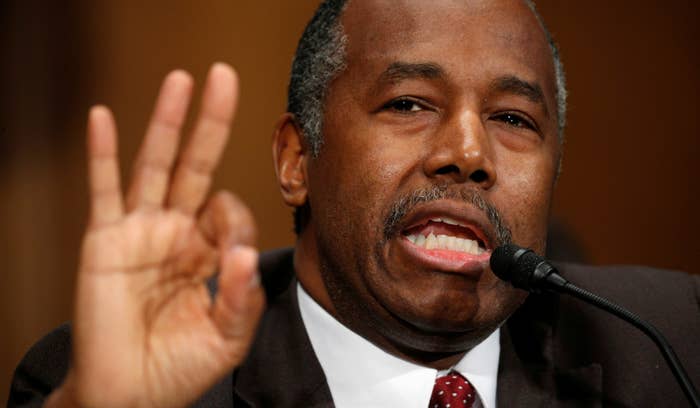 WASHINGTON — Senate Democrats grilled Dr. Ben Carson over potential conflicts of interest between the Department of Housing and Urban Development, the agency he has been nominated to oversee, and president-elect Donald Trump's business holdings, in a Thursday hearing.

While the retired neurosurgeon, who ran against Trump for the Republican presidential nomination in 2016, initially said he would not abandon programs that helped many Americans merely because they benefitted Trump, Carson later vowed to inform the Senate of any potential conflicts.
Early in the hearing, Sen. Elizabeth Warren pointedly questioned Carson to promise that if he is confirmed, no taxpayer money would benefit Trump or his family.

"It will not be my intention to do anything to benefit any American," Carson said. "It's for all Americans."
"If there happens to be an extraordinarily good program that's working for millions of people and it turns out that someone that you're targeting is going to gain $10 from it, am I going to say 'No! The rest of Americans can't have it'?" Carson asked. "I think logic and common sense probably would be the best way."
Warren, unsatisfied with Carson's response, said Trump's plan doesn't make public his business interests, "which means he can divert taxpayer money into his own pockets without anyone knowing."
"This just highlights the absurdity and the danger of the president-elect's refusal to put his assets in a true blind trust," Warren said.
Trump — a longtime housing development mogul — announced on Wednesday that he would not be placing his company in a blind trust. The head of the Office of Government Ethics criticized the move, saying it doesn't meet the standard set by four decades of past presidents.
Sen. Sherrod Brown — the ranking Democrat on the Banking, Housing, and Urban Affairs Committee — said Trump's refusal to place his investments in a blind trust "creates particular problems" for the housing department. Brown said Trump has invested in "at least one subsidized housing project" called Starrett City, located in Brooklyn, New York.
"I don't see how HUD could avoid the appearance of a conflict should any issue arise in this property, do you?" Brown asked.

"What I would hope would happen with this committee is that we could come up with a suggestion that might be acceptable to all sides," Carson replied.
Brown asked Carson to "report back on any issue that should arise at a property owned by Mr. Trump or his family." Carson agreed, telling senators that he would be "more than delighted to discuss" a plan to alert them anytime his work intersects with a Trump-owned public housing property.
As part of that plan, Carson would also report to the committee should anyone at the Trump Organization or the White House contact him or anyone else at the Department of Housing and Development outside of regular communications as well.
After the hearing, Brown told reporters he was satisfied with Carson's response and was considering supporting him.
Though Carson faced some sharp questions from Democrats, senators from both parties praised the Detroit native for his successful career as a neurosurgeon following a challenging childhood.
During his introductory remarks, Carson said he was mostly raised by a single mother who had difficulty finding housing and a job after she and his father divorced.
Some, such as Democratic Sen. Heidi Heitkamp, said Carson's personal story made up for his lack of experience in housing issues, as it meant he better understood the issues the housing department faces.
Republican Sens. Tim Scott and Mike Rounds announced that they would support Carson's nomination shortly after the hearing.
Carson also had the support of Apprentice star Omarosa Manigault, who Trump recently hired to work with him in the White House and attended the confirmation hearing.