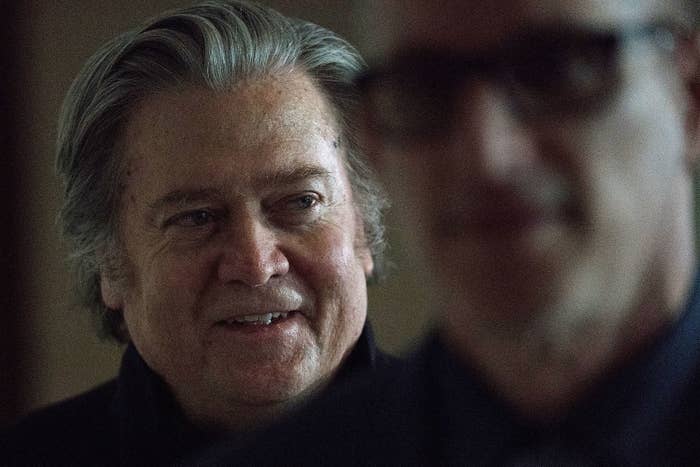 Congress appears increasingly likely to vote to hold former top White House strategist Steve Bannon in contempt after he once again refused to answer questions during an interview with the House Intelligence Committee as part of the Russia investigation.
Members of the committee from both parties left a three-hour interview with Bannon on Thursday expressing frustration that he had refused to answer queries beyond a set of 25 questions that had been scripted and preapproved by the White House. Bannon refused to answer all other questions by claiming he was invoking executive privilege on behalf of President Donald Trump.
"He would not go beyond those questions in any of his answers, and that's frustrating to those of us on the committee, so we have further steps to take and we'll be taking those," Texas Rep. Mike Conaway, the Republican who has led the committee's Russia investigation since Chair Devin Nunes stepped aside, told reporters after the interview.
"I think the next step for the Congress to take is to initiate contempt proceedings," said California Rep. Adam Schiff, the top Democrat on the committee.
The committee, in a rare show of bipartisanship, subpoenaed Bannon on the spot during a voluntary interview last month after he refused to answer many of the panel's questions. Members pledged afterward to have Bannon return to Capitol Hill to finish answering their questions, and after rescheduling several times, finally did Thursday morning.
Bannon — who was ousted from the White House last summer — has also been subpoenaed by special counsel Robert Mueller as part of the criminal investigation into potential collusion between Russia and the Trump campaign. Bannon was reportedly planning to be more cooperative with Mueller, and NBC reported Thursday that Bannon spoke with Mueller several times this week.
Bannon's testimony before the House Intelligence Committee was highly anticipated in January after the publication of Fire and Fury: Inside the Trump White House by Michael Wolff, which quoted Bannon as saying a June 2016 meeting that members of the Trump campaign held with a Russian lawyer was "treasonous." Bannon eventually tried to dial back his comments, but Trump quickly turned on "Sloppy Steve," and far-right publication Breitbart News parted ways with Bannon.
Conaway didn't detail what questions Bannon declined to answer Thursday, saying only that they were questions Bannon also hadn't answered in the last interview. "They covered from the election forward," he said.
Conaway said the committee will now consider next steps to get the answers they need from Bannon. "Contempt is a big deal, and I don't have unilateral control over that conversation," he said, adding that he'll be in conversation with House Speaker Paul Ryan and lawyers to decide the path forward.
Though convictions are rare, Contempt of Congress is a federal misdemeanor that can lead to up to one year in jail and a fine.

"I'm not a lawyer — so privileges were invoked, we have to have some discussion as to whether or not those are appropriate and would in effect shield him from having to answer our questions, and that's an ongoing conversation we'll have among an awful lot of lawyers," Conaway said.
Asked if he personally felt Bannon should be held in contempt, Conaway said, "I think he should answer our questions."
Schiff — who is a lawyer and former prosecutor — said "the breadth" of Bannon's executive privilege claim "is breathtaking and insupportable, and indeed at times it was laughable."
"Mr. Bannon not only refused to answer questions about meetings he had attended and conversations he had had during that entire period of time after the campaign, but it went so far to refuse to answer questions about conversations he had after he left the administration and with people who played no role in the administration," Schiff said.
Executive privilege allows sitting presidents to keep some information about their discussions and deliberations out of the public sphere.
"There is no plausible claim of privilege that could apply to those circumstances," Schiff said.
Schiff also argued that the questions preapproved by the White House were "self-serving" and designed "to mislead the committee."
"There were questions along the lines of, 'Did you ever meet with X?" Schiff said, adding that the answer was no. "When we asked the question, 'Did you talk with X', the answer was 'yes'; when we asked, 'What did they discuss?', there was the invocation of privilege."
"That's not how privilege works, that's how stonewalling works," Schiff later said.
Schiff said the committee gave Bannon the chance, under House rules, "to provide any basis he felt for why he should not be held in contempt...and Mr. Bannon did not avail himself of that opportunity. So I think there is only one course that is open to us, and that is the course of seeking contempt."
Asked earlier in the day whether he would be satisfied if Bannon declined to answer questions, or only provided yes or no answers, Republican Rep. Trey Gowdy replied, "What do you think?"
After the interview, Democratic Rep. Mike Quigley said Bannon answered Republicans' questions "no better than" his own.

"We'll see," he said when asked what should happen next. "I think it should be contempt, but we'll see."
Schiff said there is "broad agreement" among Republican and Democratic members of the committee — which has in recent weeks been the epicenter of partisan sniping over the Russia investigation — that Bannon's "breathtakingly broad implication of privilege is insupportable."
"He's done the impossible; he's brought our committee together," Schiff said.