As Castro Is Laid To Rest, Cubans Reveal Fears Of His Government
"No freedom for speaking up," said one Cuban, who was only willing to speak anonymously for fear of being jailed. "People of the government is not good."
SANTIAGO DE CUBA, Cuba — On the day Fidel Castro was interred, some Cubans privately expressed fear and disquiet toward the former Cuban leader's communist government, long seen as corrupt and repressive by those outside the country.

Three men, speaking on condition of anonymity for fear of being jailed or abused by the authorities, told BuzzFeed News how they and many other Cubans are afraid to publicly criticize the government for the country's many problems, including a lack of good-paying jobs.
"Here in Cuba, the police is crazy," said one man who gives unauthorized tours in Santiago to make a living. "Security is good, but it limits my communication about [the] situation."
Like many other Cubans, the man — a musician who loves hip-hop artists such as the Wu-Tang Clan, Cypress Hill, and R. Kelly and wants to one day be allowed to travel to America to see them play — said he appreciates the free health care and education Castro's socialist revolution provided.
But if he were to speak about the reality of Cuba's current situation, including the lack of free speech, he would face problems, he said. "And my family, too."
"Maybe go to prison 10, 20 years," he said.
Another Santiago man, in his early forties, who also works on the streets said he wants democracy for Cuba — and even said some Cubans think US President-elect Donald Trump might be the person to make that happen.
"Maybe he change the system for Cuba," the man said, leaning against a white wall in one of Santiago's central squares. "Maybe he open, maybe he bring the freedom for people of Cuba."
The man, who speaks Spanish, English, and some French, said he prefers to work on the street offering tours and selling Wi-Fi access cards because in one day he can make 20 CUC, or just as much as a Cuban working for the government might make in a month.
"We need more opportunity," he said. "Free life, open life."
He points to the protest work done by Cuba's opposition group Unpacu. On Sunday, the group posted a video on YouTube showing Cubans speaking out against Castro.
"They are scared but they are fighting," he said of those in the video.
Earlier on Sunday, Castro's ashes were buried during a private, secretive funeral ceremony in Santiago's Santa Ifigenia cemetery.

Despite the 7 a.m. hour, rows of people gathered along the streets outside the cemetery, where Castro's ashes were interred alongside the remains of other past Cuban figures, such as war-of-independence hero José Martí.
Three lines of people blocked the public and press from entering the road leading to the cemetery: a group of young people holding posters of Castro and wearing "¡Ordene!" T-shirts, a thin row of military members in green, and a final, larger wall of people working security in plain clothes.
An hour after Castro's ashes rode by in a military caravan, a few hundred people remained in front of the human barrier in the hot morning sun, chanting popular rallying cries such as "Viva Fidel!" and the occasional "Viva Raúl!" — praise of Fidel's brother, who now leads the country.
Among the crowds, tourists and members of the foreign media snapped photos and recorded small circles of Cubans as they sang their love for the late president.
Those outside the cemetery were unsure who attended the funeral or what happened inside.
"It's a secret. I don't know," said 29-year-old Santiago native Jorge Duharte, a former cook who arrived at around 8 a.m. to see if he could get into the cemetery after the funeral to get a glimpse of Castro's resting place.
"I loved him a lot," Duharte said. "He was a good man."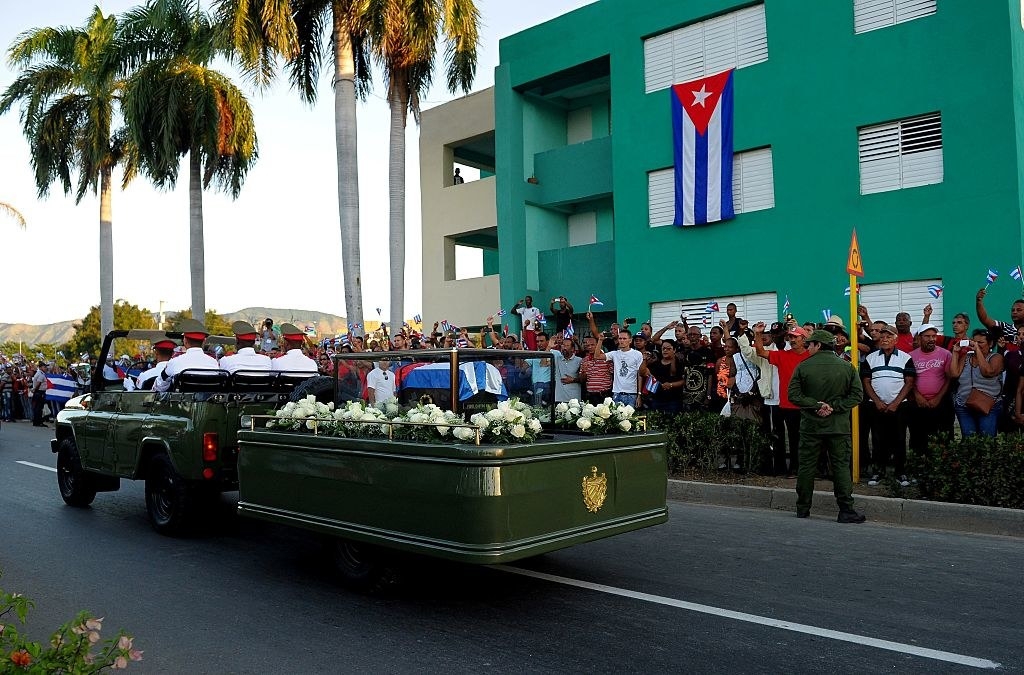 Since Castro's death last weekend, Cuba has been in an official state of mourning. His ashes were escorted across the country from Havana to Santiago, where his socialist revolution began in the 1950s.

Love for Castro — who remained in power for nearly 50 years — is not widespread outside Cuba, though. Many called him a dictator who disregarded human rights and caused the Cuban people to suffer. Cuban-Americans took to the streets in Miami after news first broke of his death, celebrating the end of a man they long despised.
The area surrounding the Santa Ifigenia cemetery had seemingly been groomed in anticipation of the expected crowds. Along the road, new-looking color signs with messages like "Por Siempre Fidel" (Forever Fidel) had been installed. Nearby apartment buildings boasted fresh coats of pastel green and pink paint, and a stretch of land next to the cemetery had been cleared and landscaped with young trees and a cement path. A university professor who drives a taxi at night confirmed there were homes there before that were demolished during the beautification process. Those who lived there were moved, he said.
The man, who only makes about 30 CUC per month and has to drive a taxi at night as a result, said he only speaks his mind occasionally in private.
"No freedom for speaking up," he said, adding that he has a friend who works in the tourism industry who is closely monitored by authorities for critical speech.
"People of the government is not good," he said. "It's bad persons."
But, he added, restrictions and state control have relaxed under the rule of Raúl Castro.
Sunday's display was tiny in comparison to an organized mass rally for Castro on Saturday night in Santiago's Antonio Maceo Revolution square. More than 20,000 people carrying Cuban flags and enlarged photos of Castro assembled to hear government officials and Raúl Castro speak about "el Comandante."
Foreign leaders including Venezuela's Nicolás Maduro and Zimbabwe's Robert Mugabe also attended the celebration, and on Sunday dignitaries watched as the sitting Cuban president interred his brother's ashes with one final salute.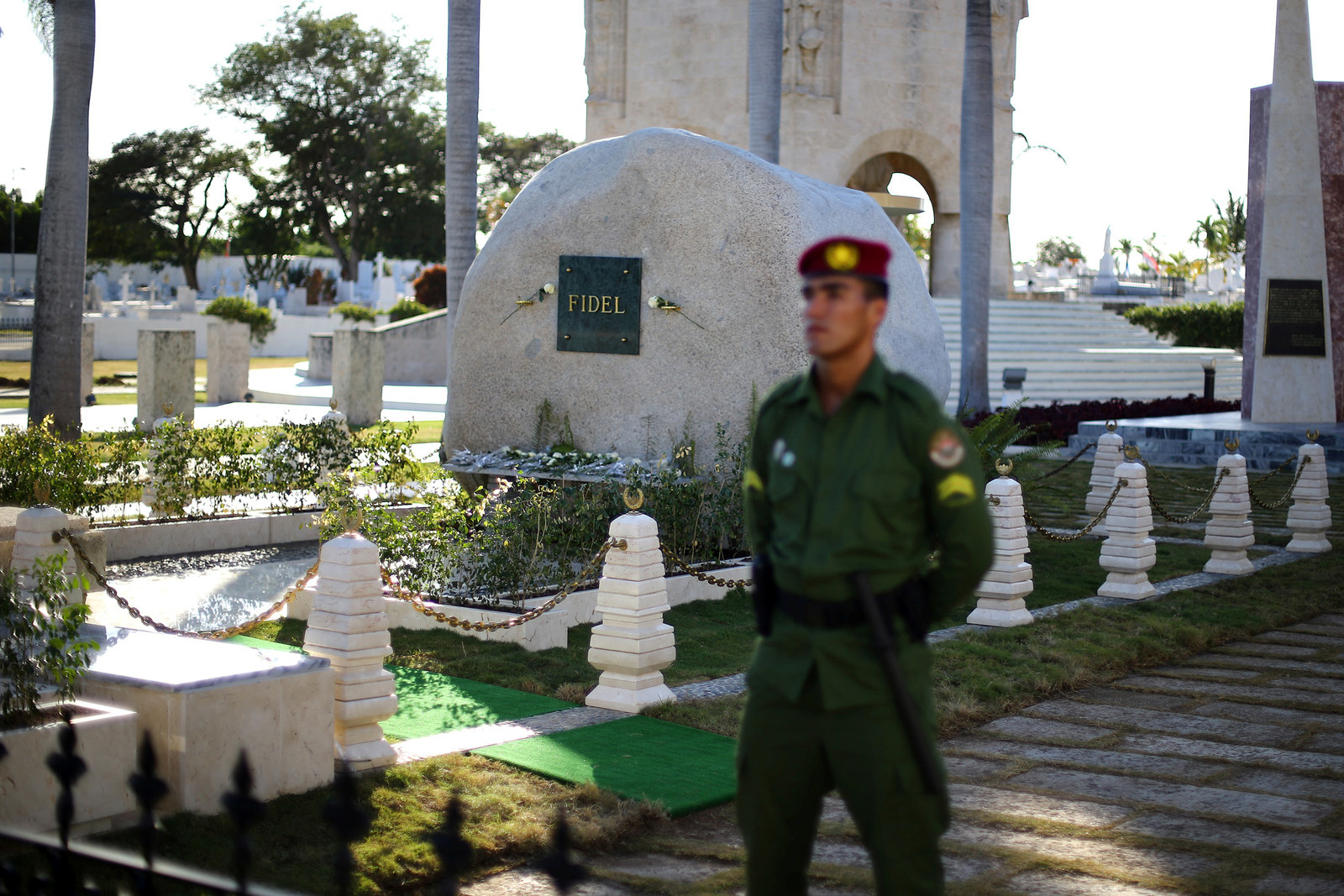 By the time the road to the cemetery reopened, only about 100 people, many of them foreigners, remained and walked toward Castro's resting place. The crowd was again blocked by security once beyond the cemetery's white gates, but a small group of people could be seen surrounding a large rock with a simple plaque on its face inscribed with one word: Fidel.

Meanwhile, life in Santiago appeared to go on.
On the nearby Paseo de Martí, a busy road that cuts east to west through the city, Cubans shot by on motorcycles as the smell of exhaust saturated the hot air. A vendor sold candles and fresh flowers, and men gathered on park benches under trees to chat.
Castro had been buried only a few hours, yet much seemed the same in the city where his revolution began decades ago.