The Justice Department Watchdog Says Former Top FBI Official Andrew McCabe Misled Investigators
"He LIED! LIED! LIED!" President Trump tweeted Friday afternoon.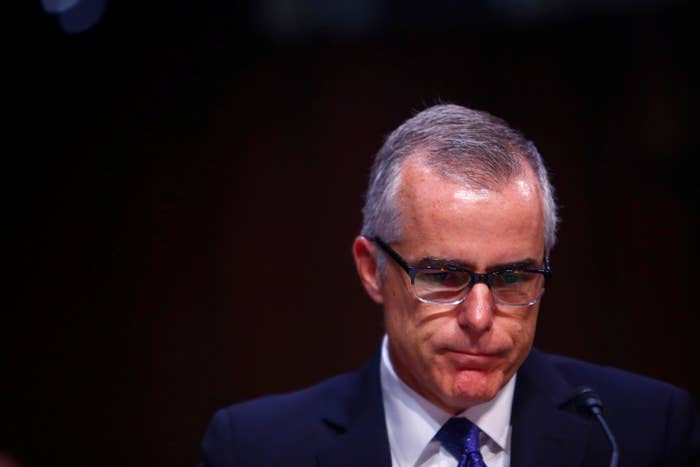 The Department of Justice watchdog Friday sent a report to Congress that led to the firing of a former top FBI official who has been the target of President Donald Trump's ire in recent months.
The 35-page report from the Justice Department's Inspector General states that former deputy FBI director Andrew McCabe authorized a leak to the Wall Street Journal about the bureau's investigation into the Clinton Foundation "in a manner designed to advance his personal interests at the expense of Department leadership." Moreover, the report says McCabe broke bureau rules when he "lacked candor" on several occasions, including to then–FBI director James Comey, while talking to internal investigators who were probing the leak.
Inspector General Michael Horowitz's report, finalized in February but sent to Congress on Friday, also states that McCabe was not authorized to publicly confirm the existence of the Clinton Foundation investigation in the October 2016 Wall Street Journal article because it did not serve the public interest. McCabe's anonymous disclosure, the report concludes, "violated the FBI's and the Department's media policy and constituted misconduct."
On Friday, Trump — who has publicly lambasted McCabe for both his role in the Clinton probe and the FBI's Russia investigation — called the report a "total disaster" and accused McCabe of being "totally controlled" by former FBI director James Comey, whom Trump fired in May. "No collusion, all made up by this den of thieves and lowlifes!"
McCabe's lawyer, Michael R. Bromwich, responded to Trump's tweet Friday, saying that the former FBI deputy is "actively considering" filing a defamation lawsuit against the president and others.
"We have for some time been actively considering filing civil lawsuits against the President and senior members of the Administration that would allege wrongful termination, defamation, Constitutional violations and more," Bromwich said in a statement later Friday. "The distinguished Boies Schiller law firm has recently joined us in this project. This is just the beginning."
McCabe has already set up a crowdfunding site for his legal defense and "any potential lawsuits he might consider."

In an earlier statement Friday, Bromwich called McCabe's firing rushed, "unprecedented, unseemly, and cruel," adding, "Separate and apart from our profound concerns about the process, we believe the OIG report utterly failed to support the decision to terminate Mr. McCabe."
Bromwich said some of the claims about McCabe's lack of candor "are more properly understood as the result of misunderstanding, miscommunication, and honest failures of recollection based on the swirl of events around him, statements which he subsequently corrected." Bromwich blamed the other instance of lacking candor, related to a conversation between McCabe and Comey, on Comey's "admittedly vague and uncertain recollection of those discussions."
Rep. Bob Goodlatte, the chair of the House Judiciary Committee, said in a statement Friday that the IG's report, however, made "clear that the decision to fire former FBI Deputy Director Andrew McCabe was the correct one."
"According to the Inspector General report, Mr. McCabe repeatedly lied under oath about the disclosure of information to a reporter. In doing so, he not only violated FBI policy, but he may have committed a federal crime," Goodlatte said.
The report is also likely to prompt a sharp rebuke of McCabe and the FBI from House Republicans who have attempted to discredit the bureau's leadership as special counsel Robert Mueller's investigation into potential collusion between the Trump campaign and Russia has gained steam.
"President Trump will no doubt gloat about these findings and misuse them in his ongoing disinformation campaign," Rep. Jerrold Nadler, the ranking member of the House Judiciary Committee, said in a statement Friday. "House Republicans will almost certainly try to use this report to fuel their efforts to distract from the abuses of power by this Administration and to undermine the Department of Justice. Together, they will do everything in their power to lay the groundwork for attacking our judicial system and to prevent the Special Counsel from completing his investigation."
The report comes just days before ABC will air the first TV interview with Comey since he was fired last spring. McCabe took over as acting FBI director after Comey's ouster.
California Sen. Dianne Feinstein, the top Democrat on the Senate Judiciary Committee, acknowledged McCabe's "'lack of candor' about his contacts with the media," but said that he was defending "himself, his wife and the FBI against false press reports."
"I can't disregard his actions, but I'm disappointed the context wasn't given more weight," Feinstein said. "The rush to fire McCabe late on a Friday night, just hours before he was to retire, casts a tremendous shadow over the integrity of this process. There's really no way to look at McCabe's firing other than overtly political."
Attorney General Jeff Sessions — citing, in part, the inspector general's report — fired McCabe in March, two days before he was set to retire with a full pension.
"I am being singled out and treated this way because of the role I played, the actions I took, and the events I witnessed in the aftermath of the firing of James Comey," McCabe said in a statement at the time of his firing. "This attack on my credibility is one part of a larger effort not just to slander me personally, but to taint the FBI, law enforcement, and intelligence professionals more generally. It is part of this Administration's ongoing war on the FBI and the efforts of the Special Counsel investigation, which continue to this day. Their persistence in this campaign only highlights the importance of the Special Counsel's work."
UPDATE
This story was updated with a new statement from McCabe's lawyer.
Emma Loop is a political reporter for BuzzFeed News and is based in Washington, DC. PGP fingerprint: BB2A EF65 4444 A4AC 6F30 760B 9C22 13B3 0938 1A00.

Contact Emma Loop at emma.loop@buzzfeed.com.

Got a confidential tip? Submit it here.