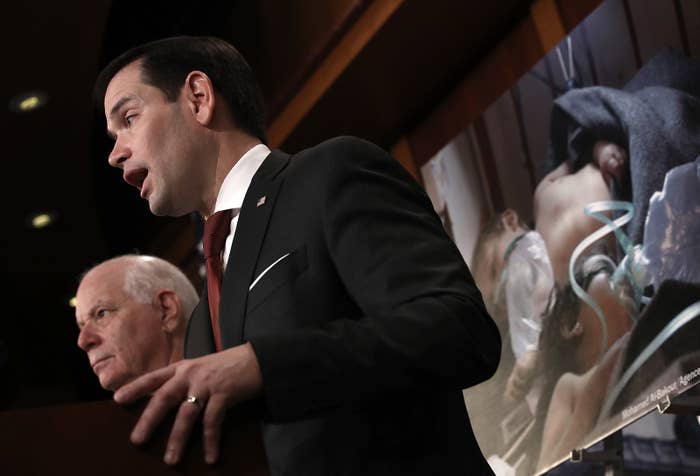 WASHINGTON — Senators from both parties say President Donald Trump had the necessary legal authority to launch a one-time military strike against a Syrian airfield Thursday night and won't hold a debate over a new war authorization.
"He's the commander in chief and he has the right to act expeditiously to address a threat," Sen. Marco Rubio said on Friday. "He has the right to defend us every single time."

Lawmakers have argued the current US operation against ISIS in Syria and Iraq is covered under the Authorization for Use of Military Force passed after the 9/11 attacks. Thursday night's missile strike, however, targeted the Syrian government of Bashar al-Assad — whose air force is believed to have dropped chemical weapons on civilians earlier this week — raising the question of whether Trump should seek a new authorization.
But both Democratic and Republican senators said Trump had the authority to launch the attack through his constitutional role as commander in chief.
"There's no point in an AUMF today," said Sen. Bob Corker, chair of the Foreign Relations Committee, which would handle a new war authorization. "He acted under the existing authorities that he has as commander-in-chief under Article II."
Sen. Ben Cardin, Corker's Democratic counterpart on the committee, agreed. "I don't challenge his authority," he said of Trump.
The feeling from most senators on the Hill Friday was the strike was warranted and legal, but that any further military action against the Syrian regime would require authorization from Congress. Senators received a briefing Friday afternoon on Syria before leaving for a two-week Easter recess.

Nikki Haley, US ambassador to the United Nations, warned that the US is "prepared to do more."
"But we hope that will not be necessary," she said, speaking to the UN. "It is time for all civilized nations to stop the horrors that are taking place in Syria and demand a political solution."
Corker said after the briefing the administration's strike was limited in scope and, not specifically responding to Haley, said it was "beyond where it is today" to discuss a future strategy.
"This was an operation intended for a specific response to a specific activity, and no one in America or the Middle East or any other place should think that there's a plan to continue on," he said.

But not all senators agreed Trump's military action Thursday night was legal. Republican Sen. Rand Paul, a vocal libertarian, called the strike against Syria "illegal and unconstitutional," arguing that Trump is obliged to seek congressional approval before such a strike.
"The sequence of things under the Constitution is, the first thing you do is you come and ask for permission," Paul said. "So right now we're operating in sort of an unconstitutional, illegal zone, same we've been doing for 15 years, though, under Republican and Democrat presidents who have not really obeyed the law."
"It's sort of farcical to say that the resolution to get the people who organized 9/11 has anything to do with today," he added.
Democratic Sen. Chris Murphy said the strike "certainly was not a lawful act" and that it signaled the rise of limitless executive military powers.
"If you don't need authorization to strike a foreign government with no imminent threat to the United States, then when will Congress ever have to weigh in on military action overseas?" he said. "I think this is a turning-point moment for the role of Congress in setting foreign affairs, and we better understand that or we are essentially giving up our war-making authority."
Following the briefing, Murphy was frustrated that representatives of the administration had, by his interpretation, a "total inability to be able to talk about broader Syria strategy or the legal questions surrounding the strike."
Sen. Lindsey Graham, a longtime advocate for military action in Syria, said before the briefing that he disagreed with those who questioned the legality of the strike. "To all of my colleagues who think that this president cannot act without your approval, you don't understand the way the Constitution works," he said.
"I've been a military lawyer for 33 years," he said. "The only constitutional requirement that exists regarding war is for Congress to put the nation in a declared state of war. The constitution does not require the president to get congressional approval to get military force."
While most senators were vague about what further military action they would support, if any, Graham advocated for putting American troops on the ground to help topple the Assad regime. He called for rearming Syrian resistance fighters as well as sending 5,000–7,000 American ground troops to Syria to train rebel forces and help take back the city of Raqqa.
"Assad has to be pushed out because he's a puppet of the Iranians," said Graham. "As long as he's there, this war never ends."
Sen. John McCain, chair of the Armed Services Committee, argued the strikes against Assad were covered under both the Constitution and the 2001 AUMF. "He used chemical weapons to kill, OK?," McCain said. "So anybody who believes that we shouldn't respond to that, I have no use for them."
He later said that regardless of legal authority, the US had a moral obligation to respond. "I don't care what power it is," he said.
"There is the fact that war crimes, crimes against humanity were committed, just like when Adolf Hitler committed war crimes against humanity, and Pol Pot did, OK? I'm not worried about the nuances of the Constitution interpretation — although I believe as commander in chief, the president had the authority to do it — but there's a moral calling here, a moral standard that we have to stand up for," he said.
McCain and other lawmakers are nevertheless urging the White House to present a long-term strategy for restoring peace in Syria, including the removal of Assad.