A Progressive Lawmaker Just Convinced Some Of Her Republican Colleagues To Repeal A War Authorization
The move is a first step in repealing the 2001 Authorization for Use of Military Force, which multiple administrations have used as the legal basis for the war on terror over the past 16 years.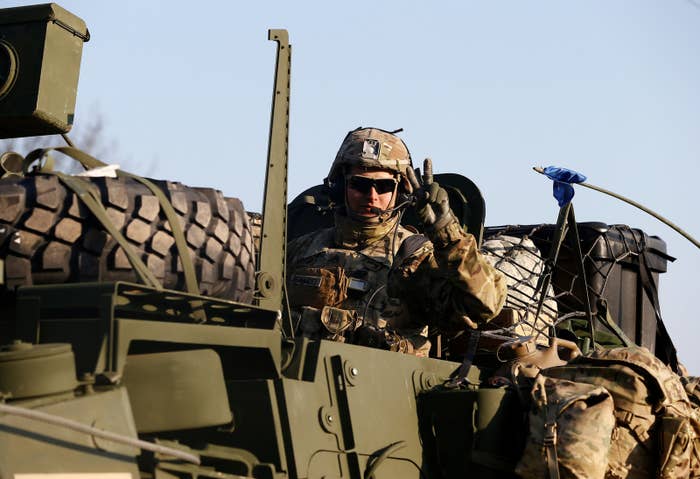 In a move that shocked many in Congress, a House subcommittee adopted an amendment on Thursday that would repeal the 2001 Authorization for the Use of Military Force, the law that US administrations have used as the legal basis for multiple wars in the Middle East over the past 16 years.

The House Appropriations Defense Subcommittee voted overwhelmingly to adopt an amendment from Democratic Rep. Barbara Lee of California to repeal the 2001 AUMF, the 60-word war authorization Congress passed after 9/11 to allow the US to fight the perpetrators of the terrorist attacks. Since then, the law has been used as the legal justification for everything from the 2011 NATO intervention in Libya, to the ongoing fight against ISIS in Iraq and Syria.
The adoption of the amendment does not mean the 2001 AUMF has been repealed, as that would need to be agreed upon by both the House and Senate, and then signed by President Trump. But the amendment is now included in a defense spending bill, which puts it on a path to be wrapped into a massive funding bill to avoid a government shutdown in September. If the amendment remains in place — and is not pulled out by the House or Senate in the meantime — Congress and the president would have to choose between maintaining the AUMF and shutting down the government.
Regardless of how it plays out, the amendment's overwhelming approval on Thursday signals a growing frustration in Congress with members' repeated failure to pass a new war authorization that is more tailored to the current fight against terrorism — something many members have repeatedly pushed for in recent years — and bipartisan willingness to pursue the issue as wars in Syria and Iraq continue.
In introducing her amendment, Lee said it would repeal the "overly broad" 2001 AUMF eight months after the appropriations bill is enacted (which is likely to happen later this year), "giving the administration and Congress sufficient time to decide what measures should replace it."

Though Texas Rep. Kay Granger, the Republican chair of the subcommittee, objected to the amendment — saying it is still necessary for the US "to fight the global war on terrorism" — some of her GOP colleagues then stood and said that they would side with Lee. In the end, the amendment passed with a resounding chorus of "ayes," and only one or two "nays".
Oklahoma Rep. Tom Cole was the first Republican to stand and speak in favor of Lee's amendment. "This is something where Congress has collectively avoided taking responsibility for years," he said.
Utah Rep. Chris Stewart, a US Air Force veteran, was the next Republican to rise. "I feel like my world is rocked, because I see these two," he said, gesturing toward Lee and Cole, "that have very different opinions, and yet I agree with you."
Stewart, who wears his father's Air Force pin on his lapel, said members of the military have noticed Congress's failure to pass a new AUMF. "They have the courage to go out and fight these wars and they notice that we don't have the courage to debate this, and to give them the authority to go do this," he said. "They notice that Congress doesn't have the guts to stand up and have this debate."
Then came Virginia Rep. Scott Taylor, a Republican and former Navy SEAL. "I believe that we owe them the debate," he said of those serving in the military.
The surprising show of bipartisan support convinced Maryland Rep. Dutch Ruppersberger, a Democrat, to change his vote. "When I came in this morning, I was going to vote no," he said. "But we're debating, right now, and when two respected members of the military stand up and make a comment, I'm listening."
"You're making converts all over the place, Ms. Lee," Rep. Rodney Frelinghuysen, who chairs the full House Appropriations Committee that will write September's spending bill, said before the vote.
"This should be bipartisan. This is about our country, this is about our troops," Lee responded.
The adoption of Lee's amendment took those in the Senate by surprise, including members of the Senate Foreign Relations Committee, which held a hearing on a draft of a new AUMF earlier this year. That draft, written by Democratic Sen. Tim Kaine and Republican Sen. Jeff Flake, would repeal and replace both the 2001 AUMF and the 2002 Iraq War authorization.
When asked about Lee's amendment shortly after it passed, Senate Foreign Relations Committee Chair Bob Corker appeared unfamiliar with what had happened. He opted instead to discuss the work his committee has been doing on the AUMF issue, including plans to hold a second hearing with a member of the Trump administration — potentially Secretary of State Rex Tillerson.

Kaine told reporters that he had no idea that the Lee amendment was coming.
"I'm glad to see bipartisan support in Congress for a new AUMF," Kaine said later, in a statement. "I'm hopeful this renewed energy will help us address the lack of proper legal authority for the Trump Administration's ongoing military actions and allow us to show our troops, allies, and the American public that Congress is behind them in this fight."
Emma Loop is a political reporter for BuzzFeed News and is based in Washington, DC. PGP fingerprint: BB2A EF65 4444 A4AC 6F30 760B 9C22 13B3 0938 1A00.

Contact Emma Loop at emma.loop@buzzfeed.com.

Got a confidential tip? Submit it here.