A GOP Senator Just Slammed Trump On Transparency
"Shutting down oversight requests doesn't drain the swamp, Mr. President. It floods the swamp," Senate Judiciary Committee Chair Chuck Grassley wrote in a letter to the president this week.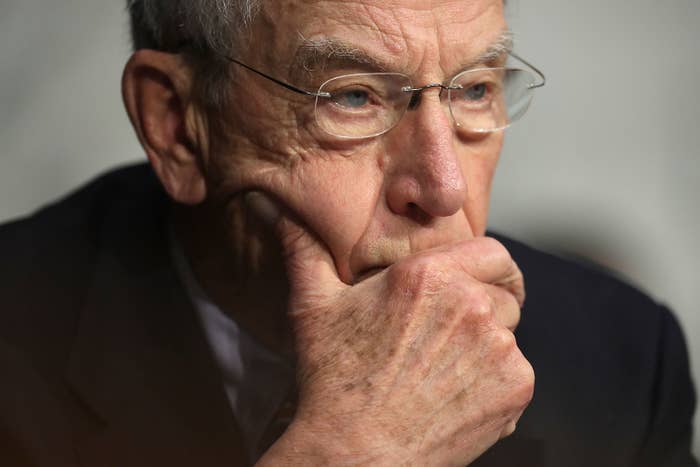 A Republican senator sent a blistering letter to President Donald Trump this week about a "nonsense" and "absurd" decision to restrict Congress's ability to obtain information from federal agencies.

Iowa Sen. Chuck Grassley, who chairs the Judiciary Committee, sent the letter to Trump on June 7, urging him to quash a recent Justice Department opinion that claimed federal agencies are only required to respond to information requests from full congressional committees or their chairs.
The White House has spent the spring spreading that message to government agencies, Politico reported last week.

The move, as Grassley points out in his letter to Trump, effectively shuts down Democrats' ability to obtain information from, and perform oversight of, the government, as Republicans control Congress and therefore chair all of its committees.
In his scathing letter, Grassley wrote that the opinion from the Office of Legal Counsel "takes an unduly restrictive and unsupported view of the responsibilities of Members of Congress and the nature of congressional oversight," warning that it could greatly undermine transparency.
"It falsely asserts that only requests from committees or their chairs are 'constitutionally authorized,' and relegates requests from non-Chairmen to the position of 'non-oversight' inquiries — whatever that means."

"This is nonsense," Grassley added.
Grassley went on to write that "there is no legal or Constitutional basis for the Executive Branch" to withhold information from a member of Congress based on their position on a committee.
"For OLC to so fundamentally misunderstand and misstate such a simple fact
exposes its shocking lack of professionalism and objectivity," Grassley wrote.

Grassley asks Trump to rescind the opinion in the interest of transparency, and to protect the role of Congress as a check and balance on the executive branch.
"Oversight brings transparency, and transparency brings accountability. And, the opposite is true," Grassley wrote. "Shutting down oversight requests doesn't drain the swamp, Mr. President. It floods the swamp."
Senate Minority Leader Chuck Schumer released a statement Friday afternoon thanking Grassley "for defending not just Congress' right but its duty to conduct oversight."
"We hope other Republican chairmen will follow Chairman Grassley's lead in demanding the administration withdraw this misguided memo," Schumer said.
Democrats on the House Oversight committee agreed with Grassley's assessment of the opinion as "nonsense."

Vermont Sen. Patrick Leahy, a Democrat on the Judiciary Committee, also tweeted in support of Grassley's letter.

The White House did not immediately return a request for comment.