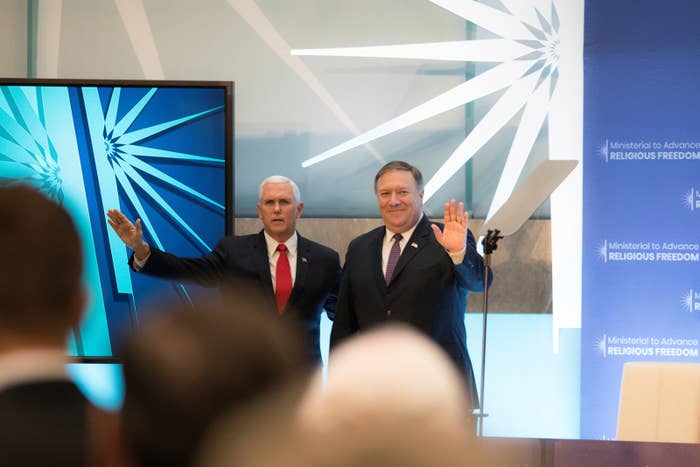 Donald Trump and Mike Pence's warnings Thursday that the US would place sanctions on Turkey if officials there don't order the release of an American evangelical pastor who's been detained for more than two years on charges of helping Turkish coup plotters surprised members of Congress who've been advocating for the pastor's release.
Aides to legislators who've advocated for the release of the pastor, Andrew Brunson, said the White House not only hadn't alerted them to its plans, but that they were uncertain just how such sanctions would fit into broader US policy toward Turkey. Brunson, who'd worked in Turkey for more than 20 years, was detained in October 2016. If found guilty, Brunson, who denies the charges, could be sentenced to 35 years in prison.
One Democratic aide suggested that if the White House imposes sanctions, the administration would want to act quickly and without debate to sanction a NATO ally, an unprecedented act. The aide also speculated that the administration might be trying to seem tough on Turkey in part because Turkey is possibly one of the countries that the administration has asked for waivers from sanctions under the Countering America's Adversaries Through Sanctions Act for its purchases of Russian military equipment.
Pence, speaking at the State Department's Ministerial on Religious Freedom — a conference bringing together various international senior officials, activists, and civil society members — said, "If Turkey does not take immediate action to free this man of faith and send him home to America, the United States will impose significant sanctions on Turkey until Pastor Andrew Brunson is free." Turkey did not send a delegation to the conference.
The president followed up with a tweet.
Asked if the State Department had been given advance notice of Pence's remarks, a State Department spokesperson referred BuzzFeed News to the White House. The Treasury Department, which, like the State Department, could be called on to impose the sanctions, declined to comment on the record. The White House did not immediately respond to a request for comment.

Legislators familiar with Brunson's case were also taken aback by the White House statements, with aides from both parties telling BuzzFeed News they'd been given no notice that Pence or Trump would be calling for sanctions on Turkey.
On Thursday, the Senate Foreign Relations Committee approved a bill by bipartisan voice vote that would restrict loans from international institutions to Turkey until the Turkish government "ends the unjust detention of US citizens." On Monday, Sen. Thom Tillis, a Republican from North Carolina, and Sen. Jeanne Shaheen, a Democrat from New Hampshire, announced that the National Defense Authorization Act now being considered by a conference committee would include a provision requiring the secretary of defense to submit a report assessing Turkey's participation in the F-35 program. And Sen. James Lankford, a Republican from Oklahoma, wrote in a February Wall Street Journal op-ed, "The White House has the tools necessary to institute a range of targeted sanctions [on Turkey] under the Global Magnitsky Act."
Still, it isn't clear that any of this is what Pence or Trump was talking about. "Not sure what exact mechanism they have envisioned using, if any at all," another Democratic aide wrote in an email.
Brunson's arrest has been a cause among evangelicals, a voter group whose support is key to Republicans' hopes to maintain their hold on Congress. The United States has accused Turkey of holding US citizens hostage as a bargaining chip in an effort to force the US to extradite Fethullah Gülen, a Pennsylvania-based cleric and onetime ally of Turkish President Recep Tayyip Erdoğan, whom Turkish authorities insist was behind the coup.