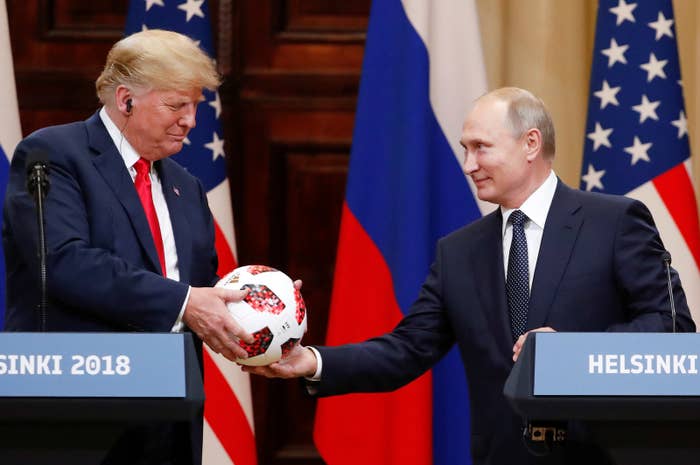 The much-heralded meeting between Donald Trump and Vladimir Putin couldn't have turned out much better for the Russian president.
He may not have gotten concrete things from Trump — sanctions relief or recognition that Crimea is part of Russia — but he was never expecting that. What Putin got was a seat at the most important table in the world.
It was clear that Putin was in charge — in evidence at the two leaders' 45-minute-long joint press conference, following a roughly two-hour one-on-one meeting and a working lunch. Putin spoke first, offering a detailed recapitulation of what the two men had discussed — with specifics on everything from Syria to nuclear arms control to counterterrorism to cybersecurity to Ukraine. Whenever it came Trump's turn to speak, he chose instead to forcibly deny any collusion, call for the production of Hillary Clinton's missing emails and an absent DNC server, and hail his own campaign and Electoral College victory. "The probe is a disaster for our country," he said.
The balance toward Russian leadership has been the tone since the talks were first floated. Information ahead of the talks — on what form the summit would take and what topics would be covered — came not from the US side, but from Kremlin aide Yuri Ushakov, who was present at the summit. In a lengthy interview with Russian state media outlet TASS, Finnish officials also provided some information in advance.
"The expectations from the meeting are rather low," Sergey Utkin, head of strategic assessment at the Moscow-based Primakov Institute of World Economy and International Relations, wrote to BuzzFeed News the morning of the summit. There is a keen realization inside Russia, he said, of the constraints Trump could face. "Trump is very restricted in what he can do, by the Congress, which is both hostile to him personally, and very anti-Russian," he said.

"The Russians have what you might call tempered but positive expectations," said Matt Rojansky, director of the Wilson Center's Kennan Institute. "The fact of the meeting already seems to many Russians like a return to the normalcy for which they have hoped."
The summit itself didn't produce specific policy changes, or much of anything concrete. The two spoke vaguely of working together in the future on nuclear arms control and Syria, but didn't outline plans to coordinate on either. Asked if there were, for example, specific agreements made Monday between the militaries, Trump answered, "Our militaries do get along."
Putin, instead, took advantage of the short meeting and likely lack of deliverables to present a forceful image of himself as a man in charge — the statesmanlike leader of an engaged Russia, a country trying to work with the United States, if only the latter could get its diplomatic act together.
But the US president was busy stressing "zero collusion," going so far as to stop Putin from answering a question to say that Democrats invented the idea of Russian collusion as a way of excusing the fact that they lost the presidential election, citing his own Electoral College statistics. He dismissed special counsel Robert Mueller's probe in Russian meddling, which he described as "horrible." He said Putin was "extremely strong and powerful" in his denial of electoral interference.
It was Putin who walked away looking the master strategist. At one point, the Russian president offered to allow Mueller's investigators to Moscow and interrogate the Russian military intelligence operatives who were named Friday as having carried out the hack of Democratic Party computers. It came with a big catch: Putin said he would want a quid pro quo — for the US to allow in Russian investigators to look into William Browder, the financier who has sought to avenge the death of his former lawyer, Sergei Magnitsky, in a Russian jail by pushing for sanctions against Russians in countries. Trump knowingly nodded along, seemingly not finding Putin's offer as a troll or an insult, but a genuinely impressive extended hand. "I think that's an incredible offer," he said. Browder did not immediately respond to a request for comment.
Officials present seemed to be aware that the meeting went better for the Russians than the Americans. Asked ahead of his meeting with Finnish Foreign Minister Timo Soini how he thought the meeting went, US Secretary of State Mike Pompeo turned away. The Russian delegation appeared positively giddy. Russian Foreign Minister Sergei Lavrov entered the press conference smiling; he was followed by Kremlin spokesperson Dmitry Peskov, who practically bounced in. Russian Foreign Minister Sergei Lavrov said after the press conference that the meeting went "better than super."
Putin even got in a reference to the World Cup, for which Russia has received a month of glowing publicity, presenting Trump with a soccer ball at the end of the news conference. Trump bounced the ball to the first lady, Melania, sitting in the front row, and said he'd be giving the ball to his son Barron — as if it were a personal gift from a close friend.
CORRECTION
Barron Trump's name was misspelled in an earlier version of this post.