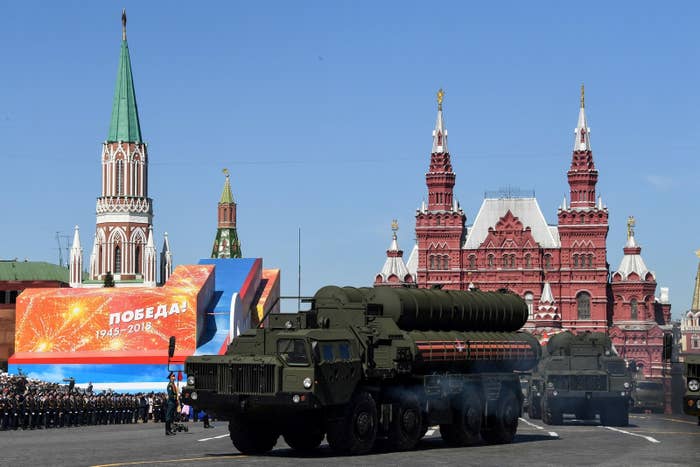 WASHINGTON — For the first time since the Countering America's Adversaries Through Sanctions Act became law a year ago, the Trump administration has imposed sanctions for violating the law's restrictions on transactions with Russia's intelligence and defense sectors.

The surprise: The sanctioned entities are part of the Chinese military.
On Thursday, the State Department imposed sanctions on China's Equipment Development Department and its director, Li Shangfu, for "significant transactions" with Rosoboronexport, Russia's main arms export entity. According to a statement from the State Department, the transactions in question were Russia's delivery to China of Su-35 combat aircraft in late 2017 and S-400 surface-to-air missile system–related equipment in early 2018. Both transactions occurred after CAATSA became law.
"We've been using the possibility of CAATSA legislation to deter arms transfers for many months now," one senior administration official said on a background call with reporters shortly before the news was announced. The official said just the threat of CAATSA sanctions kept "probably several billions of dollars' worth of transfers" from flowing to Russia.
"But since China has gone ahead and done what is clearly a significant transaction," the official said, "we are required under law to take this step."
The official also said that the "ultimate target" of the sanctions was Russia, not China, and did not say whether NATO ally Turkey, which is also expected to purchase Russia's S-400 missile system, would be sanctioned for doing so.
Also on Thursday, President Donald Trump signed an executive order expanding the number of Russian people and companies that fall under the law. The 33 additions include Yevgeny Prigozhin, his Concord Catering company, and the Internet Research Agency, all of which have been indicted by special counsel Robert Mueller for allegedly meddling in the 2016 presidential election. Prigozhin is often referred to as "Putin's chef" because of his close connection to Russian President Vladimir Putin.
The Chinese Embassy did not respond immediately to a request for comment.
These latest sanctions join others imposed on Russia and Russians for a variety of reasons: US electoral interference, the alleged attempted murder of Sergei Skripal, the former Russian spy turned British spy, delivering oil to North Korea despite sanctions, and the 2014 annexation of Crimea. Russia has still not admitted to electoral interference.