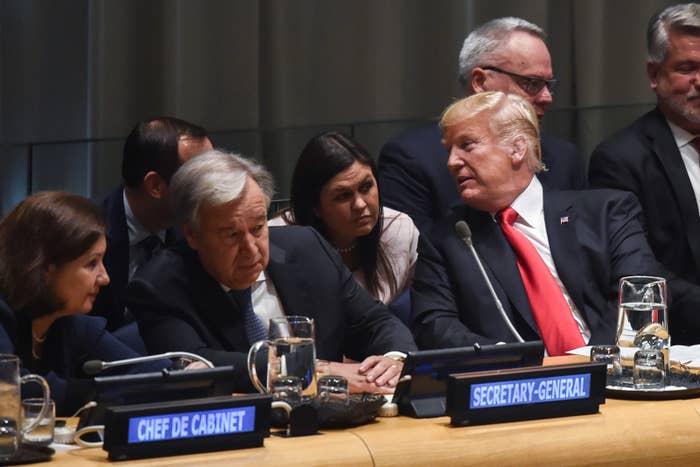 The United States began the week of the United Nations General Assembly annual meeting with a global call to action on the world's drug crisis — and two of the nations the Trump administration has blamed for that problem, China and Mexico, signed on.

One hundred and twenty-nine countries joined the United States in signing the call, which reaffirmed their commitment to addressing and countering global drug use, pledging to reduce the demand for illicit drugs, expand addiction treatment, strengthen international cooperation in law enforcement, and cut off supply by stopping production.
While the text of the call to action does not specifically mention the opioid crisis, it does mention emerging synthetic drugs, and President Donald Trump and UN Secretary General António Guterres both mentioned opioids specifically in their Monday morning remarks.
"Cocaine and opioid production have hit record highs," Trump said. "Incredible."
The president also singled out one of the event's cohosts, noting that Colombia's recently elected president, Iván Duque Márquez, "campaigned on an anti-drug platform and won."
Two countries that Trump did not mention, however, were China and Mexico. Trump has previously publicly blamed China for allowing "Poisonous Synthetic Heroin Fentanyl" to pour into the US; China has publicly denied blame, although privately it has worked with the US to fight the opioid crisis.
And yet, come Monday, China was among the list of countries that had signed onto the global call.
"They want to be recognized as a global leader on various issues, and this is a global issue," James Walsh, deputy assistant secretary in the Bureau of International Narcotics and Law Enforcement Affairs (INL), had previously told BuzzFeed News.
China did not respond to a request for comment about whether its signature was a public admission of its part in the problem.
Trump also previously had called opioids coming from Mexico "almost a form of warfare," yet Mexico, too, signed.
"The United States welcomes China's and Mexico's participation. As the two primary source countries for illicit opioids in the United States -- and countries whose own citizens suffer from the violence, crime, and addiction tied to transnational drug trafficking -- their continued commitment to addressing the World Drug Program is crucial to further progress," a spokesperson from INL wrote in an email to BuzzFeed News.
Canada, too, responded to Trump's global call by signing on, although Canada, which is set to legalize the sale of recreational marijuana next month, recently came under the US president's fire. One senior US official said Canadians involved in the marijuana industry risk a lifetime ban on travel to the United States. The Canadian government, for its part, has advised citizens to be honest at the border and make sure they're not carrying marijuana as they try to cross. Marijuana is not explicitly mentioned in the Global Call to Action.

Guterres, whom Trump called a "great friend," said "the opioid crisis is utterly heartbreaking," and spoke of his sister, a psychiatrist working at a drug treatment center in Lisbon, Portugal. Where Trump stressed fighting drug production and supply, Guterres spoke of how the international community must "make sure those who need treatment get it."
The event also appeared as a sort of peace offering from the United Nations toward the United States before a week in which Trump is expected to push the narrative that sovereignty must be privileged over multilateralism, with Guterres sitting beside the president as the two called for global cooperation.
Trump, for his part, accepted the olive branch, at least temporarily.
The "potential" of the international organization, Trump said, "is being met. Slowly but surely, it's being met."