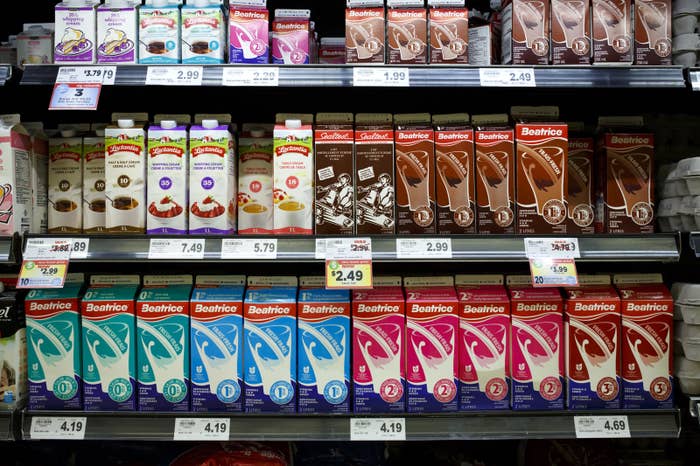 The announcement that the United States, Canada, and Mexico have reached an agreement on a new deal to replace the North American Free Trade Agreement was met with both relief and anxiety in Canada, particularly over concessions Canada made on dairy and eggs.
But experts say that the actual concessions on one of the most contentious areas of the renegotiations are outweighed by the ramifications the hostile way in which the agreement was reached will have on the US–Canada relationship.
Canada's supply management system, which sets production quotas in addition to limiting imports, was one of most contentious issues for the United States and Canada in the renegotiation of the multilateral trade agreement. Mexico, while announcing the preliminary deal it reached with the United States and assuring the press that it would work around the clock to get Canada on board, said dairy was one issue the United States and Canada would have to settle between themselves.
And Trump acknowledged as much at his news conference announcing the agreement: "Dairy was a deal-breaker," he said. "This deal opens up the market to our farmers."
Some in Canada, too, were quick to agree that Ottawa had given in to the United States on the issue.
"While the USMCA might not be viewed as a wrecking ball to the Canadian economy, for dairy and eggs, it is not good," said Bruce Muirhead, a professor at Ontario's University of Waterloo who focuses on supply management. "Canada's excellent system of supply management remains under siege with what might be viewed as a continuing trajectory of death by a thousand cuts."
USMCA stands for United States-Mexico-Canada Agreement, Trump's preferred name so that he can argue that he has fulfilled a promise to do away with NAFTA, as the previous agreement was known.
But in actuality, Canada had already agreed to give up almost the same percentage — in the Trans-Pacific Partnership agreement, from which Trump withdrew the United States shortly after coming into office.
The Trump administration wanted to eliminate supply management, but, in the end, got less than a quarter of one percent more access to the Canadian dairy market than what it would have gotten under TPP, Bruce Heyman, US ambassador to Canada under President Barack Obama, told BuzzFeed News.
Dairy farmers and producers are upset about the agreement, with one producer in Manitoba saying that giving the US "almost 3.6%" of the dairy market would "obviously have a majorly negative impact on our industry." But, under TPP, Canada had agreed to give the US access to 3.25% of the market. USMCA increases that to 3.59 percent.
Canada also agreed to discontinue what was known as Class 7 milk. Class 7 was meant for pricing ingredients like protein concentrates and whole milk powder. Americans had previously been able to sell this ultrafiltered milk to Canada untaxed, even setting up businesses around it, and said the new milk variety, created in 2016, was meant to push them out of the Canadian dairy market.
"The elimination of Canada's Class 7 pricing system will level the playing field and give US farmers the opportunity to compete in a free and fair environment," said Brody Stapel, president of the Wisconsin-based Edge Dairy Farmer Cooperative.
But Class 7 milk had been in existence for just 18 months, and was opposed by Saputo, one of Canada's own largest processors.
What's more, milk products make up only $364 million of US–Canadian trade, or just 0.06%.
"I would say the Canadians didn't give very much over what they had previously negotiated," Heyman said, "If that's what we got out of all of the bluster … I don't consider that a huge success."
That's especially true, to Heyman's mind, because of what the United States lost in the agreement — Canada's trust.
"The good news is that we have a deal … The bad news is we end up getting a deal we could have already gotten, [and had] substantially already negotiated, without all this hostility."
The US Sells More Milk To Canada Than It Buys. So Why Does Trump Think That's Bad?
None