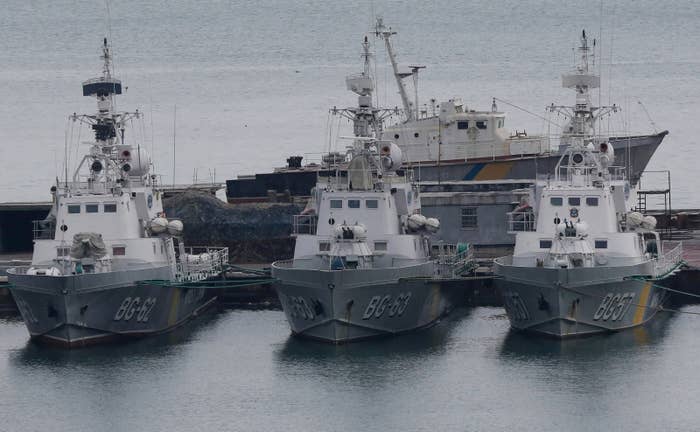 WASHINGTON — In sharp contrast to Canada and Europe, which moved quickly to denounce Russia's seizure of three Ukrainian ships over the weekend, the White House was silent on the issue. President Donald Trump's late-night and early-morning tweets touched on 60 Minutes, migrants in Mexico, and special counsel Robert Mueller's investigation, but not on the growing tensions in Ukraine. But then, in the mid-afternoon, the president spoke.
The president told reporters on the South Lawn, "We do not like what's happening either way. We don't like what's happening, and hopefully it will get straightened out." He added that the United States had "let our position be known." He did not specify what that meant. He added that Europe was "not thrilled" and that "we're all working on it together."
Roughly an hour and a half later, the State Department sent out its statement, which was less ambiguous than the president's. "The United States condemns this aggressive Russian action," Secretary of State Mike Pompeo's statement read. "We call on Russia to return to Ukraine its vessels and detained crew members, and to respect Ukraine's sovereignty and territorial integrity within its internationally recognized borders, extending to its territorial waters."
Previously, Kurt Volker, the US special representative for Ukraine negotiations, tweeted his reaction Sunday, questioning Russia's assertion that it had been provoked in the incident. But, until Trump's declaration, neither the White House nor the State Department had put out official statements about what is arguably the most provocative incident in Ukraine since a Russian missile downed a Malaysian passenger jet there in 2014, killing all 298 people on board.
"I'm not surprised we haven't heard anything from the White House yet," said Alina Polyakova, a fellow at the Brookings Institution. In the past year, she noted, the president has stayed quiet on Russia developments until there was political pressure from within his own party.

Nikki Haley, US ambassador to the United Nations, said that her statement at a UN Security Council meeting reflected conversations with the president and Pompeo.
Haley, who is leaving her post in January, said, "What we witnessed this weekend is yet another reckless Russian escalation," and that "Impeding Ukraine's lawful transit through the Kerch Strait is a violation under international law." She also said that the United States expected "our European partners" to take the lead on this issue using the Normandy Four format, a group of senior representatives from Germany, France, Russia, and Ukraine focused on resolving the conflict in Eastern Ukraine. (The State Department's statement, which was issued hours later Monday, also reiterated support for the Normandy Four format.)
"She came out with a tough statement, which is great," said Michael Carpenter, who was responsible for Russia and Ukraine as deputy assistant secretary of defense at the Pentagon, and who was also Vice President Joe Biden's foreign affairs adviser. "But it's just unfortunate that the State Department can't get it's act together ... and that it's taking so long" for them to put out a statement.
Still, he added, "A statement is a statement. It's not as important as the actions that follow," suggesting that the United States, in addition to expressing solidarity, look at all options to support Ukraine's maritime capabilities.
And while Poland called for additional sanctions on Russia over the seizure of the Ukrainian ships, similar calls were slow to roll in from the most prominent proponents in Congress of sanctions.
"I would hope that this would be an opportunity for Congress to push through more assertive steps," Polyakova said, noting that legislation already has been proposed that would add political figures, oligarchs, and transactions related to investment in energy projects to the sanctions list.
Sen. Bob Menendez, a Democrat from New Jersey and ranking member of the Senate Foreign Relations Committee, made a similar observation in a statement, "Mr. President, this is your opportunity to finally show American leadership in defense of our principles and our close allies across Europe," he said, adding that "Congress also has a responsibility to act. I urge my colleagues to pass the Defending American Security from Kremlin Aggression Act in the coming weeks. We have a clear opportunity to send a message to the Kremlin that military aggression and political interference abroad will not go unchecked."
US officials have also refrained from offering an opinion on a controversial Ukrainian response to Sunday's events — the imposition of martial law.
Ukrainian President Petro Poroshenko's introduced a martial law decree, which was approved by parliament later on Monday after Poroshenko offered to reduce its length from the 60 days he'd originally called for to 30 days. Under Ukrainian law, martial law could restrict the news media and the right of peaceful assembly, though those were not explicitly mentioned in the decree, and some suspect Poroshenko intends to use the measure to delay presidential elections, currently scheduled for March. Poroshenko's decree did not mention the elections, although the 12th and final point of the statement was secret. Martial law as voted on by parliament will cover 10 regions, not the entire country, and presidential elections are still scheduled for March 31.

"Of course [Poroshenko] is going use this to try to position himself as commander in chief. That goes without saying," said Carpenter, who is now senior director of the Penn Biden Center for Diplomacy and Global Engagement and a nonresident senior fellow at the Atlantic Council. "That in itself is not a problem. What is a problem if he uses martial law to curtail other people's ability to campaign, or to delay the elections."
The State Department also did not respond to a request for comment on the possible imposition of martial law.
The Ukrainian elections are relevant in another sense too. "Some people have thought that Putin was playing a waiting game in Ukraine, to see who would win next year's presidential election there — and that he had at least a temporary incentive to tamp down violence," said Stephen Sestanovich, a senior fellow at the Council on Foreign Relations and former ambassador-at-large to the former Soviet Union. "Apparently not."
CORRECTION
The name of the Brookings Institution was misstated in an earlier version of this post.