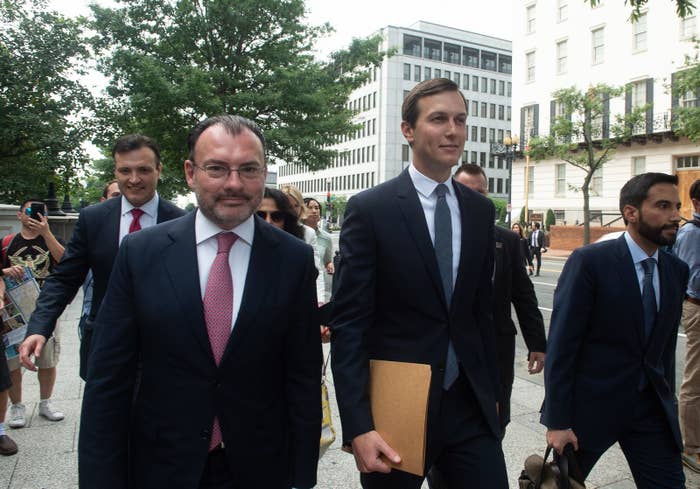 Donald Trump announced a new trade deal with Mexico on Monday, and even put Mexican President Enrique Peña Nieto on the speakerphone in front of reporters to congratulate him about it.

But what Trump called the US–Mexico Trade Agreement and his assertion that it replaced the North American Free Trade Agreement that Trump has long criticized appeared to be less than a final document. Both US and Mexican officials said they will try to persuade Canada to sign on to the document this week, and it would need congressional approval.
"We had a NAFTA agreement that had gotten seriously out of whack, led to large trade deficits, needed modernizing," US Trade Representative Robert Lighthizer told reporters on a call after Trump hailed his bilateral deal. "We had [an] enormous amount of hurdles to overcome to renegotiate an agreement."
Lighthizer called the agreement "absolutely terrific" and said that it will mean more jobs for American workers, modernize automobile trade, and set the rules for the future with respect to intellectual property, digital trade, and financial services trade. Its labor provisions, he said, are stronger and more enforceable "by a mile." He offered no details.
"We are excited to have this be joined by Canada or not," he said, adding that the administration hoped to have overwhelming support in Congress — which, again, the agreement needs if it is to become the trade deal that supplants NAFTA.
The White House reportedly plans to notify Congress on Friday that Trump will sign the deal in 90 days. That would also allow Nieto to sign the deal before he leaves office Dec. 1.
If Canada does not agree to the deal this week, and Congress does indeed approve the renegotiated preliminary trade deal, Canada can still sign on at a later date — but, as Mexican Foreign Minister Luis Videgaray noted, the "margin for change" is much greater this week, before it's sent to Congress.
While Lighthizer may have suggested the United States could take or leave Canadian participation, Videgaray said Mexico will "put all our effort, 24/7" into seeing Canada sign on to the renegotiated trade deal. "We will work 'round the clock."
At a news conference at Mexico's embassy in Washington, Videgaray described the accord as a comprehensive bilateral agreement between his country and the United States. Canada would need to agree to issues that affect all three nations if it is to sign on. Videgaray also noted that there are some issues, such as trade in dairy products, that affect only Canada and the United States.
A senior administration official denied that the Mexican agreement was made to put pressure on Canada to make a deal. The negotiations had gone on for a year, the official explained, and so the team decided to try to get a deal with one party first instead of both at the same time, which "tends to be the way these things work in any event."
Asked if Congress would approve a NAFTA renegotiation that left Canada out, the official said, "Ideally, we'll have Canadians involved. If not, we'll notify we'll have bilateral agreement that Canada is welcome to join. We think that satisfies the requirement."
"Progress between Mexico and the United States is a necessary requirement for any renewed NAFTA agreement. We are in regular contact with our negotiating partners, and we will continue to work toward a modernized NAFTA," Canadian foreign ministry spokesperson Adam Austen said. "We will only sign a new NAFTA that is good for Canada and good for the middle class. Canada's signature is required."