After Mueller's Latest Indictment, Trump's Upcoming Meeting With Putin "Makes For Good TV"
The White House insists the new indictment doesn't change much.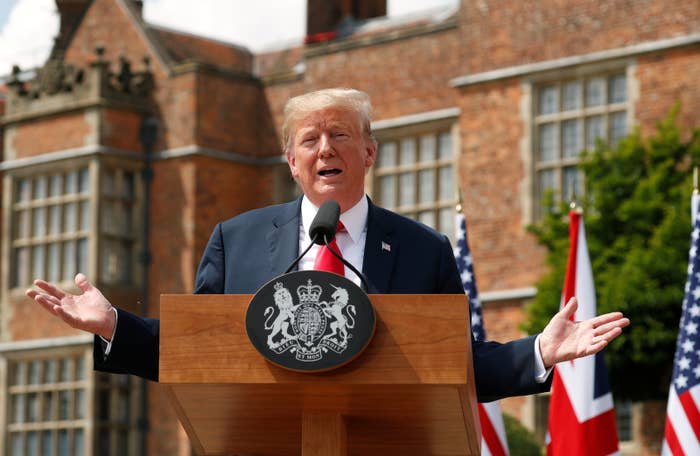 The White House is staying on schedule with President Donald Trump's planned meeting with Russian President Vladimir Putin next week, despite the surprise indictment of 12 Russian intelligence officials on charges of election hacking.
The White House insisted Friday that the highly detailed indictments, handed down by special counsel Robert Mueller, don't change what was already known, and referred to the hacking as an "alleged" incident rather than a matter of fact. "Today's charges include no allegations of knowing involvement by anyone on the campaign and no allegations that the alleged hacking affected the election result. This is consistent with what we have been saying all along," White House spokesperson Lindsay Walters said in a statement.
Rudy Giuliani, Trump's personal lawyer, tweeted along similar lines.
White House press secretary Sarah Huckabee Sanders later confirmed to reporters that the Trump-Putin meeting is still "on."
"Makes for good TV," a source close to the administration told BuzzFeed News, commenting on the timing of the indictments and the meeting with Putin, set for Monday in Helsinki.

The indictments, announced in a press conference by Deputy Attorney General Rod Rosenstein, came as Trump was halfway across the world meeting Queen Elizabeth in the UK. The source went on to cite the Rolling Stones song often used at Trump rallies to comment on the announcement timing: "Can't always get what you want."
But if this is theater, Democrats aren't interested in buying a ticket to the show. Several senators have called on Trump to cancel the meeting, where Trump and Putin are expected to discuss Crimea, Syria, arms control, energy, and, of course, election meddling, and which will include a bilateral meeting, wider working lunch, and a joint press conference. The summit already had US officials and allies nervous over what the president, eager to forge a strong relationship with his Russian counterpart, might give away.
"In light of this stunning indictment by the Justice Department that these Russian conspirators attacked our democracy and were communicating with Americans to interfere in our election, President Trump should immediately cancel his meeting with Vladimir Putin," Sen. Jack Reed, ranking member of the Armed Services Committee, said in a statement.
"These indictments are further proof of what everyone but the president seems to understand: President Putin is an adversary who interfered in our elections to help President Trump win," said Senate Minority Leader Chuck Schumer.
"In light of today's indictments, there should be no one-on-one meeting between President Trump and Vladimir Putin on Monday. There must be Americans in the room," tweeted Mark Warner, vice chair of the Senate Intelligence Committee.
Democrats in the House joined in too. "In light of the charges against 12 GRU officers announced by Rod Rosenstein, @realDonaldTrump should cancel his meeting with Putin, who ordered the attack on the US. @POTUS shouldn't meet Putin until he accepts responsibility. And Trump should definitely not meet him alone," tweeted California Rep. Ted Lieu.
Trump is unlikely to suddenly heed congressional Democratic calls. Still, it makes the issue of election meddling a more difficult one to dismiss. Although sources in Trump's orbit are adamant that there was no collusion between his campaign and Russia, they admitted that it is getting harder for the president to ignore the intelligence community's finding that Russians were behind the hacking.
"This week has been the Hurricane Katrina of shitstorms for the president," said a former White House official, with Friday's news coming after an explosive Trump interview rattled the UK and Trump's head-turning statements during a NATO summit.
Trump was briefed on the coming indictments earlier in the week, Rosenstein said Friday. But just hours before the indictment was announced, Trump again suggested he could have a "very good relationship" with Putin while knocking Mueller's investigation as a "rigged witch hunt."
The summit was always going to take place with a chaotic president and amid a series of crises, with the Trump team dismissing the severity and legitimacy of the Mueller investigation. And the summit was always going to involve Trump asking Putin about election meddling and Putin denying responsibility. And if Trump does press Putin on these new indictments, that, too, falls into a preset narrative. The summit, the Russian side says, is an opportunity to correct course in US–Russia relations. If the US side is to fixate on election meddling, well, that's hardly the Kremlin's fault.
And indeed, also on Friday, Putin aide Yuri Ushakov told reporters that the aim of the summit is to finally correct the "negative situation in our international affairs" and to identify the steps that would allow the two countries to "return to mutually beneficial cooperation."
The Russian Foreign Ministry said Friday that there is no evidence that the 12 indicted individuals are linked to military intelligence or hacking. But then, after Mueller previously indicted 13 Russians for fomenting social media and political discord, Putin told Megyn Kelly, "Why have you decided the Russian authorities, myself included, gave anybody permission to do this?"