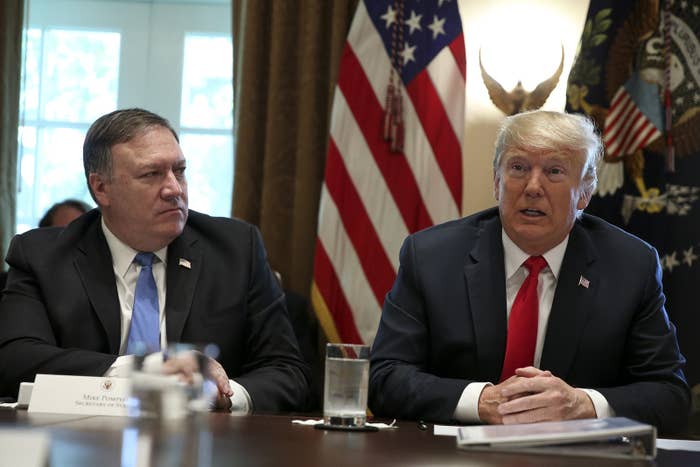 President Donald Trump tweeted on Friday that he has asked Secretary of State Mike Pompeo not to go to North Korea next week.

The tweet came just one day after Pompeo announced that he would be going to North Korea next week along with the new special representative to North Korea, Stephen Biegun, whose addition to the team was meant to mark a normalization of negotiations with North Korea.
Trump tweeted that he asked Pompeo to cancel the meeting "because I feel we are not making sufficient progress with respect to the denuclearization of the Korean Peninsula…"
That seemingly contradicts the line that the State Department pushed at a press briefing on Thursday. "The conversations continue. We have made significant movements over the past six months. In fact, we've had more conversations and consultations with the North Koreans in six months than we have in virtually the past 10 years. So we think we're on fairly strong footing here," State Department spokesperson Heather Nauert said.
Some analysts were quick to point out that Trump's tweets sounded less like Pompeo and Nauert and more like national security adviser John Bolton, who on Aug. 7, said, "The United States has lived up to the Singapore declaration. It's just North Korea that has not taken the steps we feel are necessary to denuclearize."
"I think the longer the two sides are at an impasse, the more sway Bolton will gain internally on this issue," Kingston Reif, director for Disarmament and Threat Reduction Policy at the Arms Control Association, wrote to BuzzFeed News. "Which is not a good thing."
Trump also tweeted that he had asked Pompeo to cancel the trip "because of our much tougher Trading stance with China, I do not believe they are helping with the process of denuclearization as they once were (despite the UN Sanctions which are in place)..."
"The President's decision to link trade tensions with China to his North Korea policy is an attempt to increase pressure on Beijing and Pyongyang simultaneously," said Abigail Grace, a member of the National Security Council focused on US–China relations and the campaign to maximize pressure on North Korea from 2016 to 2018. "However, given that Beijing has seemingly decided that no amount of economic concessions will stop the trade war, it's unclear that today's announcement will drive them to increase pressure on Kim, or make the structural reforms to their economy needed to address US concerns," added Grace, now a research associate in the Asia-Pacific Security Program at the Center for a New American Security.
"...Secretary Pompeo looks forward to going to North Korea in the near future, most likely after our Trading relationship with China is resolved. In the meantime I would like to send my warmest regards and respect to Chairman Kim. I look forward to seeing him soon!" Trump concluded. Pompeo, according to Nauert, was not expected to meet with Kim next week.
The State Department did not immediately respond to a request for comment on the tweet, or on whether Pompeo and Biegun were indeed going to cancel their just-announced trip.