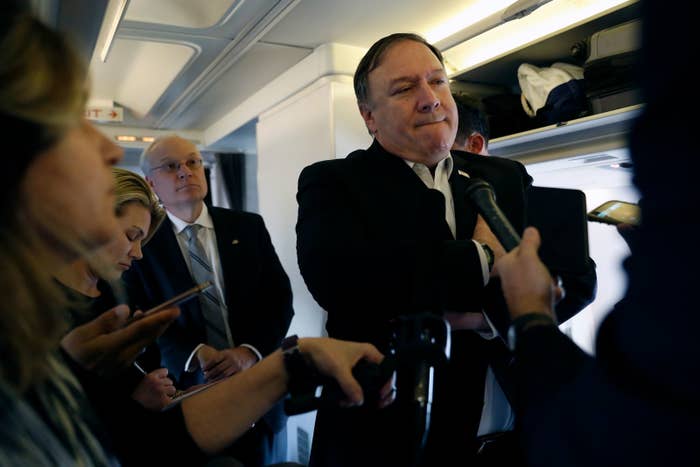 Senior Democratic members of the Senate Foreign Relations Committee opened a new line of criticism against President Donald Trump on Wednesday, questioning whether Trump's financial ties to Saudi Arabia might influence the US government's investigation into the disappearance and likely death of journalist Jamal Khashoggi.

In a letter to Trump and the Trump Organization, the 11 senators, who included Jeff Merkley of Oregon, Tom Udall of New Mexico, Edward Markey of Massachusetts, Cory Booker of New Jersey, and Dick Durbin of Illinois, sought what they called a "full accounting" of Trump's financial ties to Saudi Arabia to determine whether a conflict of interest is preventing the administration from pursuing sanctions against Saudi Arabia over Khashoggi's disappearance.
"It is imperative that this sanctions determination, and U.S. policy towards Saudi Arabia generally, are not influenced by any conflicts of interest that may exist because of your or your family's deep financial ties to Saudi Arabia," the letter read.
The president has insisted by tweet that he has no financial interests in the country. However, as Fox News Research then noted, the president's ties to the country date back to at least 1991, when he sold a yacht to a Saudi prince. Since then, he sold the 45th floor of Trump Tower to Saudis and, in 2015, declared, "They buy apartments from me." In 2017, Saudi lobbyists spent $270,000 at the Trump Hotel in Washington.
The letter came after senators, including members of the Senate Foreign Relations Committee, expressed disappointment that Secretary of State Mike Pompeo had learned little about what took place to Khashoggi during visits to Saudi Arabia and Turkey. Pompeo said Tuesday that Saudi Crown Prince Mohammed bin Salman had pledged an investigation into the matter, but did not hear details of what that investigation has already uncovered.
Pompeo visited Turkey on Wednesday but did not listen to audio that news reports have said Turkish officials have of the murder, according to the State Department.
Pompeo had been dispatched by Trump to get to the bottom of what happened to Khashoggi, a US permanent resident and Washington Post columnist who disappeared into the Saudi Consulate in Istanbul two weeks ago and hasn't been heard from since.
But despite news reports that cited Turkish sources that Khashoggi had been dismembered and murdered shortly after he entered the consulate, Pompeo's fact-finding mission appeared light on facts. Asked by reporters whether Saudi officials said if Khashoggi was dead or alive, Pompeo said, "I don't want to talk about any of the facts; they didn't want to, either," adding, "in that they want to have the opportunity to complete this investigation in a thorough way."
"Secretary Pompeo's statement that 'I don't want to talk about any of the facts; they didn't want to either' and the State Department's press release about the trip that left Khashoggi as a side note are bizarre and disturbing," Merkley said in an email to BuzzFeed News.
"Secretary Pompeo and the United States should be expressing deep concern about the events that transpired and advocating for human rights and freedom of the press. What is the point of the Secretary's trip if not to find facts?"
Pompeo's apparent aversion to uncovering evidence continued into Turkey, where, asked if he had heard the audio from inside the consulate that Turkish officials had claimed to have, the secretary responded, "I don't have anything to say about that." State Department spokesperson Heather Nauert clarified that he had not heard the tapes.
The State Department did not answer a question about whether Pompeo had requested to listen to the audio in Turkey. But back in Washington, Trump said the United States had requested video and audio evidence "if it exists." Shortly thereafter, details of an audio recording were published by Turkish media and the New York Times.
The trip "helped confirm our fears that the WH was eager to sweep the Khashoggi case under the rug," one Senate Democratic aide wrote in an email.
On the other hand, Republican senators declined to criticize the results of Pompeo's travel — even those who have been vocal about the crown prince's role in Khashoggi's disappearance and who have said that nothing happens in Saudi Arabia without his knowing about it.
Sen. Lindsey Graham, who on Tuesday called Mohammed a "wrecking ball," declined to comment Wednesday on Pompeo's trip, and Graham's office said simply that he "hasn't said anything about it yet."
Republican members of the Senate Foreign Relations Committee also did not respond to requests for comment.
CORRECTION
Sen. Cory Booker's name was misspelled in an earlier version of this post.