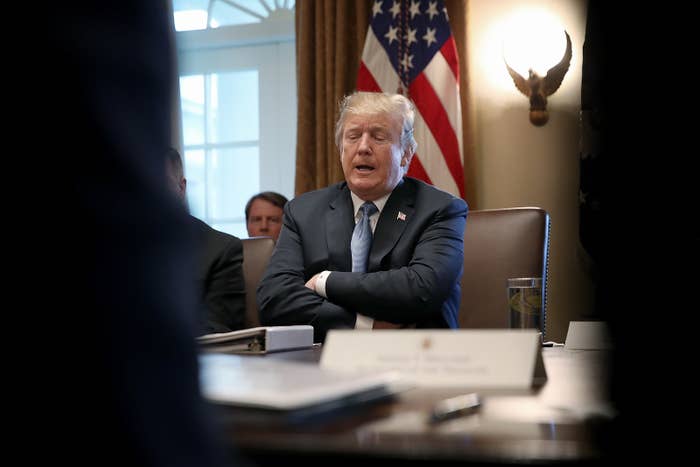 "The world is laughing at us" because of the family separations at the southern border, President Donald Trump proclaimed at a Cabinet meeting Thursday. Much of the country wondered why children were being separated from their asylum-seeking parents at the border.
In reality, the world is far from laughing at the United States. Other countries are looking on in horror as US immigration policies are actually separating toddlers from their parents.
"To separate children from their parents is heartless. We invite the US to join the 196 countries that have already ratified the UN convention on the rights of the child," Swedish Minister for Foreign Affairs Margot Wallström tweeted.
British Prime Minister Theresa May called the policy "wrong."
Marine Le Pen, noted far-right, anti-immigrant French politician, said, "I am opposed to a procedure that separates parents and children," but she ultimately blamed the parents.
Even Iran's supreme leader, Ayatollah Seyed Ali Khamenei, tweeted, "Separating thousands of children from their mothers is a big concern. One cannot watch with a sound state of mind these children crying on TV. How can they commit such a crime, separating children from mothers for a cruel policy? Now, that's who they are. #KeepFamiliesTogether."

Countries that are more directly impacted by Trump's "zero tolerance" immigration policy were also not laughing; they were busy trying to provide consular assistance to those detained.
The Indian government was apparently trying to learn what exactly the situation was with Indians detained in Oregon.
Prior to Trump's executive order stopping family separation, Mexican Foreign Minister Luis Videgaray said, "We have had extensive communication through our embassy with different areas of the US government and I had contact at the ministerial level, both with the secretary of homeland security and this morning with Secretary [of State Mike] Pompeo."
"It is a respectful communication — we do not necessarily agree, but they listen with respect to our position and we listen with respect to theirs," Videgaray said. "They have given us the legal explanations about the origin of this measure, we have listened with receptiveness and with respect to their positions and we have expressed ours. Our position is clear, our position is consistent and our priority is the defense of human rights, particularly the protection of children and girls."
After Trump signed the executive order that said children and parents should be detained together, Videgaray tweeted that while the executive order was good news, Mexico would continue to provide consular aid to boys and girls in vulnerable situations. (Trump, on Thursday, said Mexico does nothing for the United States but take money and send drugs.)
El Salvador, one of the countries where many of the detained children come from, wrote in an email to BuzzFeed News on Wednesday that the United States had not given an official response to its statement of concern.
A State Department official responded to BuzzFeed News to a request for comment on how the department plans to respond to Mexican and Central American countries. The official said in an email, "We regularly discuss migration issues with countries in the region. Irregular migration is a challenge shared across the hemisphere, and we continue to work closely with Mexican and Central American authorities on migration issues. Our strategy for Central America aims to protect U.S. citizens by addressing the root causes of security, governance, and economic drivers of illegal immigration."
On Thursday, the government of El Salvador put out a statement, not laughing but asking the United States to continue to provide information to their consulates, so that that they might try to help Salvadorans.