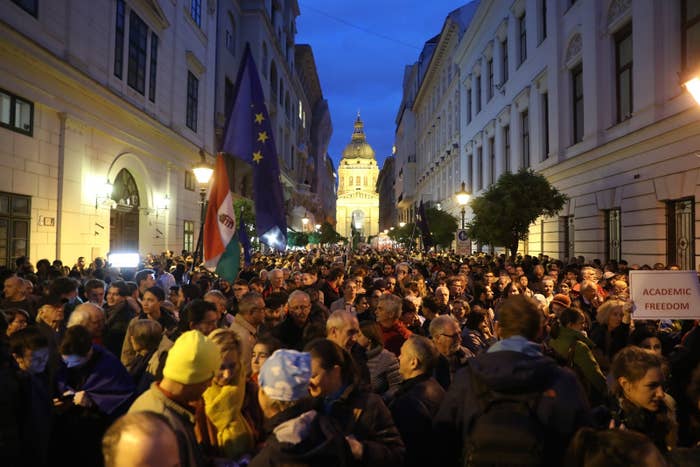 WASHINGTON — In a defeat for the Trump administration, the Hungarian government, whose leader has expressed admiration for the US president, has failed to certify Central European University to continue to operate in Hungary.
CEU was founded by Hungarian-born billionaire George Soros in the early 1990s. But despite the connection to Soros, about whom the US president has spread conspiracy theories, US officials have said repeatedly over the past six months that they did not want the university to leave Hungary.
On Monday, the university confirmed it was moving the majority of its operations from Budapest to Vienna. "CEU has been forced out," the university's president and rector Michael Ignatieff said at a press conference. "This is unprecedented. A US institution has been driven out of a country that is a NATO ally. A European institution has been ousted from a member state of the EU."

The official State Department position had been that the university should stay because it "has strengthened Hungary's influence and leadership in the region through its academic excellence and many contributions to independent, critical thinking." There was also the distaste generated by Hungary effectively kicking out an American institution.
In April 2017, the Hungarian government passed a law saying that foreign universities can only exist in Hungary if there is a bilateral agreement between Hungary and the institution's "home country," in which it was required to have a campus. The Hungarian government insisted that the law was not about Central European University, which opened facilities at Bard College in New York after the law was passed. Nevertheless, the law was so strongly suspected as an attack on the Soros-founded university that it was known colloquially as "Lex CEU," Latin for the "CEU law."
Trump administration officials pressed the government of Hungarian Prime Minister Viktor Orbán to issue the university certification — despite the administration's general reluctance to press an ally on human rights issues.
"I think [the fact] that it's an American university highlighted the absurdity of this legislation," a former Trump administration official told BuzzFeed News.
The Trump administration kept up the pressure over CEU despite a general move to soften US policy toward Hungary, which was treated as a pariah by the Barack Obama administration.
In an August interview with a Hungarian Jewish publication, the US ambassador to Hungary, David Cornstein, said he had not witnessed any infringement of individual or institutional rights since he arrived in the country in the spring.
But he also made clear that allowing CEU to remain in Hungary was an important marker for the administration. A summary of the interview, distributed to embassy staff, listed "to resolve the CEU issue" as one of Cornstein's major goals.
Two months later, at a CEU event, Cornstein implied that the Trump administration expected Hungary to resolve the issue in CEU's favor in exchange for everything else it had done for Hungary, including arranging meetings with key Trump officials and a general softening toward the Orbán government, engineered by the State Department's assistant secretary for Europe and Eurasia, A. Wess Mitchell.
"He just made it clear, and I mean surprisingly clear, that the US has given several things to Hungary and it is time that they give something back," a person who was at the event said of Cornstein's presentation.
The Hungarian government's stance on CEU is proof that the Trump administration's friendlier approach to the country isn't working, said the former official, who requested anonymity to speak openly. "The fact that they haven't gotten leverage on CEU illustrates the problem with that approach — [the Hungarian government is] not feeling pressured generally that what they're doing is the wrong approach, so they won't change."
"Ambassador Cornstein has continued to say he thinks there's an opportunity [to resolve the issue], but what we're hearing from the Hungarian government has been a flat-out no," said Melissa Hooper, director of human rights and civil society at Human Rights First.
"It seems like there's a real interest in sending a message to the US," she added, that message being that Orbán is now powerful enough that he doesn't need to listen to the US government.
But even with CEU likely to be forced from Hungary after all of the Trump administration's urging, policy toward Hungary isn't expected to change. "There was still this feeling that they weren't quite sure what to do. But not that there's a definite sense that they need to change the policy," Hooper said.
The former administration official agreed.
"I think Wess [Mitchell] has made it pretty clear that he will only speak out [about illiberal actions] in these countries when it's a gross violation of their own constitutions," the former official said. "As long as he feels like they're partners against Russia, there's not gonna be a real move to prioritize the rule of law or human rights."
The Hungarian Embassy in Washington, DC, did not respond to a request for comment.
Asked whether the failure to certify the university would result in a US policy change, a State Department spokesperson had said, "We understand CEU is considering a potential move. We continue to monitor this issue."