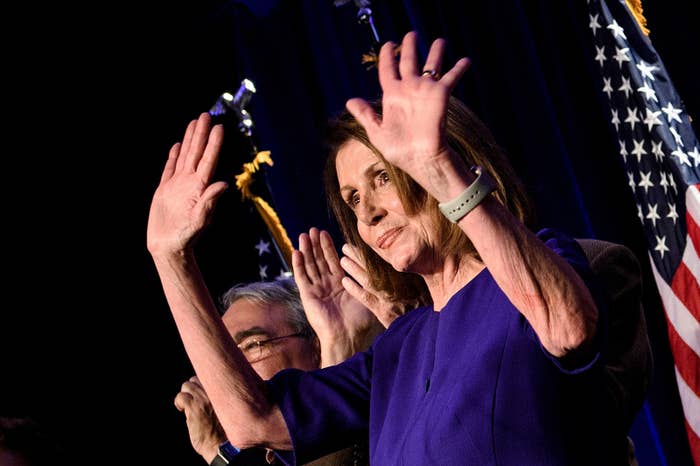 WASHINGTON — Diplomats from Europe to East Asia watched the US midterm elections to see whether the outcome would provide some check on the Trump administration's foreign policy, and in particular, his aggressive approach toward trade.

But when the House flipped but the Senate did not, the answer was clear: Not much would change at all.
As one Democratic congressional staffer put it, "I'm not sure there's a whole lot House Democrats can do." For example, it is the Senate and not the House that must approve treaties, though trade agreements do require both.
Which put diplomats roughly back where they were before Tuesday: trying to deal with Trump's opposition to multilateralism and his tough approach to trade.

"It's more or less business as usual," Canadian Ambassador David MacNaughton told BuzzFeed News. Canada recently resolved a trade issue with the US by finally agreeing to a redone NAFTA deal, now known as the United States–Mexico–Canada Agreement, or USMCA.
The Trump administration still has tariffs imposed on Canadian steel and aluminum imports. But MacNaughton was optimistic the USMCA would get congressional approval, allowing him to work on other, different issues. The steel and aluminum tariffs eventually will be lifted, he said. He noted that US–Canada relations transcend whatever the current state of Trump's relationship might be with Canadian Prime Minister Justin Trudeau.
"The senior members of the House who are going to be committee chairs — we know them all, we've worked with them," he said. "A lot of the Democrats have very good relations with Canada, [and are] very supportive of Canada."
Canada isn't the only country whose officials noted that ties go beyond the Trump administration. On trade and climate change, Europeans have turned to states and cities after Trump withdrew from the Paris climate accord. German Ambassador Emily Haber alluded to those relationships at an event at the Hudson Institute.
"There are a number of links and bonds that exist no matter if we agree" on other issues, such as the Iran nuclear deal, she said. She noted that Germany invests heavily in the United States and sends students to the US on educational exchanges.
But the congressional staffer noted that not all Europeans look to the United States to keep a multilateral world order together — some, in fact, have embraced Trump's unilateral approach and tied their futures to his.
"What is Europe really looking for anyways?" one congressional staffer asked. He cited European leaders like Hungarian Prime Minister Viktor Orbán who have advocated populist policies similar to Trump's, including a crackdown on immigration. Those leaders, the staffer said, may feel Tuesday's change of leadership in the House is "just a little setback for the president, but his agenda will continue, and so they can, too."
CORRECTION
Trade agreements must be approved by both the House and the Senate. An earlier version of the piece suggested they only had to be approved by the Senate.