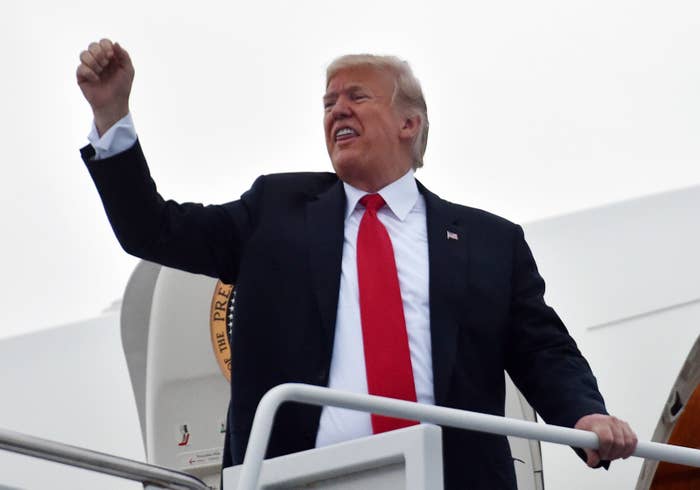 At 11:59 p.m. Sunday, the Trump administration reimposed sanctions on Iran that had been lifted while the United States was a party to the Joint Comprehensive Plan of Action, better known as the Iran nuclear deal.
Some of the sanctions lifted under the deal were put back in place in August, three months after Trump announced that he was pulling the US out of the accord. Monday's long-awaited reimposition, however, is arguably more significant, because the sanctions included will hit countries and companies for importing Iranian crude oil. An increase in oil revenue has been a clear argument in Tehran for Iran staying in the nuclear deal, and the other signatories of the JCPOA — in particular the United Kingdom, France, Germany, and the European Union — have been trying to make sure that stayed the case.
The Trump administration's move is a serious impediment to that goal. While eight entities — as of Sunday night, it had not been specified whether they were all countries or nations — are temporarily exempted, either because they were in the process of reducing Iranian oil imports to zero or had already significantly reduced imports, the European Union is not among them. Japan, South Korea, India, China, Taiwan, and Turkey all got waivers, as did Italy and Greece. (Exemptions will also be granted for three nonproliferation projects, Pompeo announced on Monday. One of those will be Bushehr nuclear power plant. Pompeo stressed that the waivers are "very narrow and defined.")
A joint statement from the foreign and finance ministers of the United Kingdom, France, and Germany, and EU foreign policy chief High Representative Federica Mogherini said that the countries "deeply regret" the newly reimposed sanctions.
"The JCPoA is working and delivering on its goal," the statement said. "The International Atomic Energy Agency (IAEA) has confirmed in twelve consecutive reports that Iran is abiding by its commitments under the Agreement. We expect Iran to continue implementing all its nuclear commitments in full, as set out by the JCPoA. The JCPoA also provides for the lifting of international sanctions in order to have a positive impact on trade and economic relations with Iran, but most importantly on the lives of the Iranian people."
The Trump administration has also argued that it is reimposing sanctions on Iran to help the Iranian people, many of whom cannot come into the United States due to Trump's travel ban.
"These new sanctions will accelerate the highly successful effects of our sanctions that have already occurred. The maximum pressure we imposed has caused the rial to drop dramatically, Rouhani's cabinet is in disarray, and the Iranian people are raising their voices even louder against a corrupt and hypocritical regime," Secretary of State Mike Pompeo said Friday. On Sunday, Pompeo guaranteed that the new sanctions would not lead to Iran restarting its nuclear program.
Trump himself chimed in by tweeting out a photo of himself emblazoned with the words "Sanctions are coming," a reference to popular literary and television series Game of Thrones.
Some were unamused by the allusion.
"These are Trump sanctions primarily against European companies and the sovereignty of EU in global affairs," Carl Bildt, former prime minister and foreign minister of Sweden, tweeted. "Hostile action."
The EU is trying to get around the sanctions with a financial mechanism — known as a special purpose vehicle — that would allow companies to trade with Iran. The mechanism would act as a third party, handling trade between European companies and Iran, and thus avoiding payments into and out of Iran.
The US does not seem to think that will be an issue. Treasury Secretary Steve Mnuchin dismissed the idea that significant transactions would go through the mechanism in a call with reporters Friday.
Some in the United States think that the reimposed sanctions do not go far enough. Republican Sens. Ted Cruz of Texas, Marco Rubio of Florida, and Tom Cotton of Arkansas reportedly plan to introduce legislation that would cut Iranian banks off from SWIFT, the global financial network.
"We have advised SWIFT that it must disconnect any Iranian institution that we designate as soon as technologically feasible to avoid sanctions exposure," Mnuchin said.
Sanctioning SWIFT would mean cutting the global financial network off from transactions in US currency, which could perhaps have ramifications that go beyond what Trump intended when he announced he was removing the United States from the international agreement last May.