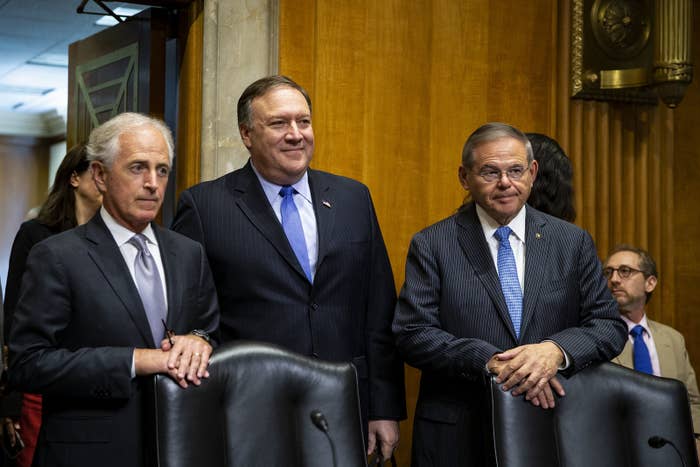 Over a month after the summit between President Donald Trump and his Russian counterpart, high-ranking Senate Democrats have sent a letter to Secretary of State Mike Pompeo formally requesting relevant materials from the meeting, including notes of the interpreter who witnessed it.

The request, sent in a letter by Foreign Relations Committee ranking member Sen. Bob Menendez and Democratic Sen. Jeanne Shaheen, asks for "all unclassified and classified cable traffic, memoranda of conversations, interpreter's notes and policy directives of the meeting, and if no documents exist, to confirm so."
The letter speaks to the confusion that still lingers after the mid-July Helsinki summit between Trump and Russian President Vladimir Putin, and the division between Congress (and most of the executive branch) and the president over Russia. It also is a reflection of deep distrust among Democrats of Pompeo's July 25 testimony before the committee, where he told them his statements, and not Trump's tweets, should be taken as official US policy.
"The public press conference in which the president called the United States 'foolish' and praised Putin's election meddling denial as 'strong and powerful' continues to be the only firsthand, US account the American people have of what was addressed," the letter reads. "As you know, Russian officials have taken advantage of the lack of communication by the White House to circulate their own, possibly false, readouts of what occurred during this private meeting."
Meeting such a request, the letter said, would help to obtain an understanding of the extended meeting between Trump and Putin, and would help determine the veracity of Russian statements about the meeting.
The letter cites the cause of the request as the unprecedented meeting between Trump and Putin. But the request, too, is unprecedented: Interpreters aren't meant to serve as historical custodians of the meetings for which they are interpreting.
As unprecedented as the situation may be, Pompeo is unlikely to heed their request. A subpoena must be approved by a majority of the Foreign Relations Committee and signed by its Republican chair, and while Sen. Bob Corker, the chair and a Trump critic, has expressed concerns over Trump's Russia policy, he did not sign the letter. Corker's office did not immediately respond to a request for comment.
When Democratic senators, including Menendez, asked at the July hearing regarding the content of the meeting, Pompeo accused them of politicizing foreign policy.