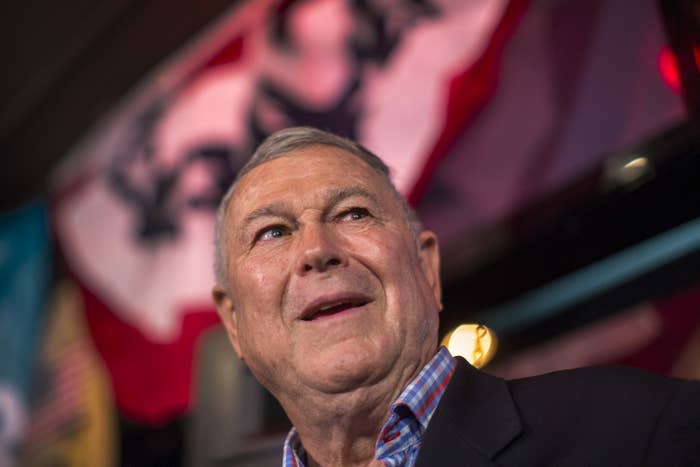 The Kremlin-backed broadcaster RT said it has no plans to hire Dana Rohrabacher, the famously pro-Russian congressman who is projected to lose his seat in California's Orange County.

"RT does not have plans to hire Dana Rohrabacher. But thank you for the idea," a network spokesperson said in an email to BuzzFeed News.
Rohrabacher, who was chair of the House Foreign Affairs' subcommittee on Europe and Eurasia, was deemed "Putin's favorite congressman" by Politico for his staunch opposition to the Magnitsky Act, legislation that targets Russian officials involved in the murder of Sergei Magnitsky, the lawyer and accountant who died in Russian prison after uncovering alleged tax fraud. The Republican has also claimed that he drunkenly arm-wrestled Russian President Vladimir Putin in the 1990s (and that Putin won).
Formerly known as Russia Today, RT has hired such figures as Donald Trump campaign surrogate Scottie Nell Hughes. Rohrabacher's office did not immediately answer whether he is interested in a job at RT.
In 2012, the FBI warned the congressman that Russian spies were trying to recruit him. In 2013, he tried to take a congressional delegation to Chechnya with American action star Steven Seagal (the trip did not take place both because of security issues and because Chechen leader Ramzan Kadyrov has a reputation for committing grievous human rights abuses; Seagal was appointed Russian special envoy to the US earlier this year).
Last year, the one-time special assistant to former president Ronald Reagan said, "Did they try to influence our election? We have tried to influence their elections, and everybody's elections," Rohrabacher said. "The American people are being fed information that would lead them to believe that we need to be in a war-like stance when it comes to Russia."
It's a position not dissimilar to that heard on RT.