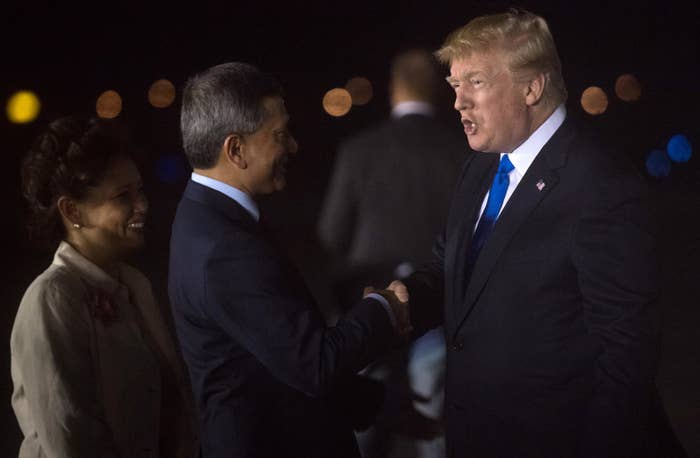 Donald Trump is predicting "a terrific success" or at least a "modified" one when he sits down with North Korean leader Kim Jong Un on Tuesday morning in Singapore. But Trump's hope for success is not universal.
Hoping for failure are those who want Kim out. Those include defectors and human rights advocacy groups who mistrust the Kim regime and have deeply personal reasons for not wanting to work with Kim, and those, mostly former Republican officials, who believe that only by ousting Kim — either by undermining his government from within or through military force — can the US be certain of a peaceful settlement of the seven-decade dispute on the Korean Peninsula.
Many of those who support regime change believe that the Kim government is fundamentally untrustworthy or irrational. They also say the US should be reluctant to work with a government that has committed some of the world's worst human rights abuses.
"I would have been more open to having a sit-down with him if there had been some indication that Kim Jong Un was sincere," Suzanne Scholte, chair of the North Korea Freedom Coalition, an organization of 60 groups that advocate for human rights in North Korea, told BuzzFeed News. "There won't be peace and stability on the Korean Peninsula until the Kim regime is gone."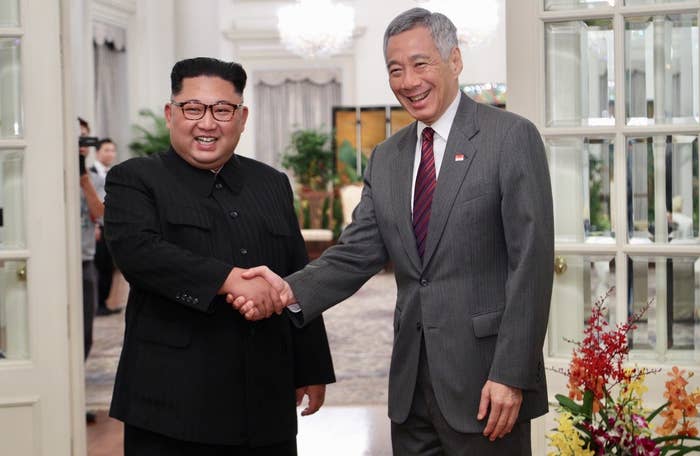 Sean King, who worked in the Commerce Department during the George W. Bush administration, holds a similar view. "The nukes aren't even the real issue. The regime's the real issue," he wrote in an email, adding that he sees "regime change as the only eventual way out of this."
Still, with the first meeting between a sitting US president and a North Korean leader just hours away — it is scheduled to begin at 9 a.m. in Singapore, 9 p.m. Monday on the US East Coast — no one wants to openly oppose an opening negotiating session.
King was quick to say that he doesn't oppose the summit itself, only the possibility that Trump will end up agreeing to withdraw US troops from South Korea or ease the economic sanctions against the North. And Scholte insisted she is not against the summit, per se, but that she does not think that Kim is serious about settling issues but is interested only in easing economic sanctions.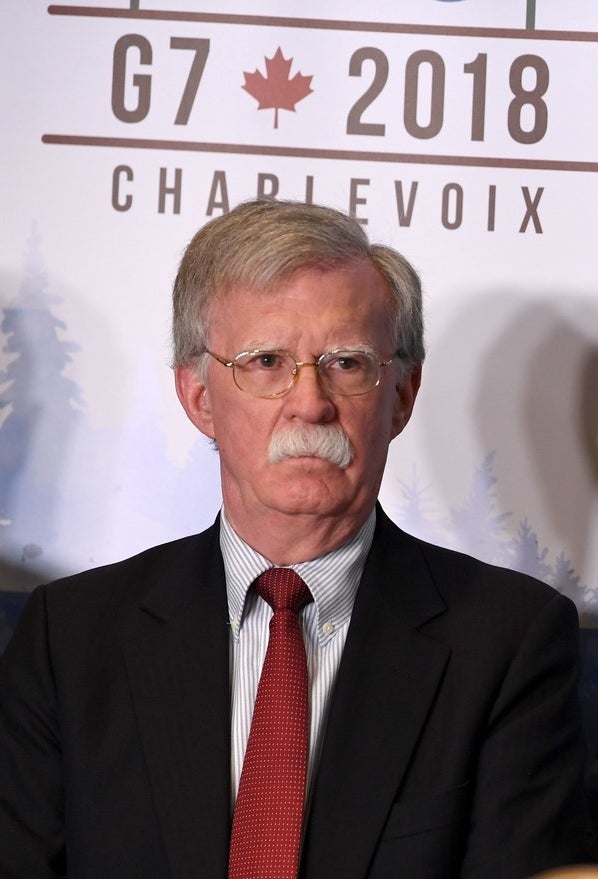 After decades of opposition to the North Korean regime, the great irony now is that advocating regime change has become a fringe position, even among former proponents. Asked what high-profile policymakers might oppose the talks in favor of regime change, Michael Green of the Center for Strategic and International Studies, a Washington think tank, and formerly of George W. Bush's National Security Council, answered, "Well, if he weren't in the NSC right now, I would say John Bolton" — Trump's national security adviser.
Only a month ago, Bolton floated the "Libya option" as the possible outcome in North Korea, a reference to Muammar Gaddafi's death at the hands of rebels just a few years after he'd agreed to give up his nuclear program. Bolton's statement, and a similar remark days later by Vice President Mike Pence, prompted an angry North Korean response and Trump's short-lived cancellation of the summit.
But Bolton is now, at least publicly, on board with the summit — and with a president who badly wants a deal. "President Trump's policy is Amb. Bolton's policy," NSC spokesperson Garrett Marquis wrote in response to a BuzzFeed News request for comment. "There is no daylight between them."
"I actually think that the US hardline group has taken a backseat in this whole approach and gotten on board, for the most part," said Abigail Grace, a member of the NSC staff during the first year of Trump's presidency and now on the staff of the Center for a New American Security.
That's critical, since North Korea analysts in China argue that North Korea's fears that the US seeks regime change are at the heart of the Kim government's mistrust of the US, making it important for the Trump administration to signal it's not seeking regime change as it enters talks with Kim.
Green acknowledges that regime change in North Korea was one of three options the NSC he served on presented to then-president George W. Bush. The report was rejected — its author, Samantha Ravich, now at the conservative Foundation for Defense of Democracies, did not respond to a request for comment — and Green now insists the Bush administration never favored ousting the regime of Kim's father, Kim Jong Il. "We looked at all options and it's just not practical," he said, citing China's continued support for Kim.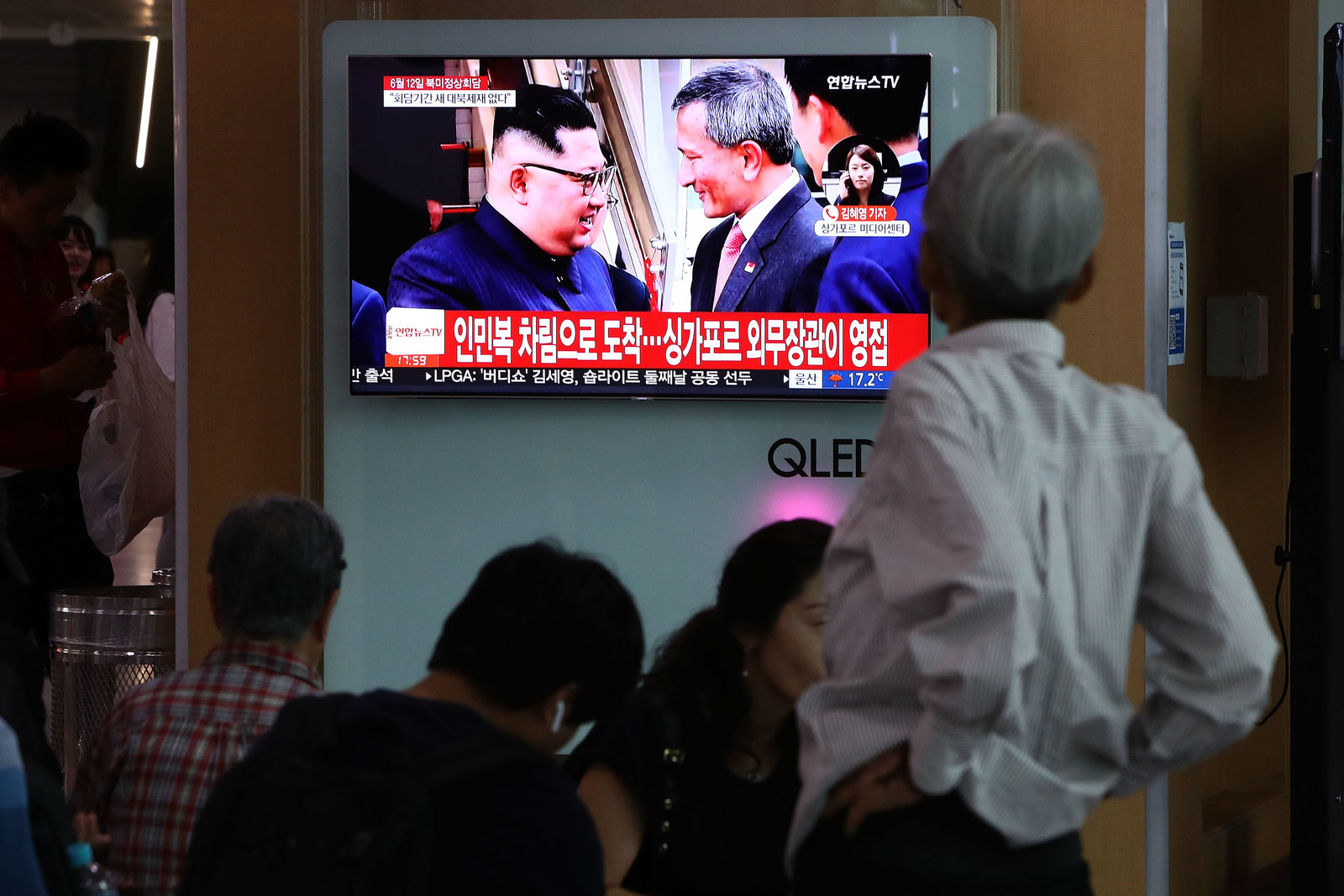 There's also only a small constituency for regime change in the United States, where only about 200 North Korean defectors live (not counting those who arrived after obtaining South Korean citizenship), unlike the tens of thousands of Venezuelan and Cuban exiles who press US politicians to oppose the governments in Caracas and Havana.
"We don't have, in the United States, a domestic constituency that is as opposed to Kim Jong Un as there was that was opposed to Castro and the Castro regime," said Anthony Clark Arend, a professor of government and foreign service at Georgetown University. "That's one important difference."
Many politicians, however, appear accountable to Trump — and that's led to odd political considerations.
"The politics of it are really weird," said Green. "If President Obama had done this, some of the same people who are praising the president would have just savaged him."
Arend has similar thoughts. "I suspect that there are some...Republicans who might have opposed an Obama engaging these negotiations, or a Hillary Clinton," Arend said. He added, "I'm loath to say who these people might be."
Rajagopalan reported from Singapore.