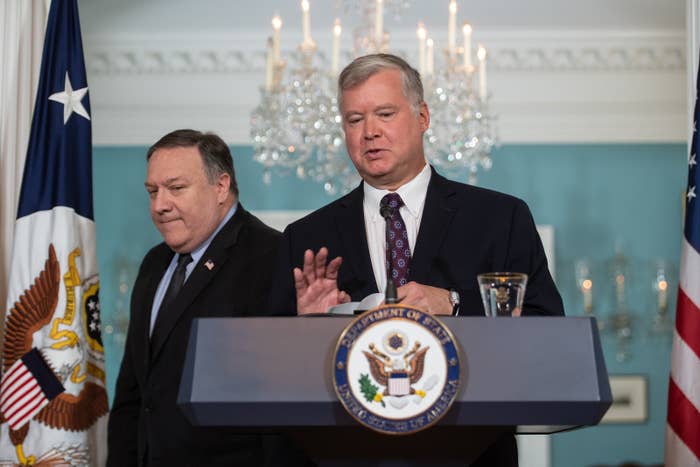 Secretary of State Mike Pompeo announced Thursday that he has appointed a new special representative for North Korea to take charge of negotiations with the government of Kim Jong Un that until now Pompeo has handled himself.

It's a "timely moment for Steve to join in," Pompeo said in naming Stephen Biegun, who, until his appointment, was vice president of international governmental affairs for Ford Motor Company. Biegun will join Pompeo on a trip to North Korea next week. It will be Pompeo's fourth trip to North Korea since April.
Lawmakers and foreign officials have been pressing for the appointment of a special representative, saying the secretary of state has too many other concerns to be the point person on delicate and time-consuming negotiations with North Korea over that country's nuclear program. What's more, appointing a special representative, the thinking goes, normalizes negotiations.
Mintaro Oba, who specialized in the Koreas at the State Department during the Obama administration, called the appointment "sensible."
"Treating engagement with North Korea like reality TV isn't helpful, and when you're keeping discussions at the secretary of state level and above, each meeting and visit is treated like an episode of The Bachelor," he said.
Biegun is the latest of special representative appointment announced by the State Department in what is a reversal of the strategy imposed by Pompeo's predecessor, Rex Tillerson, to scale back on such posts. He fills a vacancy created six months ago by the retirement of Joseph Yun, a career ambassador. Just last week, the State Department announced that James Jeffrey, the former US ambassador to Iraq and Turkey, would return as the special envoy for Syria.
"In general, I view having a Special Rep as better than not having one, and by all accounts Biegun has experience, heft, and so far the confidence of the President and SecState. Those are ingredients for success, and making progress…if not on disarmament, at least arms control," Vipin Narang, an associate professor of political science at the Massachusetts Institute of Technology focusing on nuclear proliferation and strategy, told BuzzFeed News in an email.
Biegun's name has been floated before as a potential Trump diplomatic appointment. Biegun's appointment, however, raised questions among some, who noted that — while he served as national security adviser to former Senate majority leader Bill Frist, was executive secretary of the National Security Council during the first years of the George W. Bush administration, and advised Sarah Palin on foreign policy during the 2008 presidential campaign — he has little experience in Asia.
"While I'm not opposed in principle to people from outside of State becoming special representatives, the top decision makers on North Korea are not career diplomats or North Korea experts, and it would have made the most sense to appoint someone with that sort of experience to complement the rest of the team," Oba said. He noted that the current US ambassador to the Philippines, Sung Kim, had once held the special representative to North Korea role and had participated in previous talks on North Korea's nuclear program.
"If anything, State should have formalized that role by re-appointing him the special representative," Oba added.
Biegun is coming into the role just days after the International Atomic Energy Agency said it has seen no indication that North Korea has stopped nuclear activities since the June 12 summit in Singapore between Kim and President Donald Trump, after which Trump claimed Kim had pledged to "denuclearize."
"A special envoy makes sense from our side, as Secretary Pompeo can't be spending all his time on North Korea," Sean King, who worked on Asia issues at the US Chamber of Commerce during the George W. Bush administration and is now senior vice president at Park Strategies, a lobbying firm. "But this doesn't change the fact that North Korea's hearing a very hard line from the likes of Pompeo and [John] Bolton while Kim Jong Un himself hears something quite different from President Trump. But as with Trump's private Putin meeting in Helsinki, nobody really knows what Trump and Kim discussed on their own in Singapore."