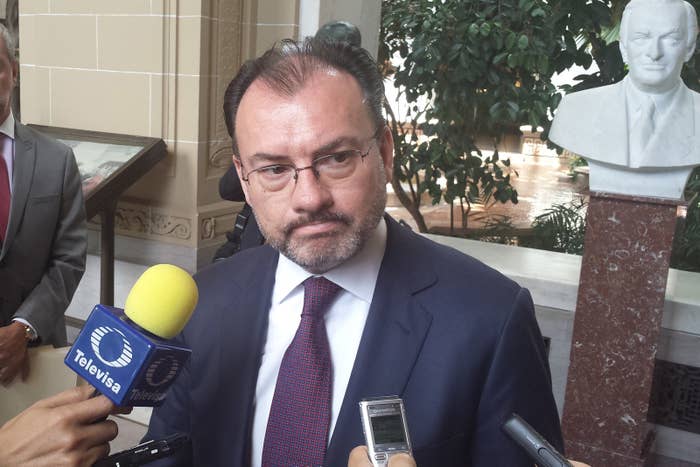 Mexico will present a resolution before the Organization of American States condemning the Trump administration's immigration policy, the Mexican foreign minister announced Tuesday.
Mexico expects the resolution to be cosponsored by other members of the international organization, and it could be presented as soon as Friday, when the next meeting of the OAS is scheduled, Foreign Minister Luis Videgaray said during a meeting with Mexican legislators and OAS Secretary General Luis Almagro in Washington, DC, where the OAS is located.
The resolution will condemn the separation of children from their parents, and it call on the Inter-American Commission on Human Rights to visit facilities where the children are being held near the US–Mexico border.
The announcement of the resolution followed Videgaray's condemnation of the policy.
"The Inter-American human rights system plays an important role in this matter, and we will have to continue working so that this can be adopted quickly and efficiently," Videgaray said.
Traditionally, OAS decisions are adopted by consensus. However, in some cases, decisions can be adopted by a majority of 18 of its 34 member states. All countries in the Western Hemisphere except Cuba belong.
A resolution or discussion at the OAS is rarely enough to shift a country's internal foreign policy (consider, for example, the group's discussions of Venezuela). But any effort to condemn the United States for human rights violations offers a break from the normal course of events in the OAS, in which the US is generally leading the call for a human rights investigation.
The State Department did not immediately respond to a request for comment. The Trump administration was previously presented with a Wednesday deadline to respond to the Inter-American Commission on Human Rights on details about the treatment of separated children and an update on the reunification process, according to a representative from the Texas Civil Rights Project.