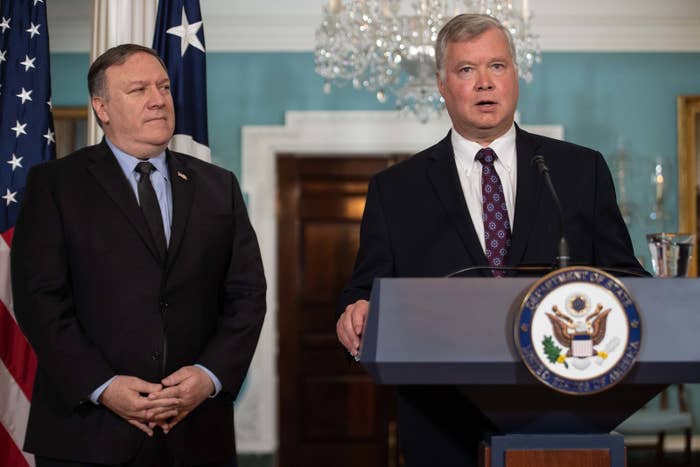 Just after midnight, as midterm election results were rolling in, the State Department put out an announcement: Secretary of State Mike Pompeo would not be meeting with North Korean official Kim Yong Chol in New York on Thursday after all.

State Department deputy spokesperson Robert Palladino explained the cancellation as being a "purely a scheduling issue. "Schedules change. Schedules change all the time," he said hours later. "We're not in a rush," he said, and noted that they will reconvene when schedules permit.
But this was not the first time US officials have canceled a meeting with their North Korean counterparts after it's been announced. In July, the North Koreans reportedly stood the Americans up in what was meant to be a meeting to discuss the return of the remains of American soldiers killed in the Korean War. And Steve Biegun, special representative for North Korea, hasn't been able to meet with North Korean diplomats since he stepped into the job in August.
All of which raises a question: Why do meetings with North Koreans keep falling apart?
"Canceled or delayed meetings are fairly common with North Korea, usually for one of two reasons," Mintaro Oba, a former State Department official specializing in the Koreas and now at West Wing Writers. "One, it's a deliberate tactic to put pressure on the negotiating partner or see how much that partner wants the meeting."
It could also, he said, be a matter of North Korean bureaucracy — negotiators may need more time to "get a clear mandate" from their superiors.
"In this particular case, given how senior Kim Yong Chol is and how much access he has to Kim Jong Un, it's probably the former," Oba said. "It wouldn't surprise me if North Korea issued a testy statement saying they couldn't make progress because the United States was being hostile or belligerent — while still shielding President Trump from any direct attack." That, he said, would raise the stakes and present a brink from which the two leaders could once again bring their countries back.
That's particularly possible because of North Korean frustration with US demands, said Vipin Narang, associate professor of political science at MIT focusing on North Korea and nuclear proliferation. The United States, he explained, has insisted not only on nuclear disarmament but also on US verification of nuclear disarmament before sanctions relief.
"I suspect they have figured they can get a summit without all of these preliminary meetings," Narang said, adding that the North Koreans would see no point on logistics meetings if they can't get sanctions relief without US verification.
"Maybe they're pulling a reverse Trump," he said, "canceling to see how badly Trump wants it after the midterms."
"These frequent cancellations speak to Trump's impulsive N. Korea policy, as well as to Washington's and Pyongyang's differing understandings of denuclearization," Sean King, who worked on Asia at the US Department of Commerce during the Bush administration, agreed in an email. "Diverging approaches toward the North by Washington and Seoul don't help things either… Maybe, it's better we wait. After all, it'll be on again soon enough."
Trump thinks so too. Speaking to the press on Wednesday, he said he expected to meet with North Korean dictator Kim Jong Un sometime early next year.