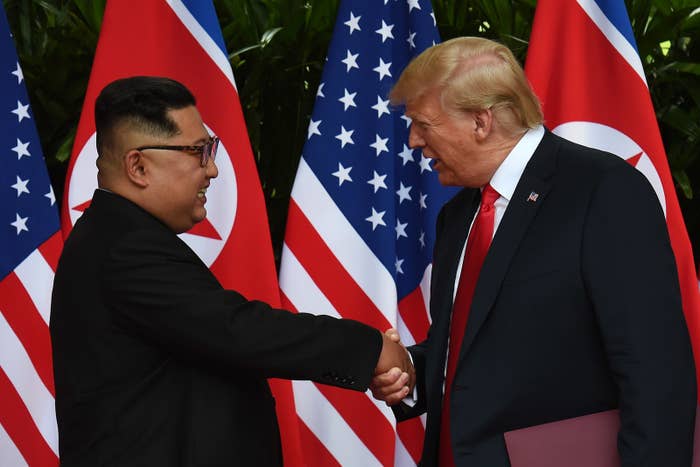 For months, Democrats on the Senate Foreign Relations Committee have been pushing for a full committee hearing on North Korea and the potential denuclearization process. And for months, according to multiple Senate staffers, the Republican majority has been reluctant to schedule one.
"Given the importance of the issues at play Democratic members and staff have made multiple efforts to engage the administration in briefings and hearings, both in the run-up to Singapore and subsequently," one Senate staffer told BuzzFeed News. "The administration has been resistant, and the majority has not yet demonstrated a willingness to hold the sort of hearings, briefings and consultations that are appropriate for oversight and policy for this sort of diplomatic engagement."
To not hold full hearings on such a major foreign policy issue would be to shirk one of the Senate's main responsibilities, argued Mintaro Oba, who worked on Korea policy in the Obama administration's State Department. "The Senate was designed in many ways with the goal of advice and consent on foreign policy in mind, but the raw partisanship of the last few years has really diminished its public credibility," he wrote in an email, adding, "It's important for Senators to understand that this isn't just a diplomatic moment or a political moment, but an institutional moment, too. It's a chance for the Senate to reclaim its institutional credibility by showing it can play a constructive role on something as complex and challenging as North Korea."
The East Asia subcommittee held a hearing on the subject in early June, but the full committee has yet to hold a hearing on what, exactly, Trump is doing regarding denuclearization in North Korea. That stands in sharp contrast to the run-up to the signing of the Joint Comprehensive Plan of Action, better known as the Iran nuclear deal. In 2015, there were nine full committee hearings open to the public before the signing of the deal, and committee chair Sen. Bob Corker continued to hold full hearings on the implementation thereafter.
"As President Trump continues insulting our allies, embracing our adversaries and blind-siding everyone concerned with America's leadership on the global stage, congressional Republicans cannot continue dragging their feet on conducting critical congressional oversight of the executive branch," ranking member Bob Menendez told BuzzFeed News.
"I'm glad to see the President pursuing diplomacy with North Korea, however, our next steps following the summit with Kim Jong Un remain unclear," said Sen. Jeanne Shaheen, who is on the committee. "There needs to be direct communication between the President, Congress and our international partners as negotiations progress. Congress should be apprised of efforts to guarantee what the administration has referred to as 'complete, verifiable and irreversible denuclearization' by North Korea."
"It's clearly not business as usual on Capitol Hill," said Jon Wolfsthal, former special assistant to Barack Obama who oversaw arms control and nonproliferation policy at the National Security Council from 2014 to 2017. Wolfsthal believed that the hearings and committee's work back then were partisan, pointing in particular to a letter sent by 47 Republican senators (Corker not among them) warning Iran about making a deal with the United States.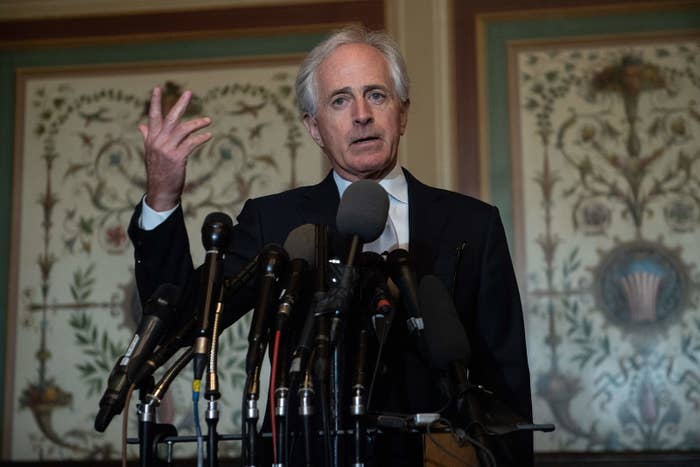 But hearings don't need to be partisan, Wolfsthal, now director of the Nuclear Crisis Group, said. "We can deal with the facts. The Republican Senate was up in arms because they believed there were secret agreements between the IAEA and Iran." He added, "Now we have evidence that there are secret understandings between the secretary of state and the North Korean leader, and the Senate isn't even asking any questions."

"I think hearings could play a very useful role here in trying to get some American consistency in terms of what our objectives are," Wolfsthal added.
Asked whether a full committee hearing was in the works, a spokesperson for Corker's office answered by email, "Yes, we are working with the State Department to find a date for Secretary Pompeo to appear before the committee to share his insights on the North Korea negotiations."
One Democratic staffer said some are speculating that Corker, despite his past run-ins with President Donald Trump, doesn't want to "ruffle feathers" by putting administration officials on the spot or giving Democrats a platform from which to criticize the Trump team.

But then, the administration also hasn't been particularly enthusiastic about engaging with the full committee. There was a classified briefing scheduled for all committee members Wednesday; that briefing was canceled.
A State Department official who would not be identified by name declined to give a reason for the briefing's cancellation: "We are not going to comment on scheduling issues but the secretary is in regular contact with Congress following the successful summit after his recent return from Asia. He looks forward to continuing these engagements and keeping members informed." One senior Senate Democratic aide hazarded a guess, though, telling BuzzFeed News, "You can't give a briefing to senators when you have no strategy to discuss."
But staying mum may not prove an effective long-term strategy. "We've seen constantly over the years that it's hard to sustain major changes in foreign policy without congressional buy-in. And if the Trump administration's hope is to ultimately make a big deal with North Korea on denuclearization, it needs to set the right groundwork with Congress and make members of Congress feel like partners in the process, " wrote Oba, now at West Wing Writers. "The Senate Foreign Relations Committee is the most important part of that."
"Given the Senate Foreign Relations Committee's jurisdiction over the execution of US foreign affairs, it is fundamentally necessary that we receive testimony from the very administration officials executing that policy and question them in a transparent forum that is also accessible to the American people," Menendez said. "I understand President Trump and Secretary Pompeo think they have a great story to tell on North Korea diplomacy, Russia's aggression and US–Venezuela policy. We are more than eager to hear them."