A Netanyahu Aide Faces A #MeToo Moment As Reports Of Rape And Harassment Flood In
Ambassador Ron Dermer had been told that Israeli government spokesperson David Keyes was a threat to women. He just didn't tell his boss.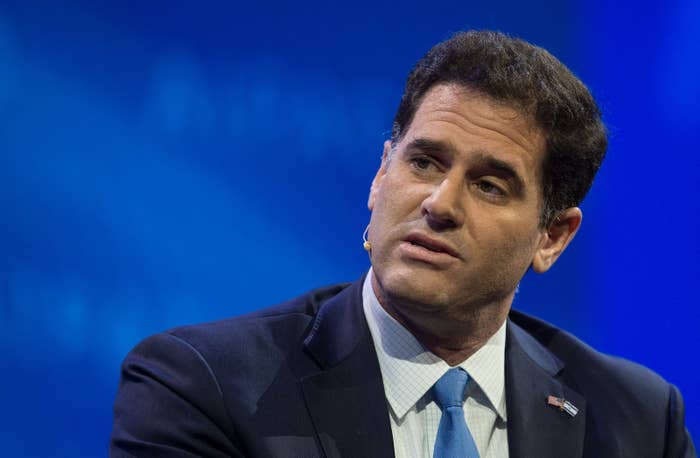 Ron Dermer, Israel's ambassador to the United States, said Friday that he knew of claims of sexual misconduct by Israeli government spokesperson David Keyes, but chose not to share that knowledge with Israeli Prime Minister Benjamin Netanyahu.

In a statement released by the Israeli Embassy, Dermer confirmed that he had been informed of allegations against Keyes, who had been banned from wandering through the halls of the opinion section of the Wall Street Journal because of harassment complaints from women Journal employees. The call about Keyes came in November 2016 from the then-deputy editor of the Journal's opinion pages, Bret Stephens, who is now a columnist for the New York Times.
Stephens told the Times that he called Dermer to warn him that Keyes posed a threat to women in Israeli government offices. Stephens also said he told Keyes himself that he was "a disgrace to men" and "a disgrace as a Jew," according to the Times (Stephens is also Jewish).
Keyes' reputation for sexual harassment also reportedly caused a change in policy in the Washington offices of the Foundation for the Defense of Democracies, where he was accused of harassing two women employees in 2014. As a response to those accusations, the foundation barred visitors from wandering freely through its offices, the Times reported.

The foundation did not confirm that Keyes' behavior had prompted a policy change, instead issuing a statement to BuzzFeed News that it had "zero tolerance" for "inappropriate behavior."
"FDD takes all allegations of inappropriate behavior, either by our employees or our guests, extremely seriously," the statement said. "Over the years, management has put in place strict policies and best practices that reflect zero tolerance for harassment or any form of inappropriate behavior."
Keyes, who grew up in California, was the executive director of the Washington-based NGO Advancing Human Rights before he became Netanyahu's spokesperson to foreign media in March 2016.
Dermer was unconcerned about Keyes' alleged activities, which took place in the United States, since there had been no allegation of a criminal act.
"The ambassador received a phone call from Bret Stephens over half a year after David Keyes entered his role in the Prime Minister's Office regarding the conduct attributed to Keyes before he joined the office," Dermer's office said in its statement. "Information about the conversation was not provided to the Prime Minister's Office.
"If Stephens or anyone else had given the ambassador information about sexual assault or any other criminal act committed against women by anybody in the Prime Minister's Office, whether they occurred before the person entered the position or after, he would have immediately informed the Prime Minister's Office."
It was not clear whether Dermer's judgment call would have repercussions for his standing within the Israeli government. The Israeli Embassy did not respond to a request for comment.
Sexual harassment is an issue in Israel, where in 2011 a former president was sentenced to seven years in prison for raping government employees who reported to him. Other reports of sexual harassment have roiled Israeli politics. In July, the leader of the Zionist Union political party demanded that Knesset member Eitan Broshi resign after allegations that he had assaulted a woman 15 years earlier.
The country's entry in the Eurovision song contest, "Toy," also was "influenced by" the #MeToo movement. "I'm not your toy, you stupid boy," singer Netta Barzilai declared.
The accusation that Keyes sexually assaulted a New York state Senate candidate, Julia Salazar, has been followed closely in Israeli media, as have the subsequent developments, and Hebrew-language Twitter users have wondered about the case's impact on Netanyahu, who is already the subject of an Israeli police corruption investigation in which his wife has been indicted.
Keyes, who was born American but took Israeli citizenship, stepped down from his post Thursday to "take time off to clear [his] name."
At least 14 women have made allegations against Keyes. Salazar's are perhaps the most serious. The politician, who won her race in New York's Democratic primary Thursday, alleges that Keyes led her back to his home where he refused to let her leave and forced her to perform oral sex on him; Keyes denies this allegation.
Keyes has not, however, responded to other allegations.
Wall Street Journal reporter Shayndi Raice said he tried to "bully and pressure" her into having sex with him. One unnamed woman, a North American who immigrated to Israel, alleged that Keyes did not assault her but accused him of "aggressive, sexual behavior" after Keyes began working with Netanyahu.