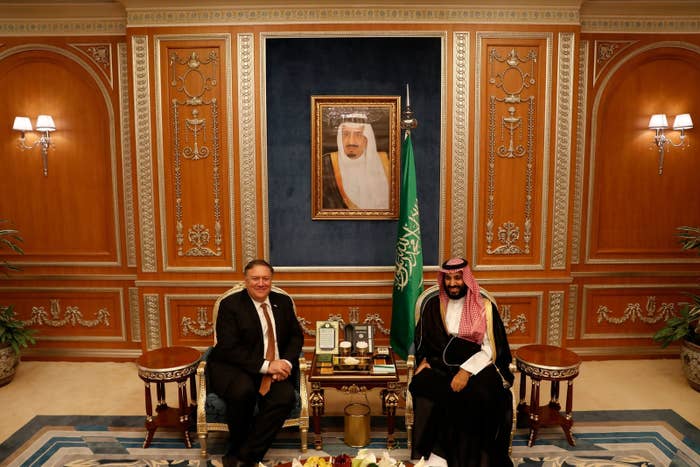 The State Department announced Tuesday that 21 Saudi officials would have their visas revoked or be considered ineligible to enter the United States over their alleged involvement in the murder of Jamal Khashoggi, the US permanent resident and Washington Post columnist who was killed inside the Saudi Consulate in Istanbul three weeks ago.

Secretary of State Mike Pompeo was in Riyadh just last week, where he stressed the importance of the US–Saudi relationship. But since then, after weeks of denying responsibility for Khashoggi's death, the Saudis admitted that he was killed in what they now are claiming was a fistfight gone awry.
Saudi Crown Prince Mohammed bin Salman appeared to pin the blame on Gen. Ahmed al-Assiri, deputy head of Saudi intelligence.
President Donald Trump, too, has gone from hailing Saudi investments to questioning the Saudi story. On Tuesday, he called the Saudi version "the worst cover-up in the history of cover-ups."
Pompeo did not immediately say whose visas were being revoked, although he did say that he believed culprits were in various ministries, including the foreign ministry, and the intelligence service. He stressed that the United States would be doing its own fact-finding and that Tuesday's announcement would not be the last action taken to "hold those responsible accountable."
CIA Director Gina Haspel on Monday flew to Turkey, where she is said to be seeking evidence of what took place.
Saudi Arabia announced that it had fired five officials and arrested 18 over the case. Sabah, a pro-government Turkish newspaper, identified the 15 thought to be involved in the killing. One, Mohammed Saad H. Alzahrani, was identified by the Washington Post as a member of the Royal Guard, a military unit meant to protect the royal family. Another, Salah Muhammed A. Tubaigy, is listed on social media as head of forensic evidence in the interior ministry's security division.
Pompeo said on Tuesday that Turkey has been cooperative with US efforts to find facts.
Some in Congress dismissed the announcement even before it was made. In a call with reporters Monday, Sen. Rand Paul said, "You think Saudi Arabia will change its behavior if we say, oh, your 15 thugs can no longer travel internationally?" He also dismissed sanctions as "a way of pretending to do something," and said the United States should instead stop support for Saudi Arabia's war in Yemen and end arms sales to Saudi Arabia.
Pompeo stopped short of criticizing either the crown prince or Saudi King Salman. Asked if he felt misled by the crown prince after his visit last week, Pompeo said he had not and would not disclose the content of their discussions.
Earlier Tuesday, the crown prince and the king met Khashoggi's oldest son, Salah Khashoggi, for a photo opportunity. The columnist's son has been banned from leaving Saudi Arabia since last year because of his father's criticism, according to a friend of the family. Saudi officials said he thanked the royals for their condolences.