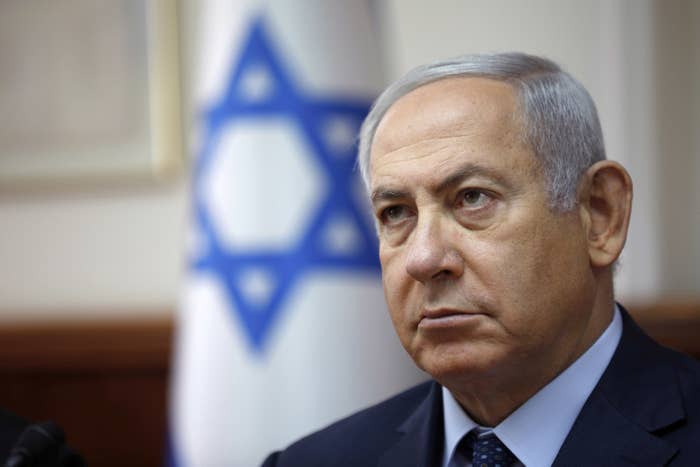 As the days drag by without a Saudi explanation for what happened to Jamal Khashoggi, the Washington Post columnist who disappeared inside the Saudi Consulate in Turkey and hasn't been seen or heard from since, the kingdom's foes — notably, Iran and Qatar — have stayed noticeably quiet. But so, too, has Saudi Arabia's unlikely and unofficial ally, Israel.

The Israelis are "in a very difficult position," Dan Shapiro, the US ambassador to Israel under President Barack Obama, told BuzzFeed News. "They count very much on Saudi Arabia," which is "central to their strategic concept of the region." Saudi Arabia, after all, is their partner in arms in countering and isolating Iran and Israel's "strategic anchor" in the region.
On the other hand, "They wouldn't want to use capital to argue against a strong conclusion" that Saudi Arabia is in the wrong. "They're not going to defend this indefensible concept," said Shapiro, now a distinguished visiting fellow at Tel Aviv's Institute for National Security Studies.
There's also the small matter that "Officially, Israel has no ties with Saudi Arabia. Officially, the Saudis still don't recognize Israel at all," said the Foundation for Defense of Democracies' Jonathan Schanzer. "Of course we know that, beneath the surface, there's been quite a bit of activity." He pointed as well to the Saudi participation in isolating Iran, and in their rumored role in the forthcoming Trump peace plan between Israelis and Palestinians.
"But officially, there's nothing for the Israelis to say," Schanzer said.
In Washington, that isn't only manifesting itself in terms of a lack of public pronouncements. Congressional aides, including from several of the most pro-Israel offices in Congress (according to Open Secrets' log of recipients of contributions from the so-called Israel lobby), said they hadn't heard from the Israeli government, the country's embassy, or other representatives of the official Israeli position on the matter.
There are some murmurs that of potential greater involvement. As'ad AbuKhalil, a professor at California State University, speculated in an interview with the Real News that AIPAC, a self-described pro-Israel lobbying group, would work in Congress to make sure laws detrimental to the Saudi royal family are not passed. AIPAC did not immediately respond to a request for comment.
But the silence congressional staffers say they've heard so far "squares with everything I heard in Israel, which was basically — this is not our business," said Ilan Goldenberg, a senior fellow and director of the Middle East security program at the Center for a New American Security, a think tank in Washington, DC.
Goldenberg noted that Israel typically separates issues into two groups — those that it deems a core security interest, and everything else. On the former, he said, there's no need to ask the Israeli position. On the latter, "They'd be hesitant to weigh in in any way."
"What could they possibly do in this situation that could be constructive in any way?" asked Goldenberg, who was chief of staff to the special envoy for Israeli–Palestinian negotiations at the State Department.
The Israeli Embassy in Washington declined to comment on the record for this story.
That isn't to say there couldn't be serious reverberations for the Israelis, particularly on its strategies toward Iran. If the Saudis were to raise oil prices in response to the international reaction to the disappearance and likely death of Khashoggi, as they threatened last weekend, the US plan to block all Iranian oil sales on the international market beginning in November would become more difficult to enact.
The Saudis were supposed to help keep oil prices stable, or so the thinking went. But "If the Saudis, in a fit of pique, decide they're not going to play that role, it could throw the coalition into doubt," Shapiro said.
So, too, Shapiro said, does it throw into doubt Saudi Arabia's ability to be a "strategic anchor" in the region. On the one hand, Saudi Crown Prince Mohammed bin Salman has shown himself willing to "break certain taboos" that have made it easier now for Israel to work with Saudi Arabia. But that is "in tension with repeated acts of recklessness." There was the as-yet-unresolved blockade of Qatar; there have been civilian killings in Yemen; there was the time Saudi Arabia kidnapped Lebanese Prime Minister Saad Hariri; there was breaking ties with Canada over a mildly critical tweet of human rights in Saudi Arabia.
"It's very hard to rely on MBS to play a consistently constructive role," Shapiro said.
Still, in the short term, inconsistently constructive may be enough.
"If there's tension, on a bipartisan basis, between Congress and Saudi Arabia, but arms sales and close ties with the executive continue, it probably doesn't change much at all," said Schanzer.
And staying silent on the matter hasn't hurt Israel: On Thursday, the Trump administration announced the consulate in Jerusalem, which served as the US diplomatic outpost to the Palestinians, would be merging into the US Embassy in Jerusalem.