Now that Saudi Arabia has conceded that Washington Post columnist Jamal Khashoggi's murder was a premeditated plot carried out inside the Saudi consulate in Istanbul, the question becomes how the killing of a permanent US resident by representatives of an allied nation might affect the long-term relationship between Saudi Arabia and the United States.
If past is prologue, the answer to that question is: not much. The US–Saudi relationship has faced major crises before, and survived, largely because of a tightly spun web of financial connections and overlapping interests that leave the United States with little incentive to punish the Saudis.
That relationship is on daily display. President Donald Trump has spoken openly of his appreciation for Saudi cash. "They've been a great ally to me," he said just two weeks after Khashoggi disappeared inside the Saudi consulate, adding, "They're investing tremendous amounts of money." Eleven US senators have demanded in a letter to Trump and the Trump Organization a "full accounting" of financial ties between the president and the kingdom, which date back to at least 1991, when Trump sold a yacht to a Saudi prince.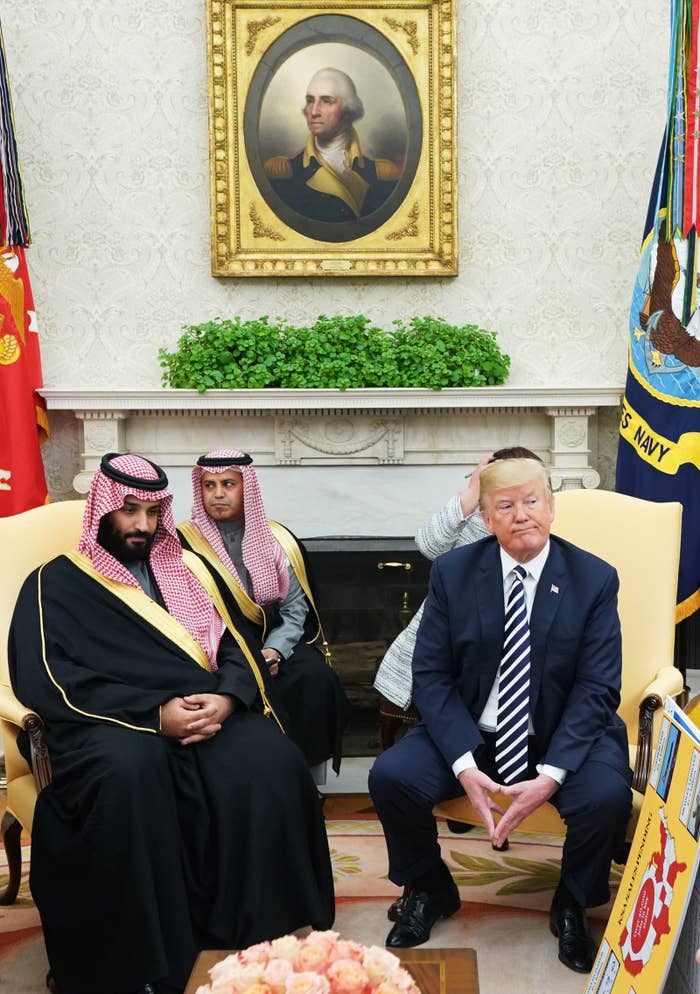 Saudi money can be found throughout Washington. Congressional members and staffers have expressed dismay over the case, but have long participated in the revolving door from the legislature to firms that work on behalf of Saudi Arabia, which pays millions to lobbyists and lawyers to represent the kingdom in the US capital. The sums it's spent are recorded in Justice Department filings required under the Foreign Agents Registration Act.
Saudi Arabia also contributes millions more to influential think tanks whose researchers provide position papers to journalists and lawmakers alike.
Former government workers and onetime members of Congress are often on the Saudi payroll: Law firm Hogan Lovells registered its work on behalf of the Saudi embassy this past summer for a monthly retainer of $125,000 (the firm had also worked with the embassy in 2016 and 2017). A spokesperson for the firm acknowledged but did not immediately respond to BuzzFeed News' request for comment.
King & Spalding, another law firm, this past summer also registered its work with the Saudi Ministry of Energy, "with fees capped at $450,000 per 30-day period" according to an email included in the FARA filing. A spokesperson for the firm declined to comment.
BGR Group, a lobbying and public relations firm, dropped the Saudis after Khashoggi's disappearance, but had a contract worth $80,000 a month. BGR did not respond to a request for comment about how Saudi Arabia became a client.
But formally registered foreign agents in the nation's capital are not the only recipients of Saudi money. Last year, Citigroup opened an office in the Saudi capital, Riyadh. Consulting firm McKinsey, with an office in Riyadh, was recently criticized for writing a report for the Saudi government that identified prominent online critics of the Saudi government. McKinsey did not reply to multiple requests for comment.
Since the Khashoggi case became public, several think tanks in Washington have said they had reassessed their relationship with Saudi Arabia. The Middle East Institute and the Brookings Institution, both influential arbiters of Middle East developments, announced that they would press pause on accepting more Saudi money; they acknowledged accepting Saudi money in the past, though they did not disclose the amounts.
Another influential research organization, the Center for Strategic and International Studies, confirmed Friday that it would forgo $900,000 it was to have received "to work with Saudi embassy staff in Washington on professional skills development" beginning in December. "In light of the killing of Jamal Khashoggi, we will not proceed with this as planned," CSIS spokesperson Andrew Schwartz said in an email.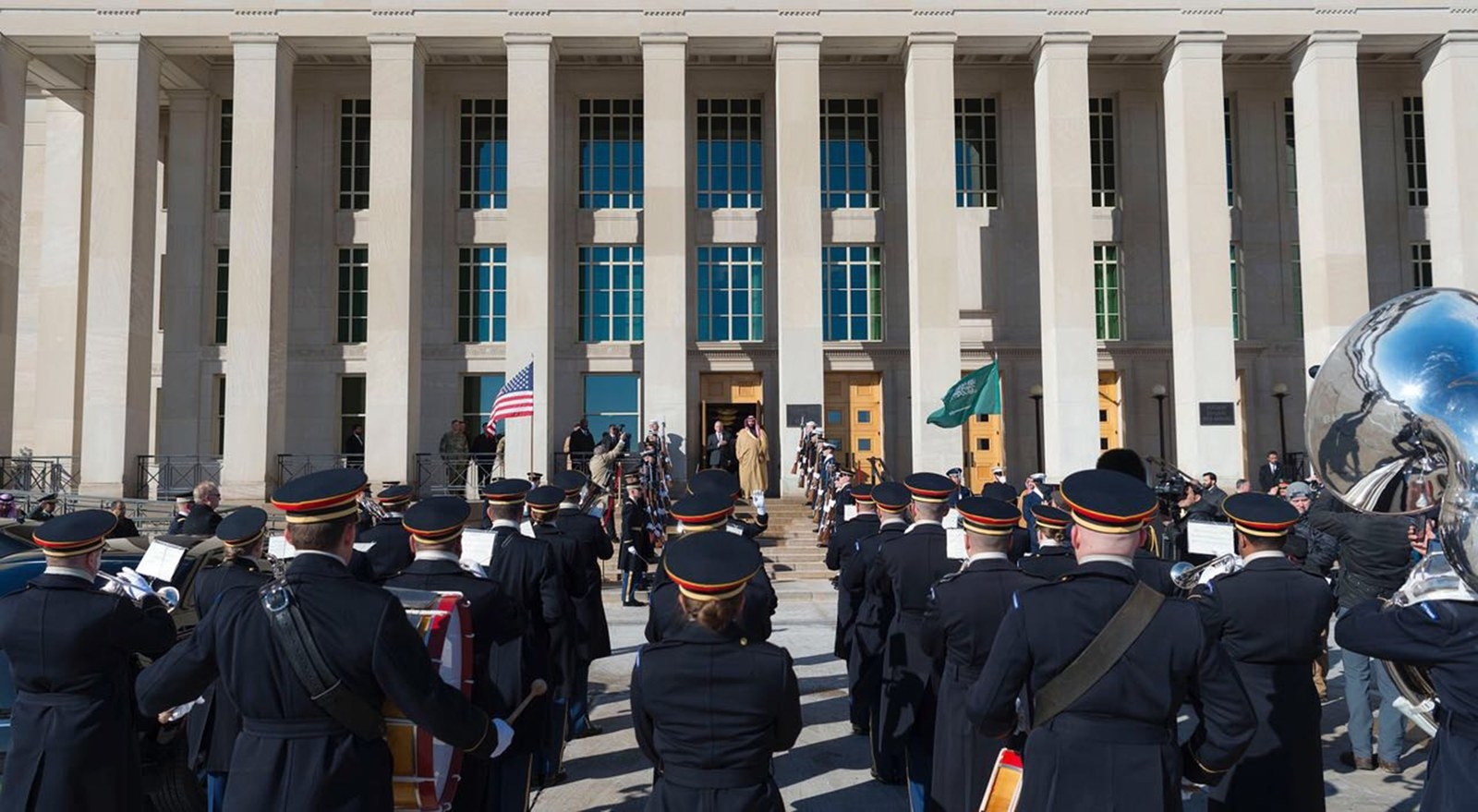 Other foundations have suggested there will be no change in their policies. The Arabia Foundation, which is led by Saudi national Ali Shihabi, said it has accepted money from Saudi nationals in the past and would not make changes to how it screens and accepts funding; after the Saudi government finally admitted that Khashoggi was dead, Shihabi took to Twitter to defend Crown Prince Mohammed bin Salman.
It isn't only offices based on the East Coast that are flush with Saudi cash. Silicon Valley companies have been recipients of Saudi largesse as well.

Saudi billionaire Prince Alwaleed bin Talal has been investing in Twitter since 2011. Uber and Lyft have both made deals with Saudi investors. The kingdom invested $1 billion in Lucid, a Tesla competitor. The kingdom has, through its public investment fund, put its money in DoorDash, a delivery service, and Slack, a messaging system.
Even when Saudi Arabia in 1973 led a boycott of the United States by Arab oil producers, setting off a major US economic downturn, the relationship survived.
The tight US–Saudi connections have frustrated many — especially because the strategic reasons that originally drove the relationship, ensuring an unbroken supply of crude oil, are less relevant now than they were when the US and Saudi Arabia first became fast friends more than 70 years ago.
Even when Saudi Arabia in 1973 led a boycott of the United States by Arab oil producers to protest American support for Israel against Egypt and Syria, setting off a major US economic downturn, the relationship survived. In 1975, the United States and Saudi Arabia signed $2 billion worth of military contracts. Saudi Arabia sided with the United States and against the Soviet Union in Afghanistan in 1979 and 1980.
One Saudi national in particular who went to join the Afghan fighters would become known to Americans — Osama bin Laden, who founded al-Qaeda in 1988 and was stripped of his Saudi citizenship six years later.
The United States deployed troops in 1990 in Operation Desert Shield, ostensibly to protect Saudi Arabia from the potential of Iraqi invasion after Iraqi leader Saddam Hussein seized Kuwait.
"That relationship has sort of lumbered on without much examination of whether it's still serving the interest of the United States until today," said Bob Graham, a former senator from Florida who chaired the Senate Intelligence Committee probe into the Sept. 11, 2001, terror attacks. Graham is a harsh Saudi critic and author of Intelligence Matters: The CIA, the FBI, Saudi Arabia, and the Failure of America's War on Terror, which looks at congressional efforts to find out how intelligence failed the United States leading up to and on the day of the attacks.
"Thirty years ago, there were really good reasons for the very tight US–Saudi relationship," said Sen. Chris Murphy, a Democrat from Connecticut and member of the Foreign Relations Committee who is also a critic of Saudi Arabia. "Primarily, our relationship was about oil."
Today, the United States does not have the same oil concerns. After decades of relying on the Middle East for oil, the United States now is the world's largest producer. In 2017, the United States produced 14.46 million barrels of oil a day, exceeding Saudi Arabia's 12.08 million barrels a day. US imports of Saudi oil have dropped to 943,000 barrels a day, the lowest level since 1988.
But the relationship remains largely unchanged, Murphy says, despite evidence as well that Saudi Arabia has aggressively exported Sunni extremism. "The primary reason for our alliance has been weakened, and the threat that Saudi Arabia presents to the United States has increased," Murphy said. But the change has gone largely unremarked in Washington, largely because of the millions of dollars Saudi Arabia spends annually — enough to pretend the change wasn't happening at all.
Anand Giridharadas, a former McKinsey consultant and journalist who wrote a book about the way elites function throughout the world, Winners Take All: The Elite Charade of Changing the World, said Saudi Arabia has little choice but to spend big on Washington lobbyists.
"Let's imagine that you're in the predicament of managing Saudi Arabia's reputation in the world. Imagine what your day would be like," he said. "You need to essentially every day, every hour, every second defend the indefensible … [you need to] explain away beheading by sword and perhaps fool enough people or bribe enough people into being quiet about what is obvious."
There is Saudi money everywhere, he said, because "the Saudis have to co-opt that many Americans to have a mere chance to be seen as the opposite of what they are." They have, he said, co-opted lobbying groups, packed with former Hill staffers and government officials.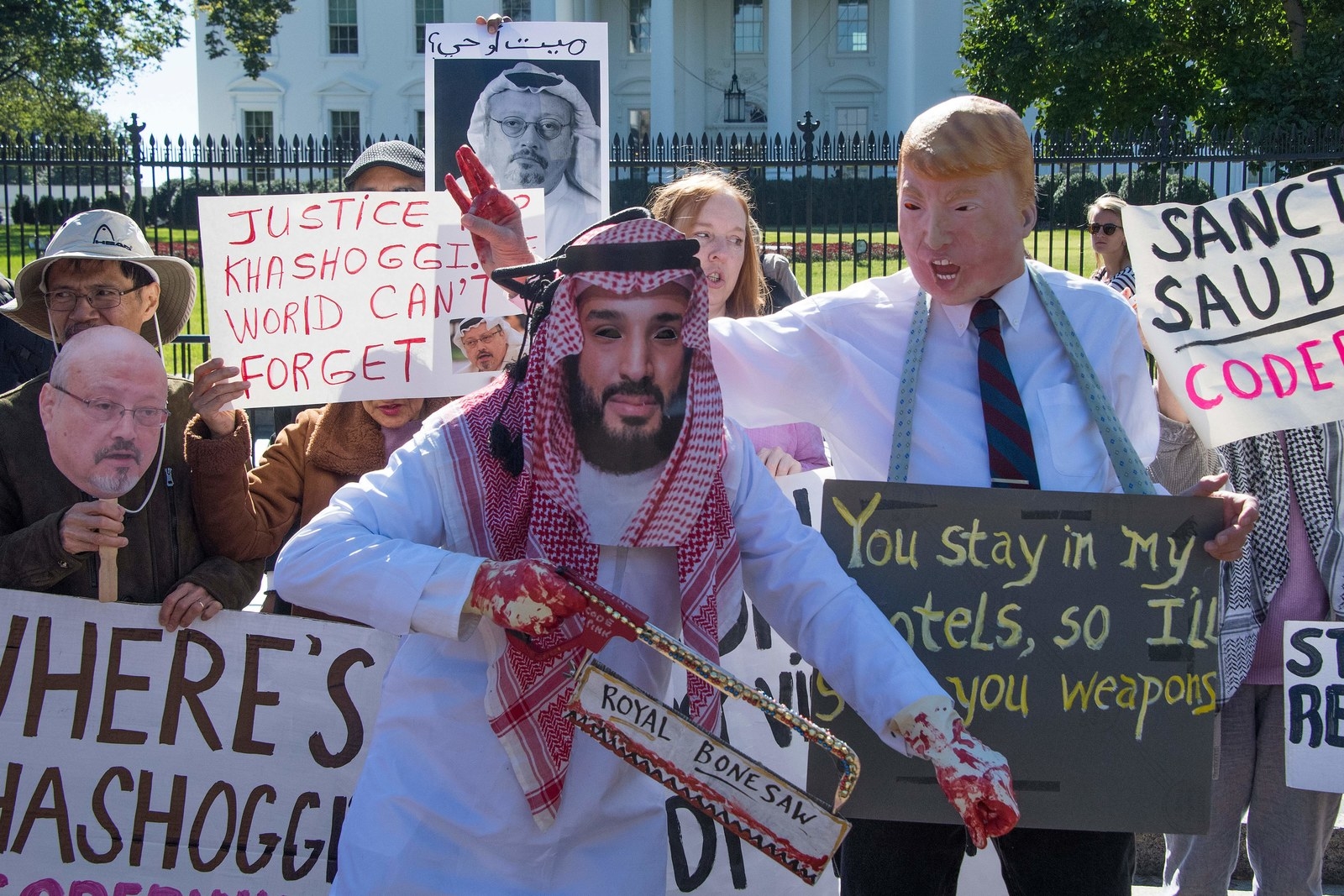 The point at which Americans — wealthy Americans, connected Americans, Americans who shape foreign policy — began actively overlooking Saudi misdeeds, as opposed to simply going along with a long-lasting strategic partnership — depends on whom one asks.

"I think it went back before 9/11," said Graham, who believes that the 9/11 hijackers, 15 of whom were Saudis, received support from the Saudi government while in the United States. "But I think 9/11 is such a screaming instance of the Saudis' perfidy that it is the incident that raises the recurring question of why did we not act on the facts that we knew and communicate to the leadership of Saudi Arabia that their actions are intolerable and we will take strong steps to indicate that and those steps might include things like the termination of US sales of military equipment to Saudi Arabia," he said.
Graham's belief in Saudi responsibility is part fact, part theory. He fought to get a 28-page congressional report on the 9/11 attacks declassified. When it was, in 2016, the Saudi government said it showed no connection to the terrorists. Graham said more information would prove Saudi involvement.
"I believe what has happened with the journalist is just the latest chapter in a book of multiple chapters, because we have not stated honestly what we know about Saudi Arabia's involvement and have not taken action to shut it off," he told BuzzFeed News. He pointed to a lawsuit that some of the families of victims of 9/11 have filed against Saudi Arabia. "The United States has done everything in its power to keep that litigation at arm's length," he said, and stresses that he is implicating both political parties (Barack Obama vetoed the Justice Against Sponsors of Terrorism Act, under which the plaintiffs are suing; Congress overrode the veto).
Trump's ascendance to the presidency coincided with a Saudi public relations campaign.
But for others, the turning point came with Trump. Not because he was unique in going along with the Saudi partnership — George W. Bush and Barack Obama did, too. In 2005, with America in a war in Iraq after 9/11, Bush hosted Saudi Crown Prince Abdullah for hours at his ranch to talk about oil prices and Saudi oil-pumping capacity; he was photographed famously holding hands with the royal. Obama pushed back against Riyadh with the Iran nuclear deal, but also signed off on tens of billions in arms sales. And Trump's vision of an anti-Iran partnership with Saudi Arabia and Israel is the view taken by many in conservative circles in Washington, which likely motivated a tweet by Marco Rubio, the Republican senator from Florida, in which he called the Khashoggi murder "disrespectful" of Trump and conservatives such as himself.
But the way in which Trump has embraced Saudi Arabia, according to the president's critics, is different.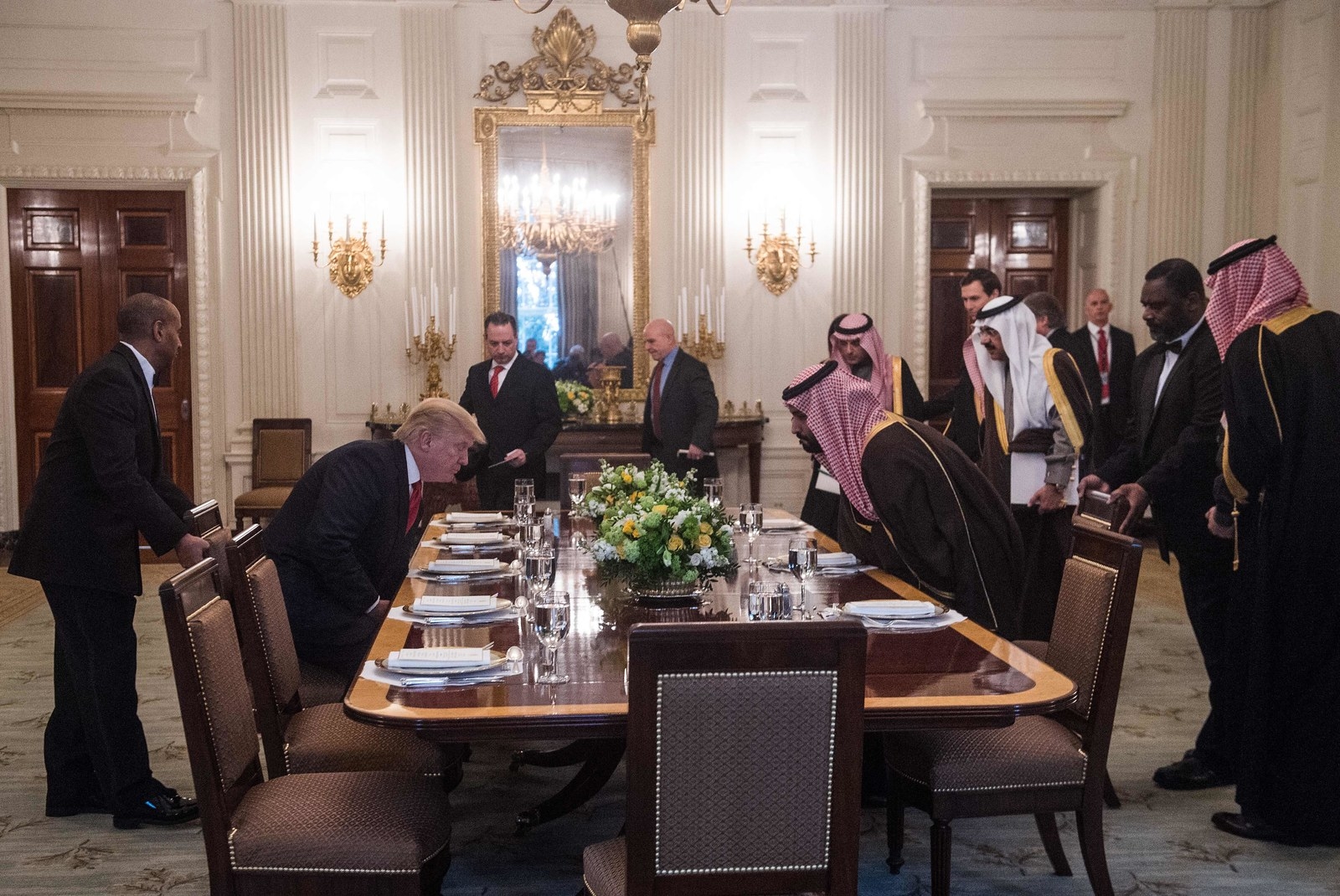 "To the foreign policy establishment's shock, Donald Trump made the first foreign visit of his presidency to Saudi Arabia," Murphy said. "I know Saudi Arabia's important, but they do not deserve to be the first visit that you make."
"He has gone whole hog on the unconditional, unchecked, unquestioning alliance," Murphy said, adding that Trump has "taken this relationship to a puzzling new level."
Trump's ascendance to the presidency also coincided with a Saudi public relations campaign. In part, that was because US domestic oil capacity and the legislation allowing families to sue Saudi Arabia made the kingdom nervous. So, too, did Trump's own pre-election harsh rhetoric toward the Saudis — espousing the theory that the wives and girlfriends of the 9/11 hijackers were moved back to the country before the attack — and the Muslim world in general scared the Saudis. And so they decided to get more serious about public relations, according to one human rights expert who wished to remain anonymous.
In 2015 alone, the kingdom hired five lobbying and public relations firms. The Center for Studies and Media Affairs at the Saudi Royal Court renewed its contract with the Podesta Group, a prominent lobbying firm that had worked for a sanctioned Russian bank and with Paul Manafort, Trump's former campaign chairman who was convicted earlier this year of fraud, tax evasion, and other charges.
The public relations push continued as King Salman named his son, Mohammed bin Salman, his successor.
The US–Saudi relationship has survived major crises before, largely because of a tightly spun web of financial connections and overlapping interests.
In his November 2017 column hailing the crown prince's arrival, New York Times writer Tom Friedman made just one reference to Yemen, where Saudi fighting has killed thousands of civilians (that sentence is: "He insisted that the Saudi-backed war in Yemen, which has been a humanitarian nightmare, was tilting in the direction of the pro-Saudi legitimate government there, which, he said is now in control of 85 percent of the country, but given the fact that pro-Iranian Houthi rebels, who hold the rest, launched a missile at Riyadh airport, anything less than 100 percent is still problematic.")
Ahead of the crown prince's visit to Washington in the spring of 2018, CBS aired an interview of the prince working late into the night. Once in America, he sat down for an interview with the Atlantic. He went to Starbucks with former New York City mayor Michael Bloomberg. He strolled through Facebook headquarters with Mark Zuckerberg.
Less reported were troubling incidents that were unfolding in Saudi Arabia and elsewhere. In 2017, Mohammed locked Saudi royals and dignitaries up in a hotel for months. In November 2017, he summoned Lebanon's prime minister, Saad Hariri, to Saudi Arabia and allegedly forced him to resign. In June of that same year, Saudi Arabia and its ally, the United Arab Emirates, began a blockade of Qatar that has still not been resolved (former secretary of state Rex Tillerson reportedly stopped Saudi Arabia from invading Qatar the following summer). The United Nations estimates that 4,000 civilians have been killed by a Saudi-led military coalition, backed by the United States, in Yemen.
Yet the US–Saudi relationship remains intact. The United States still provides fueling and targeting support for Saudi Arabia's war in Yemen, with Secretary of State Mike Pompeo certifying to Congress just last month that Saudi Arabia and the UAE were taking steps to decrease the risk of harm to civilians. When Saudi Arabia expelled the Canadian ambassador over a critical tweet in August, the State Department stressed that both countries were partners and should resolve the situation diplomatically.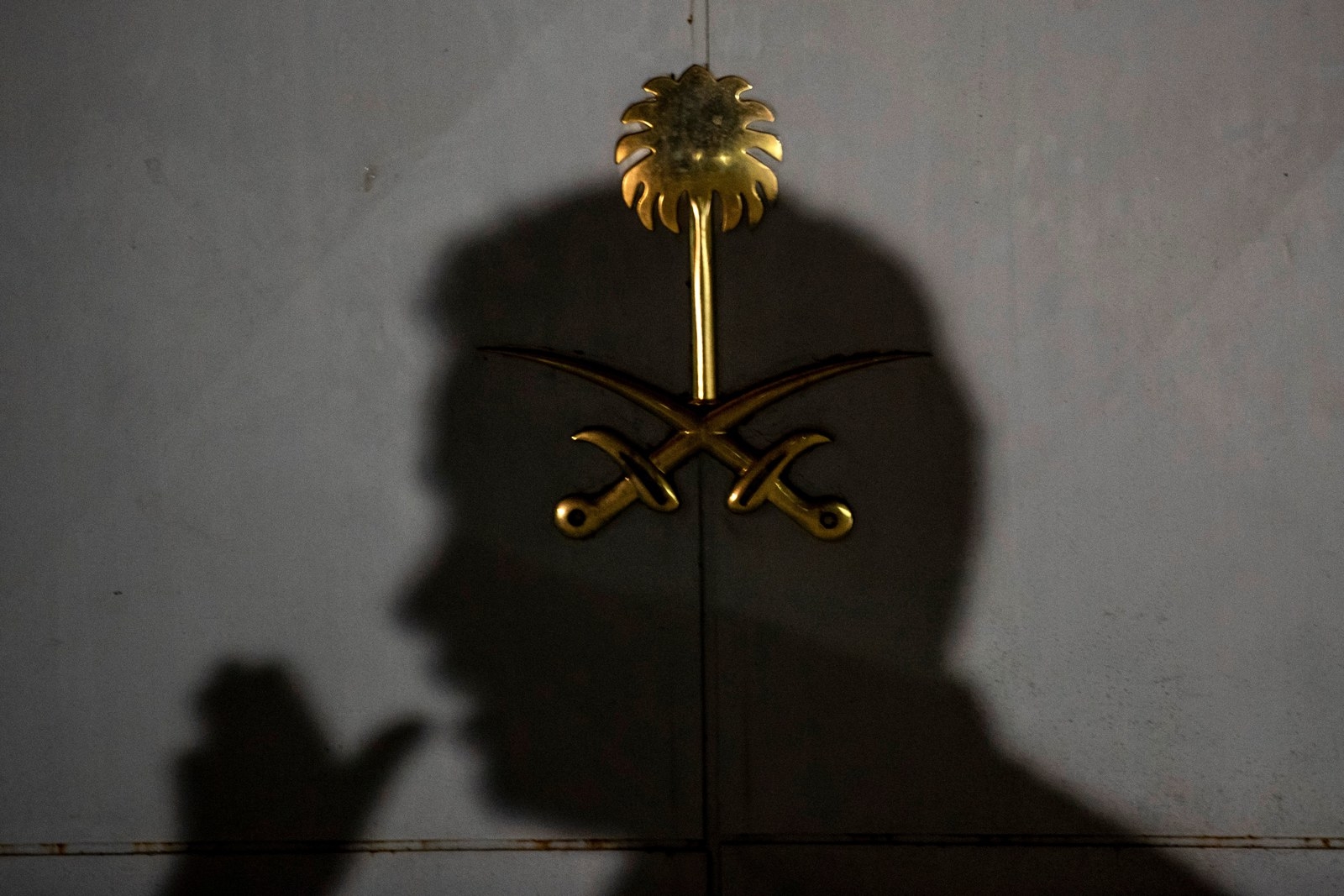 In Congress, there's debate over how to proceed in the wake of Jamal Khashoggi's disappearance and death. Some have advocated for sanctions under the Global Magnitsky Act, which allows the US government to sanction individuals and entities involved in human rights abuses around the world. Secretary of State Pompeo said on Tuesday that the State and Treasury departments would look into whether such sanctions were appropriate. Pompeo also announced that 21 Saudis would either have their visas revoked or be ineligible to apply for a US visa.

But many view those steps as next to nothing. "I think sanctions is a way of pretending to do something," Republican Sen. Rand Paul told reporters earlier this week. "I'm not really advocating that we cut off Saudi Arabia from the world … I favor just not aiding and abetting the Saudis." That means expressing outrage over Saudi support for extremism, pulling support for the war in Yemen, and stopping providing arms.
Murphy, in a case of politics making strange bedfellows, seemed to agree. "The Saudis are willing to lie to our face. They did for two weeks. They told us Khashoggi left … it took them two weeks to fess up. It stands to reason they have also lied to us about what they are doing inside Yemen," he told BuzzFeed News.
Still, he conceded that the United States was unlikely to make a significant change in its policy toward Saudi Arabia, in part because isolating Iran, Saudi Arabia's arch foe, is so key to Trump's foreign policy.
"Much of American foreign policy, especially within the Republican party, is against Iran," said Murphy. "I think that's bad policy. But that worldview will not change, and it means many people will continue to rationalize a very tight relationship." ●
CORRECTION
Lebanese Prime Minister Saad Hariri was reportedly held hostage in Saudi Arabia in November 2017. An earlier version of this post misstated the date.