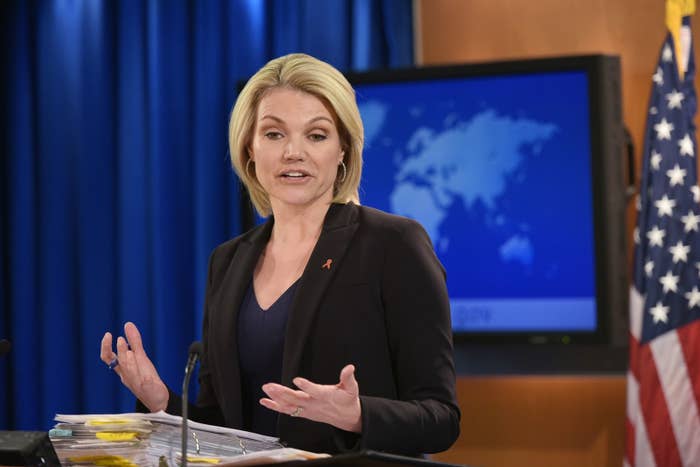 WASHINGTON — President Donald Trump said he will nominate Heather Nauert, a former Fox & Friends host and current State Department spokesperson, to be the next US ambassador to the United Nations on Friday. If approved, she will replace current US ambassador to the UN, Nikki Haley, who announced in October that she will be stepping down from the role in January.
"Heather Nauert will be nominated for the ambassador to the United Nations," Trump told reporters at the White House Friday.
Nauert survived the transition from Trump's first secretary of state, Rex Tillerson, to his current top diplomat, Mike Pompeo. And the president is reportedly taken with the way in which she toes the administration's line.
"She's a proven loyalist who the president appears to trust. Like Haley, she would be a good articulator of U.S. positions at the UN," Richard Gowan, a senior fellow at United Nations University, wrote. "She has been closely involved in recent trips to [North Korea] and [Saudi Arabia] with Pompeo, so she doesn't need much time to study up." Gowan added that "Nauert's good personal links with the president will make other diplomats take her seriously."
Current State officials note Nauert's work ethic. "If she's willing to learn from her staff, as she did here, then she should be fine," one told BuzzFeed News.
But some diplomats pushed back against that assessment. One Latin American diplomat who will begin a stint at the United Nations in the new year told BuzzFeed News, "There are plenty of people with the necessary diplomatic, political, and substantive depth to fill such [a] high-profile, sensitive position." Still, the diplomat conceded that "political gravitas and substantive knowledge are good substitutes for life in diplomacy," adding, "provided that they are there."
"While she didn't bring foreign policy experience, Nikki Haley ran a state. She had been elected and was a national political figure. That translated into respect from foreign officials in New York. Heather has none of those credentials," Brett Bruen, president of Global Situation Room and a former US diplomat, wrote to BuzzFeed News. "The United Nations Security Council has a tough agenda in the coming years. It demands an understanding not only how to resolve crises, but at the very least avoid exacerbating them. … This is the most egregious example of Trump filling critical national security jobs by using a superficial casting criteria more appropriate for reality shows than the dangerous realities of today's world."
But the appointment is only part of the picture. Haley came into the role in a Cabinet-level position, empowered to push back on policy (and spar with the other Cabinet members, as she reportedly did in Tillerson's case).
"The question is whether [Nauert] will be a real political player in the administration as Haley was, or simply a good communicator of the administration's line," Gowan wrote. "I think the key test is whether she gets cabinet status as Haley did. If Trump decides against this, it will be a signal that the UN job is getting downgraded."