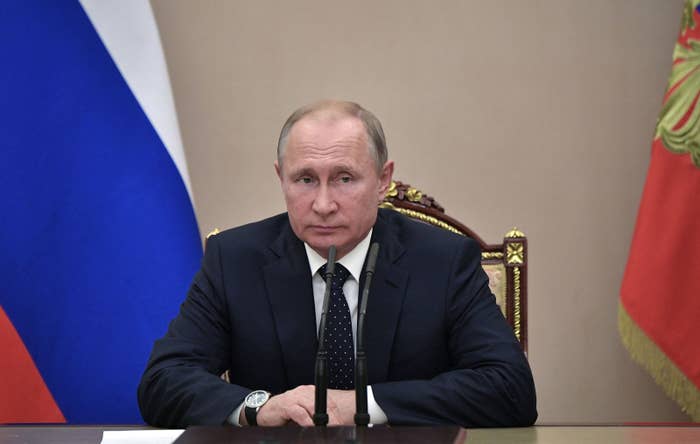 European governments, already nervous for what next month's NATO summit could hold, have been thrown for yet another loop: President Donald Trump is reportedly set to meet with Russian President Vladimir Putin on his trip to Europe. With trade tensions already rising and Trump continuing to insist that Europeans owe the United States for defense spending, some European diplomats worry whether Trump will present a message of transatlantic unity and strength to Putin, with whom he seems to want badly to get along.
It isn't that Europeans, some of whom, prior to this administration, were seen as softer on Russia than their US counterparts, are inherently against a US president meeting his Russian counterpart. "We are always in favor of dialogue. … There are lots of issues where we must find common ground with Russia, including Syria, Ukraine etc.," one European diplomat wrote in an email to BuzzFeed News. "We have disagreements, they should be addressed as well."
"It is not bad news per se that they meet," agreed another.
A UK official, far from confirming reports that Whitehall is aghast, wrote, "We agree with Secretary General [Jens] Stoltenberg. There is nothing contradictory in Trump seeing NATO allies and Putin in quick succession. The Prime Minister has always been clear that our approach with Russia is to engage but beware."
The "but beware" bit is the proverbial rub. While Europeans don't oppose an American president meeting with Putin, they are concerned that this American president, who already thinks the United States spends too much on European defense, might make moves without consulting them in an effort to build a rapport or demonstrate he is the dealmaker he claims to be. Trump's decision after meeting in Singapore with Kim Jong Un to postpone military games with South Korea — which he called provocative — is a reason for concern.
"There you had — by all reports — a unilateral, spur-of-the-moment decision by the United States without discussing it with South Korea and taking their views into account and having a common line on how to speak about it publicly," said Jeff Rathke, a senior fellow and deputy director of the Europe Program at the Center for Strategic and International Studies. "Russia loves to accuse NATO of carrying out provocative military exercises. … Will Trump adopt the Russian way of describing military exercises and make a unilateral decision to scale back without consulting allies?"
If the meeting with Putin comes before the NATO summit, Trump could walk into the gathering of US military allies with Putin's words ringing in his ears. If it comes after the summit, and the summit doesn't go well, Trump could relish going against conventional wisdom when he meets with Putin, even if the rest of his administration and both parties in Congress seem to want to hold to a traditional transatlantic line.
"We know that the president is notoriously undisciplined and seems to harbor a soft spot for the Russian strongman. As a result, the possibility of adopting an unreasonably conciliatory tone or making ill-advised concessions, which will later damage both Europe and the USA, is certainly there," Dalibor Rohac, a research fellow studying European political and economic trends at the American Enterprise Institute, wrote in an email to BuzzFeed News. "The problem is that there does not seem to be any strategy, or logic, to the president's behavior at such meetings — other than his desire to make headlines, rally the base, and drive his opponents crazy. That's hardly a sound basis for wise foreign policy choices."
But others note that the tension that exists about the importance of the transatlantic alliance — between the United States and Europe allies, between Trump and seemingly the rest of his administration, and between the White House and Congress — will continue, whether or not Trump meets with Putin.

"I honestly don't think it's that big of a deal, and the reason I don't think so — I didn't have high expectations for what he's going to bring to NATO summit anyway," said Rachel Rizzo, who works on transatlantic security at the Center for a New American Security. "The whole point of this summit is to project unity and a sense of purpose. One of the only countries that's probably going to be an outlier is the United States."
"That's thanks to the president," she added.
Trump could decide to act alone, distract from all other pressing issues, or shake the bedrock of the transatlantic alliance even without a Trump–Putin meeting. At least with a meeting, some say, the US president can have an opportunity to prove that he can work with Russia as well as he seems to believe he can.
"The President should engage from a position of strength. That is what Putin responds to. That strength comes from maintaining alliance unity on Russia, being clear-eyed about where Russia threatens our interests, and being willing to take action in response," an official from a NATO country, who asked not to be referred to by name, insisted.
"If this meeting helps to stress Russia that when it comes to core principles, then the West is united, and before improving relations, Russia needs to return to the basic norms of international relations, then it is a positive meeting," wrote another European diplomat, noting, "having a high-level meeting is one way to [pressure] Russia to change its aggressive behavior."
Asked as a follow-up whether the diplomat thought Trump would put pressure on Putin, the diplomat replied, "No comments on that," ending the sentence with a smiley face.