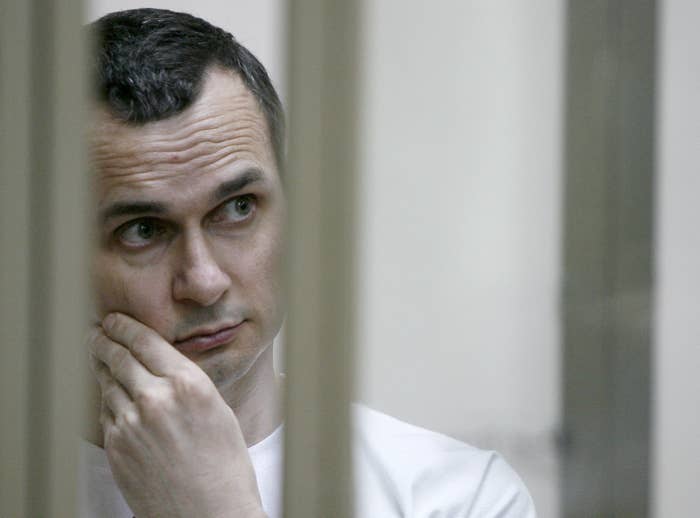 The State Department on Monday held a call with reporters to announce that it is calling on Russia to release political prisoners, end the misuse of the legal system to achieve political aims, and to allow all Russians to exercise human rights and fundamental freedoms.
The senior State Department official who conducted the background briefing stressed in particular the case of Oleg Sentsov, a Ukrainian film director serving two decades in prison. Sentsov is over 30 days into a hunger strike. Though he was convicted on terrorism charges, he and human rights groups call this a politically motivated case — he was arrested after attending a protest against the annexation of Crimea.
That made the timing of the call somewhat curious. Just last week, BuzzFeed News reported that President Donald Trump said at the G7 that Crimea is Russia because its residents speak Russian. Trump also publicly and repeatedly said the G7 should include Russia and be the G8 once again. Russia was kicked out of the G8 after the annexation of Crimea.
It also came as rumors are swirling in Washington that Trump badly wants a summer summit with Russian President Vladimir Putin.
Despite Trump's statement about Russia and Crimea, the senior State Department official said official US policy remains that Crimea belongs to Ukraine. "We've reiterated that our Crimea policy remains. We support Ukraine's territorial integrity within its internationally recognized borders, and our Crimea policy remains unchanged," the official said, adding, "Our sanctions — our Crimea-related sanctions will remain in place until Russia ends its occupation and returns Crimea to Ukraine."
The official declined to speculate on whether the release of political prisoners would be a precondition for such a Trump–Putin summit.
What the call did make clear is that Trump's attitude toward Russia continues to seem different from that of seemingly everyone else in his administration.