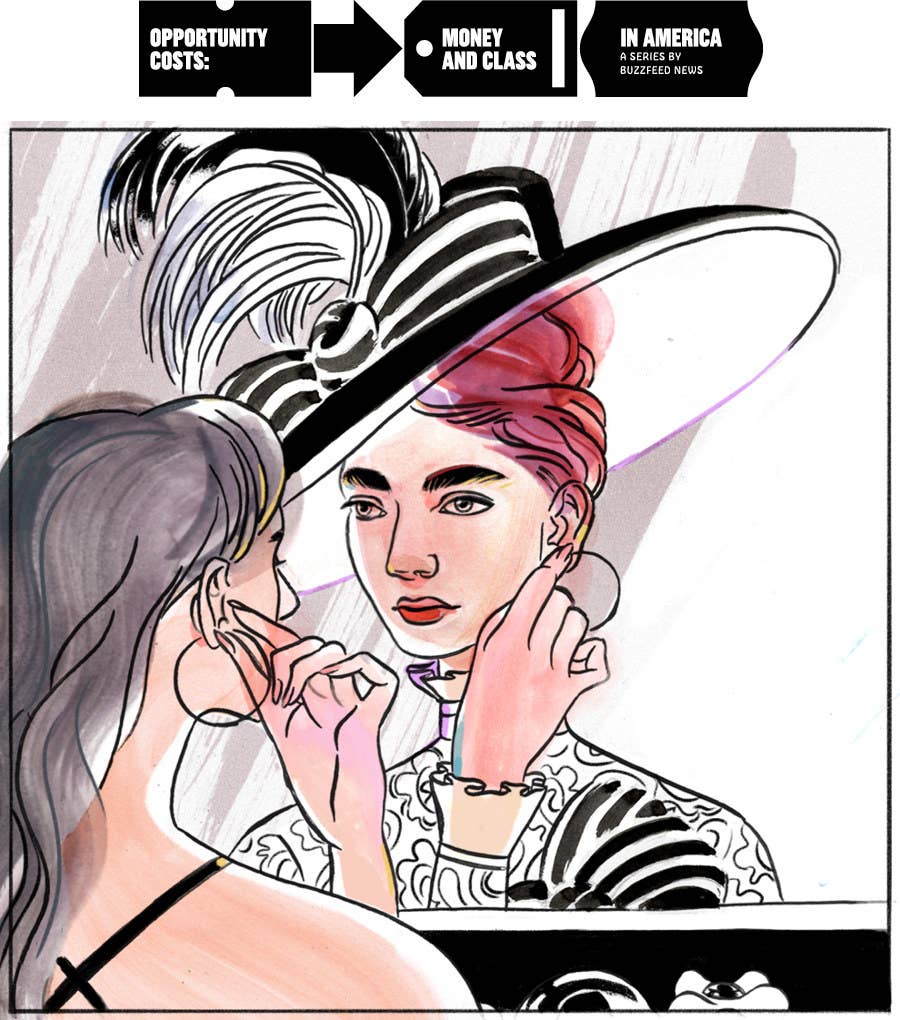 I grew up poor in Sarasota, a Florida town of millionaires. I've seen Stephen King's beach-access mansion, seen Jerry Springer with his wife at the movie theater. In contrast, I was raised by a single teen mother on library movie rentals and Hamburger Helper. In our one-bedroom cottage on the edge of town, I watched My Fair Lady so many times the tape broke.

I stood inches from our bulbous, decade-old TV and mimed Audrey Hepburn's marble-mouthed language; at 10, I begged my mother to take me to the opera and to etiquette classes at the Ritz-Carlton. I deconstructed Eliza Doolittle's transformation from flower girl to London society toast, if only so I could aspire to it. Although the play is British, the narrative is pure American dream. As an adult, I'm still fascinated by social hierarchies; as a sex worker, my class studies have become a competitive skill.
In the industry, escorts range in class from Pretty Woman's Vivian Ward to Belle de Jour; in this context, and in this essay, the word "class" doesn't define an escort's actual economic status, but rather the way she presents her economic status, real or imagined. And this spectrum of class, as it's understood by clients and other sex workers, is what we call the "whore-archy."
Sex workers are classified within the whore-archy by the location and content of their ads, the company they keep (other providers), and some personal choices. A high-class escort, for example, might require 24 hours or more to schedule an appointment, while a low-class escort might wait in a hotel for hours hoping to draw in multiple same-day clients and really take advantage of the room; a high-class escort will drop $1,500 or more on a set of 10 professional photos and a shoot location, while a low-class escort might advertise with selfies taken in their living room. And while this structure does represent a literal hierarchy, it's more often used as a description of stigma or judgment within the industry itself.
To understand the whore-archy and why it generates so much discussion and contention in the industry, it's important to first dismiss the narratives about sex workers that appear most often in the media. The trope of sex workers as victims (even if they're acting independently) still surfaces in popular entertainment like The Deuce and Pretty Woman, where a character is empowered after leaving sex work, not during.
The implication of this narrative is that a sex worker is not doing "real" work — that is, if sex work is not true labor, then the money a sex worker earns is not justifiable; that women especially should not be performing sex work in the first place, because the expectation is we should be giving away sex for free, not using the demand of the market for economic gain. But the reality is that the primary struggle within the US sex industry is not a matter of whether sex workers are victims or villains, as civilians are so apt to discuss, but the ways in which we evaluate one another and exhibit ourselves in the business of sex.
Although I have a college degree, I also had trouble, like many millennials, finding a job after graduation. After six months of searching, I took a cushy but boring temp position at Harvard where I could write in my free time, although I only made $12 an hour; at night, I picked up a hostessing job at a high-end steak house. I could barely pay my bills, and I'd submitted an income-dependent repayment plan for my federal loans, which deferred them for the year.
Is it OK if I appear "high-class" and just make a little money, or is it better to appear "low-class" and make a lot of money?
At the restaurant, I watched miserably as 50-year-old men who hit on me at coat check ordered three-tiered platters of raw oysters and caviar, and retrieved mink stoles for their wives, whose blown-out and highlighted hairdos were perfectly coiffed. I wanted to be a part of the crowd, not cater to it; more important, I wanted time to write. I decided to take action, and a few months into the restaurant job, I became a sex worker. Now, I make six figures; next year, I plan to pay primarily in cash for my graduate degree at an Ivy League university.
There's a lot of money to be made in this industry, but making it takes more than lounging around in bed. There are so many decisions that will impact how successful you are, and no training manual. Does showing off a pair of Louboutins lead to more bookings than purchasing premium ad space? Will selfies attract more attention than professional photos, even if the look is amateur? Is it OK if I appear "high-class" and just make a little money, or is it better to appear "low-class" and make a lot of money? I joined the sex industry to pay off my student loans, not take regularly scheduled trips to Saks. So why should I care, so long as I can pay my bills?
I'm obsessed with these dynamics because they speak to a larger issue, which is that sexual taste is interconnected with luxury and (real or imagined) class. Money matters, even in the bedroom, and it has a kind of erotic power. This will be a difficult thing to deconstruct and surpass, and while we're working on it, survival sex workers — those so impoverished that they can't pick and choose which clients to see, but must take them all to pay their bills — will be the ones to suffer most.
This is all to say, then, that the concept of the middle class permeates most industries except this one — and as long as sex work remains a profession in which escorts are generally categorized as either high-rent or low-rent, with very little middle ground, it will remain one of the final frontiers in breaking down our society's class boundaries.
If there are requirements for the most elite escorts, the perfect résumé includes a liberal arts degree and an East Coast pedigree. Knowing which kind of Chianti to order, or which French Riviera town has the best beaches, may be a party trick among friends and family; on the job, it's a skill. Nothing short of an Emily Post will do. These are generally the types of escorts who have a social media presence on Twitter. They "entertain" much less frequently, require the client to pay for the hotel (only five-star), and sometimes require more than just an hour booking. It's considered low-class to book 30-minute appointments, and even a high frequency of one-hour bookings tends to appear questionable. And, almost above all else, a provider's status is judged in advertising the right way, on the right websites.

There are probably a billion ad venues on the internet, but the primary options (from questionable to high-class) include Craigslist, Backpage, the Erotic Review, Slixa, and Eros. In my experience, the top tier of escorts advertises only on Slixa and Eros. Slixa is newer and less frequented by clients, but its design is sleek and its management is more transparent than other advertising sites; it has a reputation for being sex-positive and more woman-friendly than its competitors. Eros used to be sloppy in appearance (and no better in reputation than Backpage), but has now, and for a long time, catered to the best in the industry.
The whore-archy, like any standard of class, is not always built on solid foundation.
Interestingly, this is a detail I gleaned only from word of mouth, and — as far as I know — not something you could find out from Wikipedia page or in a Google search. The fact that a website with a once dirty reputation is now the defining standard for discerning providers is some of the most compelling evidence that the whore-archy, like any standard of class, is not always built on solid foundation. Further to the point, the traffic I receive from Eros is composed primarily of time wasters — a client who books but doesn't show, or who sends bits of screening information in several emails to maintain contact for as long as possible.
It seems counter-intuitive to purchase premium ad space on Eros when the traffic is mediocre, but clients tend to check multiple advertising sites for one provider to verify her existence. If they see premium ad placement on one site and not another, they may wonder whether she can afford VIP space on more than one platform. And if a provider is not booking enough appointments to afford better ad placement, then they may conclude that her services aren't worth the money. I'm often thankful that I joined an agency early on in my career as an escort, as a route to whore-archical education. Without that guidance in navigating advertising options, I could have done permanent damage to my professional reputation — and my revenue.
When I started in sex work, I made my first hundred dollars by scanning the "Men Seeking Women" classifieds on Craigslist. I limited myself to nude massages and fetish work, negotiating $200 and a couple of drinks out of my clients. When my Harvard boss stepped out of the room, I would snap pictures of my feet and send them to fetishists for cash. I used my legal name, and never screened clients — I didn't know that I could, and that safety measures like that are built into the industry as a standard.
Although I felt then that this work was superior to full service (work involving literal sex rather than work of a sexual nature), I later discovered it's considered bottom barrel on the whore-archy. I believe sex is sacred in that it can be restorative, but not sacred in the sense that my body should be exclusive to one person. Withholding full service seemed less "dirty" to me then than engaging in it, although now I know my general feelings at work are influenced not by the acts I perform but by how I'm treated. At the time, I believed having sex for money would define me as "low-class" by default.
It turned out, instead, that within the industry, finding clients through Craigslist was seen as the equivalent to bathroom duty at a cashier job, or worse. For clients, posting on Craigslist is like shopping the clearance aisle at a dollar store — discounted rates, questionable merchandise, but disposable if necessary. Backpage has a similar reputation, and, until recently, the classified listings there included an escort category; now, most sex workers simply list themselves in the "Women Seeking Men" section. Some sex workers can't afford to advertise anywhere but Craigslist (free) and Backpage ($7 per post); those who can afford to advertise elsewhere, but who want to drum up more business, post here in secret.
As I started accumulating more cash from my Craigslist clients, I was going out to eat more often — specifically, visiting the same Newbury Street restaurant, where I'd sit at the bar and pick up millionaires in their forties. I ate there once a week, and the bartenders, who knew more or less what I intended to do, introduced me to new regulars each night. This was recreational, but when I got bored with the Craigslist time wasters, I decided to put the two projects together and dive completely into escorting. I liked sex, I was attracted to older men, and I needed more cash. So, I joined an agency.
Joining an agency instead of operating independently is a personal decision, and one that can easily go very wrong. Within the whore-archy, it's often assumed that agency girls have little business acumen, are dirty, trashy, drug-riddled, stupid, or more promiscuous. The worst agencies act like modern-day pimps, working their girls at a six-client minimum during a 12-hour work day and charging the lowest rates in the city; some even have a reputation for neglecting to screen clients, just to keep the numbers up.
Luckily, I picked a low-profile agency where the agent operated more like an assistant than an employer, and often passed as such in email correspondences with clients and other providers. She paid for my photos, split hotel costs, paid for all of my advertising, took 30% of my earnings instead of the standard 50%, and would reimburse me for hotels if clients didn't show. She herself is still an escort, and has been one in different capacities for 10 years. She taught me how and why to screen clients, and when I decided to go independent, she helped me build a website. She would sometimes throw up an ad for me on Backpage if business was slow; to protect my reputation, she used a different stage name and pictures.
The overhead costs (ads and photos) just for starting out as a "high-class" escort average around a few hundred dollars. Between beauty and gym appointments, hotels, website maintenance, photos, retainer fees for an accountant who files my taxes and for a lawyer, and other incidentals, I spend about $2,000 each month. It would have been impossible for me to start in the industry without an agency, and I suspect that most sex workers who begin independently have a degree of economic privilege from the start.
Achievement is equated with cash flow, but promiscuity is shunned.
The most obvious indicator of pre-existing economic freedom is when a provider advertises as "low-volume," a practice that's been loosely defined on discussion boards and other parts of the internet as taking just one client in a day. By extension, the term suggests how much a provider seemingly needs work. Low-volume providers typically charge more per hour and have a two- to four-hour minimum for dates; they either subsist off that income (the highest rate I've seen is $2,000 an hour) or have income from a day job that they supplement with sex work for fun. Low-volume workers typically have an undergraduate degree or higher, which they'll often use as a marketing tool, like advertising as a coed.
By contrast, I usually take between one and three clients a day, three days a week, especially if the bookings are only an hour, or if a client doesn't require full service. To some clients and escorts, this idea is repulsive.
The stigma against "volume" (which explains the distaste many high-class escorts have for agencies) is problematic in that it socially ranks survival sex workers, or those who simply choose to work high volume, below those who can afford — or at least act like they can afford — to treat sex work as a kind of leisure activity. It suggests that a woman's number of sexual partners still impacts her value, even in an industry where adult services are intentionally exchanged for money. The stigma speaks to the inherent contradiction of the American dream within the context of the sex industry: Achievement is equated with cash flow, but promiscuity is shunned.
Sex work is now my primary income by choice, and although I make six figures a year, and I save enough to be selective about clients, I still feel an inner compulsion against becoming "low-volume." The thought reminds me of my mother at the kitchen table, pushing numbers around in her checkbook, coming up with a creative way to stretch a dollar. Research dictates that my fear is psychological, rather than practical — I take less financial risk not because I'm unable to, but because it's been built into me as a facet of the class in which I was raised.
A few months into the job, I had a solid idea of where to publish ads, and where not to. I had decided to join the Sex Workers Outreach Project, an activist organization that hosts monthly support groups and other events, which is when the full range of differences between people in the industry became more clear. When I applied to join SWOP, it was explicitly stated that sex workers of all economic and social classes were welcome, and that if I couldn't handle my privilege getting checked, it probably wasn't the right place for me.

What the organizers meant was that not every sex worker at the meeting grew up with two parents, or at one address, or in a home at all; that there was a mix of college graduates and people with GEDs, of homeowners and homeless. It's the only place in the sex industry where I've seen outward pride in this kind of diversity, rather than a hustle to hide it.
"We've just had some gals come in and dominate a support group with discussions of Jimmy Choos," I was told, "which, for homeless and borderline-homeless folks, is pretty heartbreaking, as you can imagine."
SWOP screens potential members in public, which is how I met Pamela (I've changed names in this piece to protect people's privacy). We sipped cappuccinos together at a lofty Harvard Square coffee shop as she explained the group's events and mission. She was shy, but clearly trying not to show it; when we started talking about ourselves, she explained that she'd been homeless as a teenager and began working on the streets at 15. She worked off of Craigslist and described how difficult it was to find clients willing to be screened there; she'd also had some trouble drumming up business as a BBW (an industry acronym meaning big beautiful woman). Eventually, we started talking about the Erotic Review (TER).
TER is like Yelp for escorts, which in theory sounds useful, but in practice makes for a hotbed of objectification.
TER is like Yelp for escorts, which in theory sounds useful, but in practice makes for a hotbed of objectification, misogyny, racism, and a slew of other -isms you might also find on Reddit. Dealing with the website is complex because it truly operates as a central hub for the sex industry; advertising is free, and on occasion there's valuable information about law enforcement on the discussion boards. The problematic part is the review system, which ranks escorts on performance and appearance from 1 to 10.
The highest score a provider can receive is a 7, unless they: 1) kiss with tongue 2) offer oral without a condom 3) are bisexual 4) offer anal sex, or 5) participate with more than one man (assuming that the client is a man) at the same time. For each service, a provider can earn one point. In some cases, earning a full 10 points is impossible without crossing personal boundaries, and often confusing when the provider doesn't identify as a cis woman; furthermore, ratings are not selected by clients, but by TER administrators who read a client's description of the meeting.
That means that a less verbose client may have had a 10/10 meeting, but the TER staff (who are anonymous, but presumably all straight men) may read it as a 7/10 experience, or some lower designation. For a provider who isn't a cis woman, it's easy to imagine that higher ratings are regularly unattainable under this specific male gaze, and especially in a place where ads for transgender sex workers are listed separately under a "Transsexual" category (here and on Eros). As a result of this unpredictable rating system, many high-class providers have removed their listings from TER or adopted a "no review" policy, which effectively bans you from advertising on the site. For those providers, it's no big deal; for survival sex workers, it's self-destruction.
"I really want to get on there," Pamela told me, "but I need a website. I'd join an agency, but none of them are hiring BBWs."
I was surprised at her eagerness to join TER, and to learn that agencies didn't just hire anyone who applied; I realized that, as someone who's tall and thin, that had been a much easier hurdle for me to clear — another kind of privilege. As my agent later explained, she receives a handful of applications every month, but hires only those who can hold a conversation over the phone and who don't already represent a type within the agency. During a girl's first week, she asks regular clients to try out the new girl and report back — if the response is bad, the girl is done. Lucia, for example, could never tame her language.
"She kept saying 'and shit' at the end of her sentences," the agent told me, and rolled her eyes over a shared steak tartare during one of our lunch meetings. "I said to her, 'Please tell me you don't talk to clients like that.'"
The agent eventually fired Lucia, and it was a gesture that we all understood at the agency: Being pretty is not enough.
When I first started, I was dyeing my hair red out of a box, painting my own nails, and wearing the nicest dress I owned (a secondhand Ann Taylor shift) to appointments. I had a single set of Victoria's Secret lingerie that an ex-girlfriend had gifted me, and some thigh highs from CVS. I probably looked a lot like Fran Fine during that first month, but I didn't know any better. Now that I can afford it, I get professional mani-pedis, and go to a salon where a woman cuts my hair like Jackie O. and dyes it for a couple hundred dollars. I have a sturdy collection of designer staples: blue suede Manolo Blahnik pumps, cream Prada heels in patent leather, a lingerie set and Cuban-heeled thigh highs from Agent Provocateur, a vintage mink stole, and a slew of Nordstrom buys. I've taken French lessons to soften my speech, and etiquette refreshers at the Plaza.

I can see now that these social signifiers change how clients perceive me, but I didn't understand why until I had the money, as an adult, to access them. As a teenager, my grandparents took me on road trips, and we would stay at Holiday Inns along the way; now I work out of hotels like InterContinental or the Taj. These are pricey choices, but necessary to maintain a luxury atmosphere — I wouldn't want a client to drink Moët & Chandon out of a plastic cup, or get caught up in reception at a family-friendly travel lodge, which tend to keep a much closer eye on the lobby than four- and five-star hotels. It's sometimes true that Holiday Inn and the Mandarin Oriental provide similar customer service; it's just that the service looks better in a five-star hotel.
As I've invested more money into my physical appearance, clients have invested more money in me. I book longer dates, and typically see clients in engineering and technology fields, as opposed to the incidentally well-off landlords and construction managers I saw at first. This evidence of privilege and taste isn't something that can be easily faked, and clients know it. As when Eliza Doolittle attends the Ascot race, the appearance her mentor has crafted is stunning; it's her language, a personal choice, that gives her away.
Like sex education in public schools, clear and accurate information for sex workers is not always readily available. And there's a huge push from sex workers with higher degrees in subjects like marketing or economics to standardize information in a formal place, rather than pulling whispered secrets from a Reddit thread. Numbers and marketing info can be found in places like Slixa's blog, and in some guide books like Thriving in Sex Work by Lola Davina. But these resources aren't perfect, or comprehensive, or available to everyone.
Where there is privileged information, there is unbalanced power.
Both Eros and Slixa offer limited demographics to providers (like the average age and income of the site's audience), which is tough information to find in this industry. Still, having access to things like how many times your ad was viewed isn't helpful unless it can be compared to the numbers of competing ads — and that's impossible to know unless you discuss it with another provider, who, for the sake of appearances, may not be willing to share. Additionally, both sites require payment for ad space, which can range between $100 and $400 per month depending on location and ad size. In other words, survival sex workers are unlikely to have access to the same information high-end providers have, which only deepens the divide between them.
For an industry so desperate to maintain appearances, it's shocking that so much of this sexual social hierarchy must be learned through observation. We learn, or burn, which means finding ways to connect with other workers is essential when your office is a hotel room for one. Twitter, or SWitter ("Sex Worker Twitter"), is a place where this underground exchange begins and where sex workers often maintain a presence. Invitations to escort parties and charity events circulate here, and people share gossip in DMs.
This information is often so private that the thought of detailing it outside of a message with another provider seems inappropriate, as if breaking an unspoken sex worker's pact. And while I understand the desire to withhold information as a means of protection, withholding it from each other perpetuates this "class" (or accessibility) problem.
In the final scenes of My Fair Lady, Eliza suggests that given her new knowledge, she could marry up or even teach phonetics as Professor Higgins taught her, which offends him so horribly he sings about it in the next scene. He believes she should remain in her original social class, despite everything she's learned.
"She'll try to teach the things I taught her," he says, and scoffs, as if the same information holds greater power coming out of his mouth than it does hers.
But Eliza's idea isn't so ridiculous, and his resentment suggests that he believes her knowledge could compete with his — that his intellectual and social power, which at first made him seem superior, is actually circumstantial. That the ways in which we deconstruct privilege may simply lie in uncovering information we thought had been lost, or that wasn't accessible. Where there is privileged information, there is unbalanced power. And I would rather we actively disassemble this fragile hierarchy than watch passively when it implodes. ●