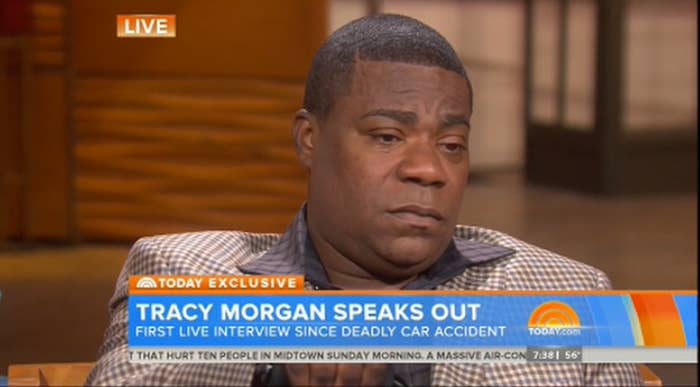 On Monday, June 1, almost a year after his limo was hit by a Wal-Mart truck on the New Jersey Turnpike — leading to many grave injuries and the death of his friend — Tracy Morgan sat down for his first interview on Today. The comedian and actor, along with his lawyer Benedict Morelli, joined Matt Lauer to discuss the June accident and his recovery.
"I can't believe I'm here. I can't believe I'm in front of you," a visibly emotional Morgan told Lauer. While the extent of Morgan's injuries were not disclosed, Morgan did confirm he was in a coma for two weeks following the accident, has suffered a brain injury, and has broken many bones. The comedian was seated during the interview, but held a cane in his hand, and said he has no memory of the accident.
The comedian told Lauer his recovery has "been up and down," but his fiancé Megan Wollover and two children "keep [his] spirits up." Morgan added that fellow comedians and friends have called and checked in on him, specifically mentioning his 30 Rock co-star Tina Fey.
Morgan also spoke about his friend and fellow comedian James "Jimmy Mack" McNair, who died as a result of injuries he sustained from the accident. He recalled through tears finding out that McNair had died two weeks after the fact, when he came out of his coma. He then searched for his friend's funeral on YouTube to "know what happened to [his] friend and to pay [his] respects."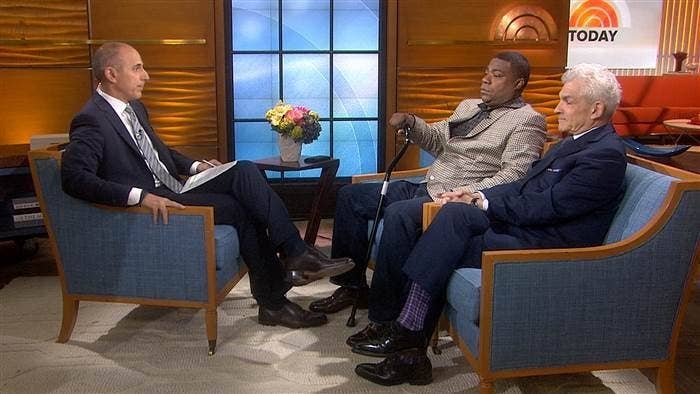 Morgan's lawyer, who said in November that Morgan may never fully recover, reminded Morgan a few times of things he had previously told him he wanted to say during the interview. Morelli said Morgan wanted to thank JFK hospital, where he was and is still being treated. The comedian chimed in to thank his doctors and nurses, especially "Nurse Jackie." "When I first came out of the coma, I was a mess," Morgan recalled. "I would curse out every day, I'd throw things at [Jackie], and the only thing she'd say me was everything was going to be all right."
Morelli also said that the CEO of Wal-Mart had recently reached out to Morgan to meet him and personally apologize. In July, Morgan filed a suit against the retail giant. The company took "full responsibility" for the accident and settled the lawsuit on May 27. "I'm happy that Wal-Mart stepped up to the plate in a tremendous way," Morgan said.
While Morgan said he is still focused on his personal recovery, he assured Lauer he would be back on stage again one day. "I love comedy. I'll never stop loving her. I can't wait to get back to her, but right now my goal is just to heal and get better 'cause I'm not 100% yet," Morgan said. "When I'm there, you'll know it. I'll get back to making you laugh, I promise you."