This Is What It Was Like Seeing "The Interview" On Christmas Day
"Let freedom ring!" a movie theater employee told the crowd before the showing began.
11:30 a.m.: I head down to Cinema Village in New York — one of only two theaters in the city showing The Interview — an hour before showtime.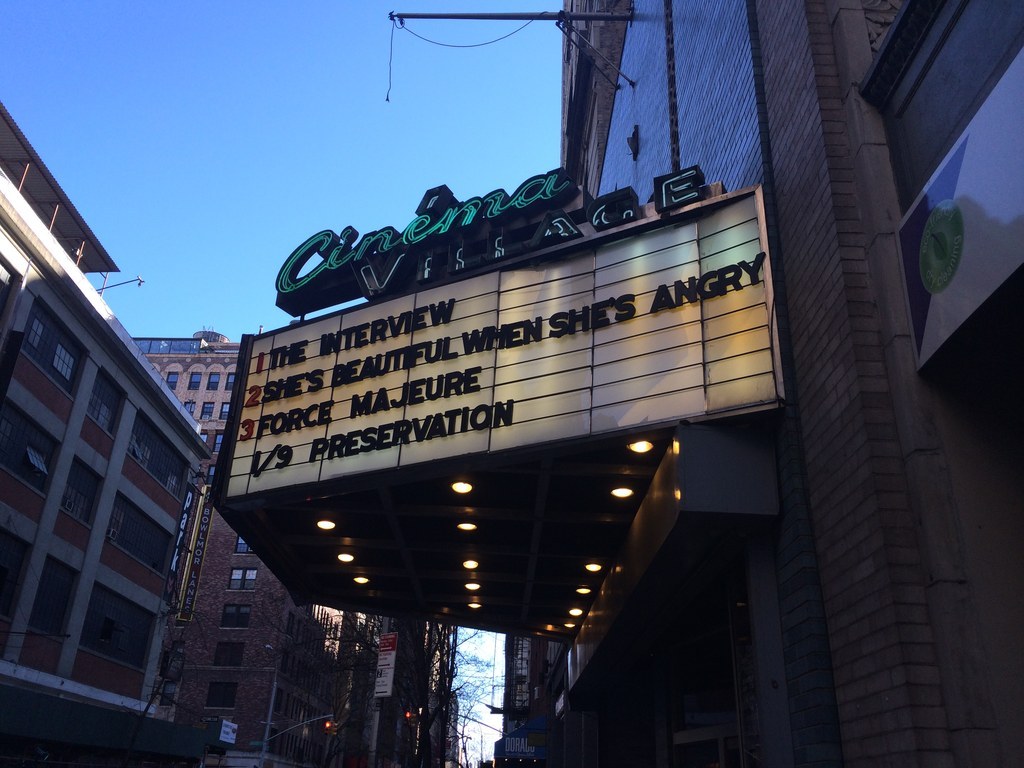 (Side note: You may or may not recognize the theater from The Lonely Island's "Jizz in My Pants" Saturday Night Live short.)
11:35 a.m.: I arrive at Cinema Village to find neither a line nor increased security.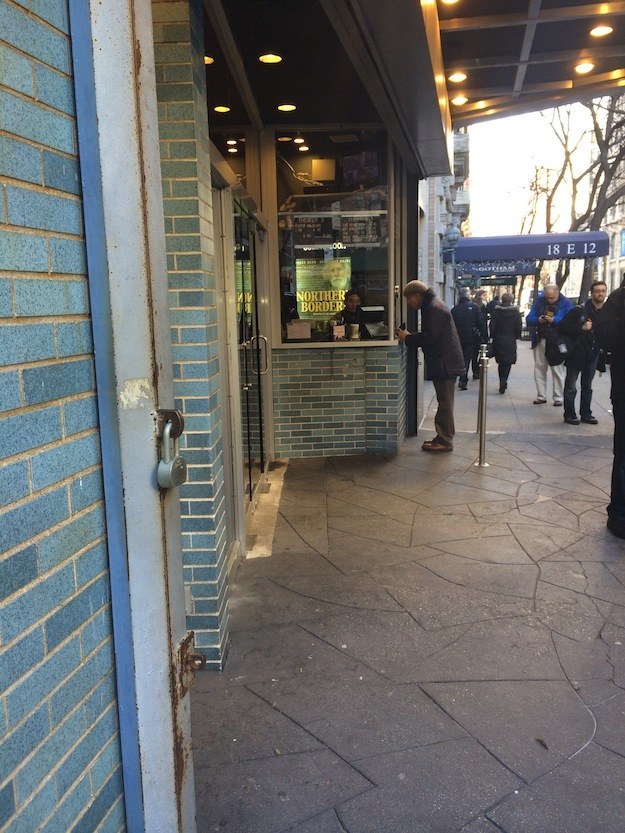 11:47 a.m.: Five people have gathered to enter the movie theater.
I overhear one saying, "If this was the greatest publicity stunt in history...," speaking to the theory that Sony pulled and then reinstated the film as a marketing ploy.
11:52 a.m.: The first screening of The Interview, which started at 10 a.m., ends and people begin filtering out of the theater.
"There's not enough marijuana in the world to explain that screenplay," a middle-aged man tells me quickly as he exits the theater. "It was hilarious."
Another middle-aged couple stops to chat with me as they head out of the early showing. "We thought it would be funny and it was funny," Ryan says. "We were going to see a movie today anyway, but this seemed like a good one to see and I don't know if we came to make a statement..." He's interrupted by Jen, who says, "No! Who cares about that? It was funny. It was absolutely [worth the hype]." "I don't know if it was worth all the hype," Ryan adds with a laugh. "But it was a funny movie. We woke up this morning and every other screening was sold out. Who cares [about security]? It was a funny movie. Why not? It's Christmas! Have fun!"
11:56 a.m.: The crowd for the 12:30 showing is in full force.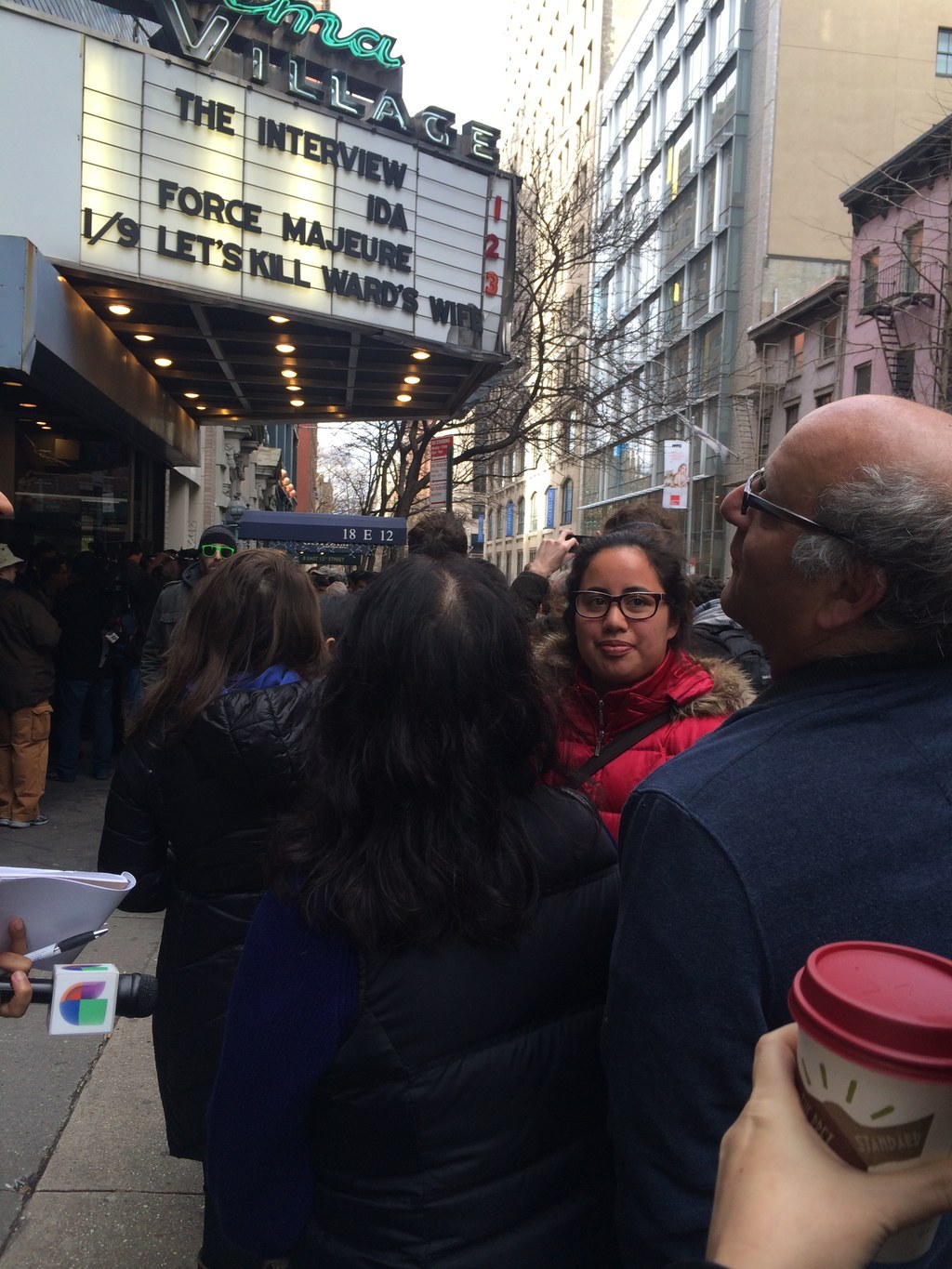 12 p.m.: Ticket holders for the 12:30 screening are ushered into the theater.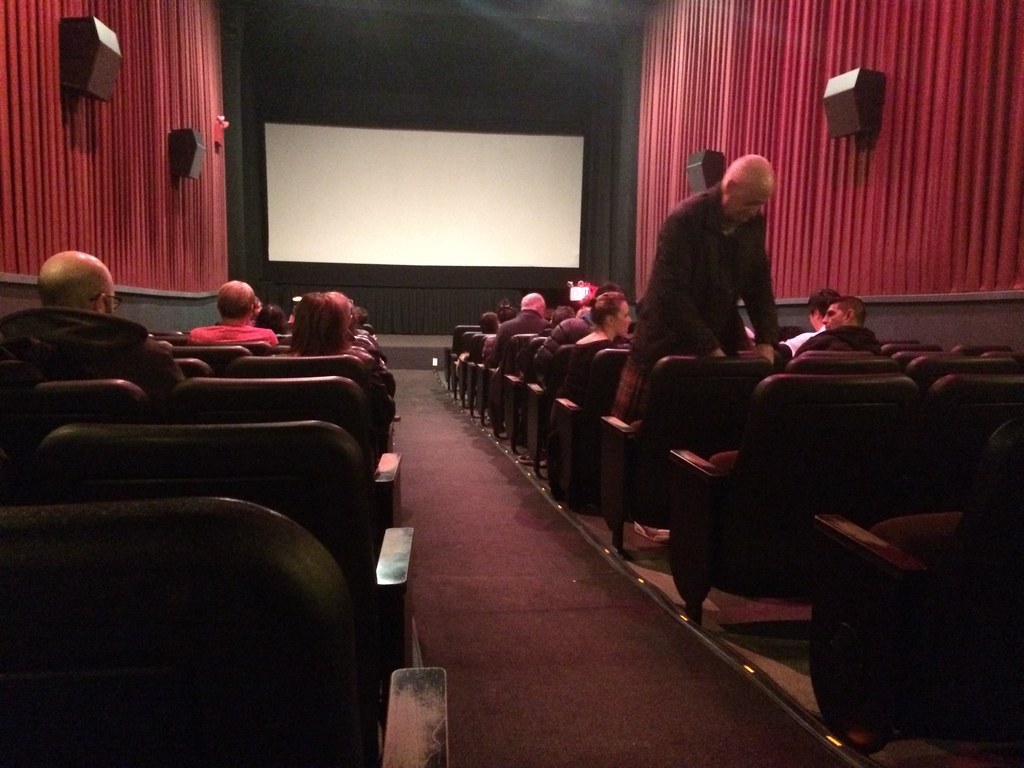 12:19 p.m.: A camera crew from outside has been allowed into the theater.
Crews from CNN, NY1, ABC, a Japanese news outlet, and a Korean news outlet have all gathered outside of Cinema Village by the time we are let in.
A Cinema Village employee is accompanying the crew. He tells another employee that cameras will not be allowed in during the show, and to check for audience members trying to pirate the movie. But, he adds, anyone can film before because "this is a part of history."
12:30 p.m.: That same employee with the camera crew heads to the front of the theater, stands in front of the screen, and thanks everyone for "coming out on Christmas Day to support our right to watch whatever we want... Let freedom ring!"
As the lights dim, there are still a few empty seats around, despite my being told it was a sold-out show. There are no previews at Cinema Village, which seems especially appropriate today: Everyone is here for one thing and one thing only.
12:31 p.m.: As the movie starts, people begin clapping.
But the audience involvement doesn't end there. In fact, it only increases. People are laughing hysterically throughout almost the entire movie and [SPOILER ALERT] James Franco's character and Kim Jong Un singing a Katy Perry song really sends the group over the edge.
2:09 p.m.: About five people enter the theater and stand in the back to see the last few scenes.
Again, it seems security isn't that tight. (After the movie, I ask the manager about that and he says a lot of measures had been taken to make sure nothing happened today. "The cops are involved and they're watching us," he says. "You don't see them but they are there.")
2:22 p.m.: The credits start rolling and the entire theater breaks into uproarious applause.
"We thought it was funny, and the audience participation was very funny," says Chris, who's in town from Philadelphia with her husband and son, who appears to be in his twenties. "Everybody was happy to be part of it and clapping at the end of a movie that wasn't worth clapping for, but just the whole feeling of being part of this day. It was really fun," she adds. "We came as a family. My son wanted to see it and protest by coming to see it. We came purposefully just to be part of the day. Everyone was here seeing it. We felt like it was part of the news!"