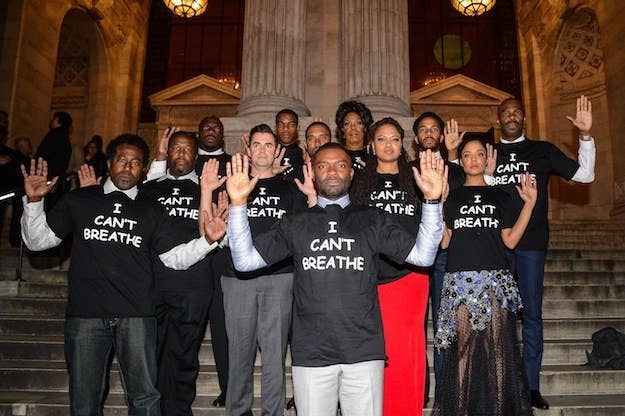 The upcoming film Selma — based on the 1965 voting rights marches led by James Bevel, Hosea Williams, Martin Luther King Jr., and John Lewis from Selma, Alabama to Montgomery, Alabama — has been earning early acclaim, and the film could not be more timely. At the New York premiere of Selma on Sunday night, many cast members and co-writer/director Ava DuVernay followed in the footsteps of the historical figures they brought to the screen, wearing "I can't breathe" T-shirts over their red-carpet suits and gowns.
The premiere was held the day after Millions March in New York, where peaceful protesters marched through Manhattan to protest a Staten Island grand jury's decision to not indict a police officer in the death of Eric Garner, an unarmed asthmatic black man who was held in a chokehold, despite saying repeatedly, "I can't breathe." He died later as a result. The Notre Dame's women basketball team wore similar T-shirts over the weekend during warm-ups, as did the L.A. Lakers and other NBA teams earlier this week.
DuVernay and many Selma cast members — David Oywlowo, E. Roger Mitchell, Wendell Pierce, Omar Dorsey, John Lavelle, Stephan James, Kent Faulcon, Lorraine Toussaint, Andre Holland, Tessa Thompson and Colman Domingo — also held their arms up, to represent "hands up, don't shoot" in honor of Michael Brown, an unarmed black teenager who was killed in Ferguson, Missouri, in August. The police officer who killed Brown was also not indicted by a grand jury.
Corey Reynolds, who plays CT Vivian in Selma, kept his shirt on as he walked the carpet, while Ruben Santiago-Hudson, who plays Bayard Rustin, posed with his hands up.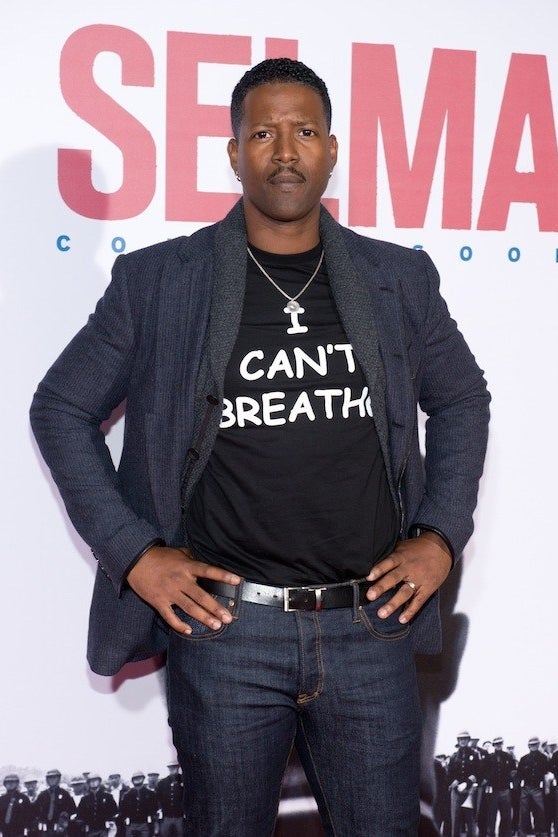 Left: Corey Reynolds. Right: Ruben Santiago-Hudson.
Despite its early 2015 release date, Selma is already garnering critical acclaim. The movie was nominated for four Golden Globe awards on Thursday with "Glory" by John Legend and Common receiving a nomination for Best Original Song, DuVernay receiving a nomination for Best Director, Oyelowo receiving another for Best Actor, and the film earning another nod for Best Motion Picture Drama.
Selma opens Jan. 9, 2015.