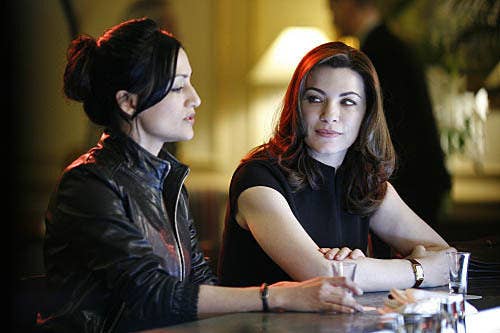 When The Good Wife began on CBS, one the most gripping relationships was that between Alicia (Julianna Margulies) and Kalinda (Archie Panjabi). The seasoned, witty investigator and the strong, smart lawyer took a kinship to one another that seemed real and unbreakable. In a show where the premise is about deceit and betrayal, Kalinda and Alicia quickly formed a genuine, trustworthy bond.
Sadly, a lot has changed since Season 1. Their screen time started to dwindle by Season 3 and then, in Season 4, they shared a scene that would be their last together in more than 50 episodes. Two weeks ago, fans finally saw Alicia and Kalinda together again... but there was a catch: The scenes were flashbacks, and while one hadn't previously aired, it wasn't easy to tell whether the actors behind the beloved characters reunited to film it. Representatives for Margulies, Panjabi, CBS, and creators Robert and Michelle King did not respond to BuzzFeed News' multiple requests for comment.
Still, it wasn't over. There were two episodes until the end of Season 6, which was already announced as Panjabi's last. And in the season finale, which aired on May 10, Kalinda and Alicia finally shared another drink. But did the actors film it together? Viewers were suspicious, and again the Kings nor CBS immediately responded to BuzzFeed News' request for comment or confirmation.
So what happened?
Kalicia, as fans called them, was torn apart at the end of Season 2 when Alicia discovered that Kalinda had slept with her husband, Peter (Chris Noth), before they had met. They were barely seen interacting during Season 3, but finally had a friendly moment in Season 4, Episode 11.
And then, three episodes later, the friends, colleagues, and drinking buddies shared a scene that would be their last for 51 episodes. Kalinda was helping Alicia and their colleague Cary (Matt Czuchry) on a mock trial. "Good doing business with you two," Kalinda said to them before leaving their office one night. And was it!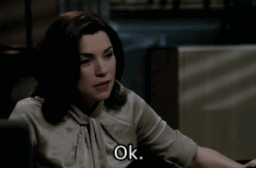 For the next two and a half seasons, the duo never appeared in a scene together. Rumors have swirled for years that the two actors refuse to work together.
In October, The Daily Beast asked Czuchry about the alleged riff. "Anything beyond that is a question to talk to the Kings about, not really a question for me," he said, noting the Kalicia storytelling is purely that. "It's story driven and it's a showrunner's world."
At the end of Season 4, Margulies told The Huffington Post that rebuilding Kalinda and Alicia's relationship would be backtracking. "As much as I think the relationship worked in the beginning because Kalinda is such an independent, sort of suffragette woman — it helped Alicia to see she didn't need to be a wallflower housewife anymore — but I think there have been too many twists and turns there," she said. "To bring it back would be going backwards instead of moving forward. And there are only so many scenes at a bar you can do."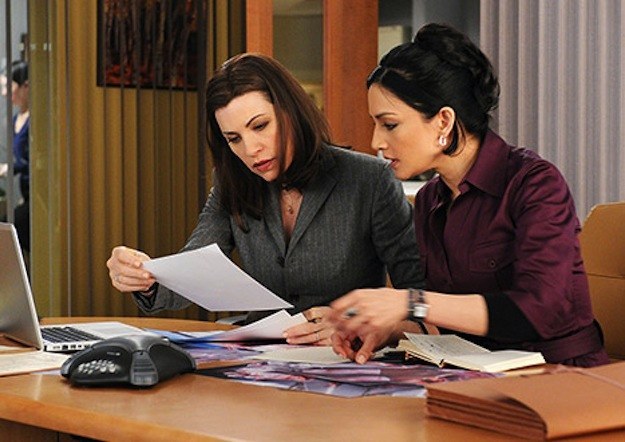 The separation made sense for a while in Season 5 with Alicia and Cary leaving Lockhart/Gardner to start their own firm. Kalinda was supposed to leave with Alicia and Cary, but when cornered by Will about where her allegiance lied, she decided to stay. So instead, Cary and Alicia poached Robyn (Jess Weixler) to be their investigator.
But in Season 5, Episode 15, things changed: Will (Josh Charles) was shot to death in the courtroom. The shocking death should've brought Kalinda and Alicia together... in person. Kalinda was, after all, the one who called Alicia to tell her about the tragedy. They continued to communicate via phone as they tried to wrap their minds around the unthinkable act, and at one point, Alicia called Kalinda while she was at the morgue, and Kalinda told Alicia she'll "see [her] later." But she never did.
Throughout the next season and a half, Alicia and Kalinda's phone conversations seemed like an attempt to mask their obvious physical estrangement. But viewers certainly noticed.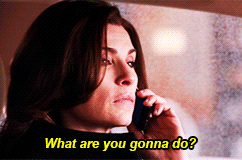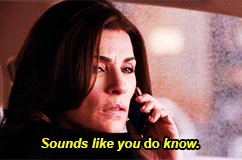 When Panjabi announced she'd be leaving the show in October, questions about the future of Kalicia intensified. In a February interview with TV Line, the Kings wouldn't address the alleged riff between the two actors. All they would say about seeing the two women together again is to "stay tuned." In March, they told TV Line the decision to keep Kalinda and Alicia separate "is very much intentional to raise expectations."
At the start of Season 6, Diane (Christine Baranski) decided to join Alicia and Cary's firm. Robyn suspiciously disappeared from the show and Kalinda became the sole investigator again. On top of all that, Cary was arrested as an attempt by the state's attorney's office to take down Lemond Bishop (Mike Colter). Alicia and Diane worked to free him, with Kalinda trying to find any loop-hole she could. But Kalinda and Alicia somehow, again, never worked together. During all of this, Alicia and Diane also tried to take over the lease at their old office. Again, Kalinda was on the case, but never gave Alicia any of the evidence she uncovered in person.
Efforts were clearly consciously being made to keep these two once beloved characters apart, but then, the story veered and Alicia's decision to run for state's attorney took her physically out of the office, minimizing the likelihood she'd run into Kalinda. Still, when she returned to the office after the election, Kalinda wasn't there. The excuse? She was driving Lemond's son to and from school.
Fans were still waiting for a final Kalicia moment as Panjabi's last season wound down. Many thought it would come in Season 6, Episode 20, when Kalinda said her goodbyes and seemingly left town for good after giving evidence against Lemond to the state's attorney's office. Before she fled Cook County, she went to Alicia's home.
But Alicia wasn't there. So instead, Kalinda just left a note.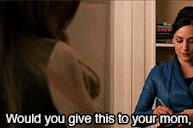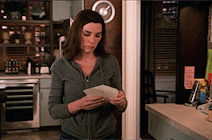 In the next episode, fans got what they wanted: Kalinda and Alicia, together again. But…not quite. The characters shared two scenes, but both were flashbacks to early on in their friendship — one was footage taken directly from Season 1; the other, meant to show Alicia and Kalinda having a conversation at a bar, was new. But it featured each character talking directly to the camera rather than to each other, so it wasn't exactly the Kalicia moment people were waiting for. As viewers pointed out, the actors didn't even need to be in the same room together to shoot the scene. CBS did not return BuzzFeed News' request for comment about how the shot was filmed.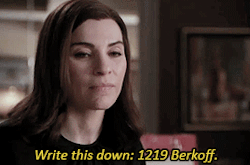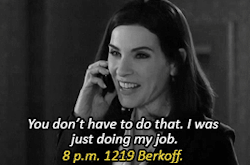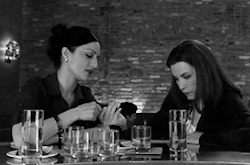 It wasn't until the Season 6 finale — Panjabi's last episode on the show — that Alicia and Kalinda found themselves physically in a room together again. A bar, to be exact.
In the episode, Kalinda appeared (in a leather jacket, of course) after Alicia had just finished drinking with Finn (Matthew Goode). She ordered two tequila shots "for the road" and explained the note she left Alicia two episodes ago was a confession if anyone from Lemond's crew should come after her friends.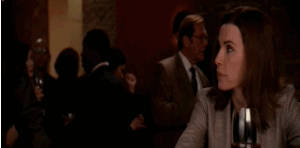 Earlier in the finale, Charles Lester (Wallace Shawn), Lemond's confidant, showed up at Alicia's apartment and Cary and Diane's office looking for Kalinda, prompting the MIA investigator to return to Cook County one more time.
Kalinda urged Alicia to give Mr. Lester the note to protect herself. But Alicia wouldn't. "A great thing happened when I lost the election: I gave up — anger, jealousy, what people thought, I just threw them overboard. It's nice not to care. It made me miss just sitting in a bar, drinking, with you," Alicia told Kalinda.
Then they ordered a second round. "I... uh... I don't really... I'm not very good at talking. I never have been, but I do need to say this: My time with you as your friend was the best I ever had," Kalinda told Alicia.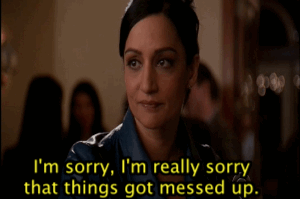 The moment did offer closure and made sense: Kalinda, a notoriously closed-off person, was finally direct and honest with Alicia about her feelings.
But as quickly as it started, the moment over. Alicia asked Kalinda if she'd ever see her again and Kalinda said she most likely wouldn't.
And with that, Kalinda and was off.
It was a scene Kalicia fans had waited years for, but again, there was a catch. Many on Twitter wondered if the scene was filmed in two separate takes and then spliced together.
If you look closely at Kalinda and Alicia taking a shot together, their elbows, almost oddly, don't touch. And when Alicia is looking at Kalinda, her eyes appear to be looking just to the left of where Kalinda is sitting, rather than straight on. Again, CBS did not respond to BuzzFeed News' request for confirmation that Margulies and Panjabi filmed this scene together.
Sadly, each Kalicia 'shipper must decide for themselves whether the actors actually shared one last shot of tequila.