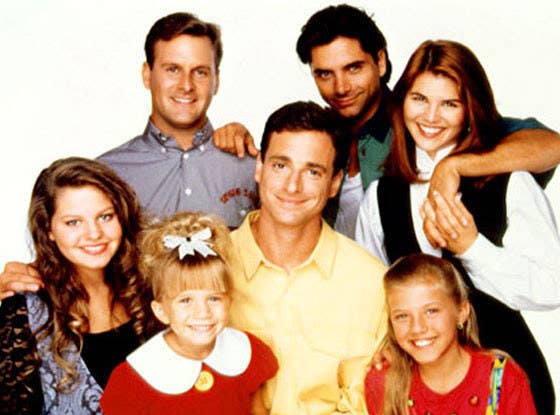 Since August 2014, rumors of a Full House spin-off show have been swirling. And on Monday night while appearing on Jimmy Kimmel Live, John Stamos finally confirmed that the new show is happening.
Netflix has ordered 13 episodes of a Full House spin-off, titled Fuller House, that will follow D.J. (Candace Cameron Bure), who now has three sons; her sister Stephanie (Jodie Sweetin); and her longtime best friend Kimmy (Andrea Barber). The series, which was first reported by TVLine, is set to be released in 2016.
Fuller House will begin just like Full House: A recently widowed D.J. — the mother of a 12-year-old, 7-year-old, and pregnant with her third son — finds a few extra roommates in her sister, Stephanie (who is following in her Uncle Jesse's footsteps and trying to be a musician), and her best friend Kimmy, who has a teenage daughter.
The first episode of Fuller House will be an hour-long Tanner family reunion, and Stamos, who is producing, told Kimmel they're trying to bring back as many original cast members as possible. The actor will reprise his role as Uncle Jesse in a guest-starring capacity, and, according to Netflix, Bob Saget (Danny Tanner), Mary-Kate and Ashley Olsen (Michelle Tanner), Dave Coulier (Joey Gladstone), and Lori Loughlin (Rebecca Donaldson Katsopolis) are all in discussions to guest star.
"We've been working on this for many, many years. The original creator, Jeff Franklin, and Bob Boyett and Tom Miller, we were trying to do some kind of spin-off. We wanted to give credit to the legacy. We didn't want to just sort of throw it away," Stamos told Kimmel. "It starts sort of as a reunion and then spins off. ... Candace has three boys and it's sort of a reversal. And we turn the house over to her. But it's a labor of love. We've been literally trying for so many years to do it right. And I think we finally got it perfect."
"The continued support of Full House fans of all ages for the last 28 years has been astounding. It is an honor and a thrill to catch up with these beloved characters and explore their lives today," executive producers Robert L. Boyett, Thomas L. Miller, and Jeff Franklin said in a statement released by Netflix. "The love you saw on the show was real. The cast has remained a loving family off screen all these years. We are as excited as our fans to finally bring Full House back to life."
Bure and Barber can't wait.