Five days after Sony canceled the Dec. 25 release of The Interview in the wake of threats from hackers who the FBI believes are in North Korea, the studio announced on Tuesday that the movie will have a limited release on its original Christmas Day date.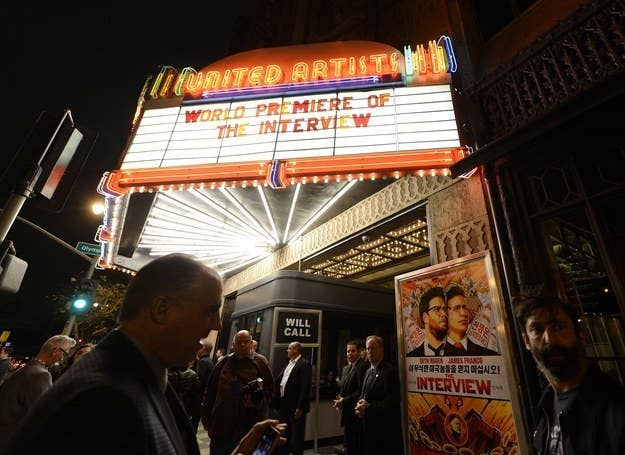 In a statement, Sony Entertainment's chairman and CEO said the studio is hoping to get the movie out on more platforms. According to a Sony spokesperson, The Interview will play in more than 200 theaters.
"We have never given up on releasing The Interview and we're excited our movie will be in a number of theaters on Christmas Day," Michael Lynton, chairman and CEO of Sony Entertainment, said in a statement obtained by BuzzFeed News. "At the same time, we are continuing our efforts to secure more platforms and more theaters so that this movie reaches the largest possible audience.
"I want to thank our talent on The Interview and our employees, who have worked tirelessly through the many challenges we have all faced over the last month. While we hope this is only the first step of the film's release, we are proud to make it available to the public and to have stood up to those who attempted to suppress free speech."
The news broke when Tim League, founder and CEO of Alamo Drafthouse Cinemas, tweeted on Tuesday morning that Sony had decided to authorize screenings, and released its showtimes.
In a statement, Alamo Drafthouse said The Interview will be playing at many of their locations and they will be releasing which theaters are screening the film and showtimes via twitter.
"We cannot imagine the pressures that have been affecting Sony, at all levels of the organization they have been under attack," Alamo Drafthouse CEO Tim League said in a statement. "Amidst this unwarranted chaos, they have regrouped and listened to the public, the government and the exhibition community and responded with resolve and determination. At 10:45 AM Sony bookers approved screenings at the Alamo Drafthouse Cinema and other arthouse and independent theaters across the country."
"This is the best Christmas gift anyone could give us. We, both distributors and exhibitors, have collectively stood firm to our principles and for the right to freedom of expression. Two days till Christmas, and I am proud to be an American."
Plaza Atlanta in Atlanta, Georgia, also tweeted screening times for the film.
Sony's original decision to pull the movie was met with tremendous backlash, from Hollywood, the White House, and potential viewers. On Friday, Sony issued a statement saying they were exploring other ways to release the film to the public on different platforms.
Though a few theaters have announced that they will screen the film, the three big U.S. chains — AMC Theaters, Regal Cinemas, and Cinemark — did not immediately return BuzzFeed News' request for comment as to whether or not they will show The Interview.
Seth Rogen couldn't be happier.
Franco also joked about President Obama flubbing his name — James "Flanco" — during a press conference last week.