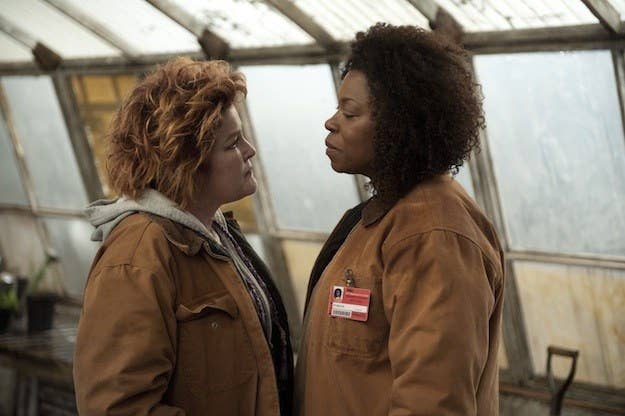 Sorry, Vee fans: Lorraine Toussaint will not be reprising her role as villainous Vee on Orange Is the New Black Season 3, Netflix confirmed to BuzzFeed News. Request for comment from Toussaint's reps were not immediately returned.
TMZ reported this morning that Litchfield's biggest bully was back on set filming today. But Netflix refuted those claims, stating, "She is not going to be in season 3."
Season 2 ended with Vee's fate unknown. After escaping the prison through a drain pipe in the greenhouse overseen by Galina "Red" Reznikov (Kate Mulgrew), the felon was hit by Miss Rosa (Barbara Rosenblat) — who was also escaping the prison via a stolen van — when she swerved off the road just enough to hit Vee head on and throw her over the front of the car. Rosa kept driving. "Always so rude, that one," Rosa said.
Toussaint couldn't confirm if Vee was dead or alive when BuzzFeed News spoke with her after Season 2 aired. "We're not sure if Vee is dead," Toussaint told BuzzFeed News. "She could be dead, she could not be dead. That's an open-ended question still. Isn't that a scary proposition? She might need to be dead. I don't know."
And while Vee's life will hang in the balance, at least for another season, the inmates can rest a little easier in their orange jumpsuits knowing the brutal manipulator won't be back at Litchfield this year.