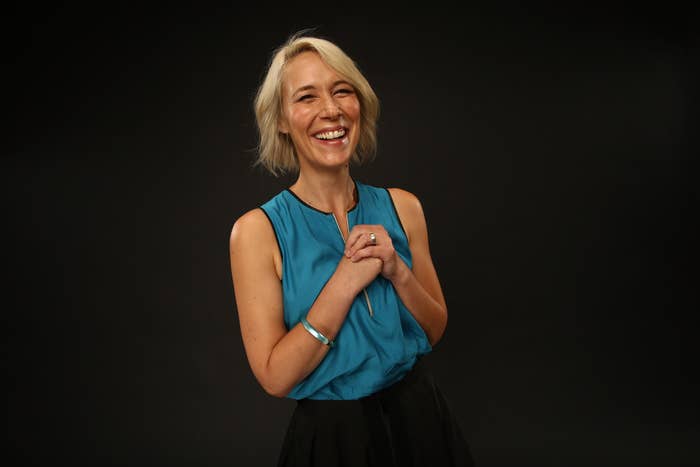 Liza Weil couldn't be further from Paris Geller, the overly confident, controlling character who made her famous after seven seasons on Gilmore Girls. "When I first got the material [for Paris], I was really unsettled. I was like, 'How on earth could they think this is something that is in me at all?'" the soft-spoken actress said with a laugh at a pizza parlor in Los Angeles recently. "I found her intimidating. I love Paris now, and I've always loved her, but it was scary to be a judgmental, mean girl."
Currently, Weil is also loving the role she's playing, that of Bonnie Winterbottom, one of two associates on ABC's How to Get Away With Murder who works with law school professor Annalise Keating (Viola Davis). "There's an odd ease on the set. There's an element that feels like we've been doing it forever. It feels like The Shining a little bit when you think about it, like, 'You've always been Bonnie Winterbottom, madame,'" she said, putting on her best horror movie voice. "She's new certainly and that's always a little daunting when you're taking baby steps with a character, but each chunk of information really does inform so much. I feel like I have a good handle."
But it wasn't always so easy for Weil to settle into a character, particularly with Paris. The actress, who was raised by parents who could have easily fit into the fictional quirky world of Stars Hollow on Gilmore Girls, was the polar opposite of her Connecticut alter ego in every sense. Though she was born in Passaic, New Jersey, she spent her childhood traveling around Europe with her mother, father, and their comedy troupe (a far cry from Paris' stuffy prep school upbringing). The family eventually moved to Pennsylvania, but Weil was still constantly surrounded by eccentric, colorful people, which helped shape her desire to get into acting. "My parents would take me along when they would play venues and I just would sit in the audience with a Coca-Cola and watch them do their act. I don't know who wouldn't find that appealing," she said. "It's kind of magic when you're a kid."
In her teens, Weil would commute into New York City after school to shoot PSA-esque projects, like movies shown in health classes about peer pressure. And very unlike Paris, Weil barely graduated high school and didn't go to college. Instead, she moved to New York permanently to pursue acting. She won the starring role in Susan Skoog's 1998 independent movie Whatever, and once it was released, she decided to relocate to Los Angeles. Almost immediately after her move, Gilmore Girls nearly fell into her lap. "Gilmore Girls kind of saved my life really, for being able to have a consistent job through my entire twenties while I was figuring out who I was and how to be a person," she said.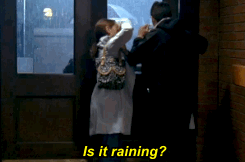 After her agent and manager sent her the script, Weil auditioned for the lead role of Rory (which ended up going to Alexis Bledel). Though she didn't get the part, she did get a phone call saying if the show was picked up, creator Amy Sherman-Palladino wanted to write an arc specifically for her. But the self-described shy actress initially had no idea how that arc — and Paris — came out of her audition. "My fully formed self now sees it as a huge compliment that that's what they came up with from me reading originally for Rory," she said. But she didn't always feel that way. Weil began to settle into Paris Geller, and eventually figured out what "made her tick," learning to enjoy the ride and appreciate the beloved frenemy that Gilmore Girls fans also grew to adore. "As we got out of the private school stuff, there was a specific look Paris had, and the way of speaking is very clipped. It just became a mask you put on. Paris could just do anything. Once I came to accept that, I had a great time," she said. "It was very freeing as a young actor to play somebody who didn't have any rules and it was a great lesson in me becoming a more grown-up actor to not judge your characters and know people are capable of anything."
And while Weil has not had a nervous breakdown on C-SPAN (at least not yet, she noted) she does have some traces of Paris left in her, nearly seven years after the show ended. "If I'm having a particularly challenging day, I'll hear myself and it sounds like Paris and it's scary!" she said. "Paris is going to be special to me for so many reasons. She's always there. She was my first real solid person I got to embody."
Weil is the first to acknowledge how unique an opportunity it was to be part of a cherished series like Gilmore Girls and it's something for which she'll always be grateful to Sherman-Palladino. "I will always do anything Amy asks me to do. Period," she said. The actress even took a role on Sherman-Palladino's 2013 one-season wonder Bunheads on ABC Family without ever seeing a script. "I got called to do that show and said yes blindly," she said. "I will, always, whenever Amy comes knocking, answer."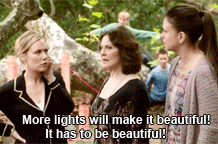 But another well-known TV producer has also shown up at Weil's metaphorical door in recent years. After Gilmore Girls ended, the actress got a call from the office of ABC powerhouse producer Shonda Rhimes, asking if she'd come in for an informal chat. Weil didn't expect anything to come from the discussion. "The meeting kept getting rescheduled for like several months, probably three months. I felt like my authenticity was diminishing every time the meeting got moved," she said with a laugh. "I went in and we just sat down and talked. She was lovely and that was it. A few months later, I got a call that there was a guest role on Grey's Anatomy that was really special to her and they'd like me to do it. I said 'Yes!' They couldn't tell me what it was and I blindly showed up and did it." Weil found herself playing Allison Clark, a cancer patient at what was then Seattle Grace Hospital who Izzie Stevens (Katherine Heigl) befriended during chemotherapy. Though the character died in her episode, Rhimes wasn't done with Weil yet: She brought the actress onto her Grey's spinoff Private Practice for another guest stint, and then, Weil went in to read for Scandal.
She auditioned for the roles of Abby Whelan (which went to Darby Stanchfield) and Quinn Perkins (which went to Katie Lowes). "I kind of freaked out a little bit in one of those auditions. I had a panic attack so it's also amazing that we've all bounced back from that," Weil explained through her signature deep, loud laugh. Her now-4-year-old daughter — with husband and Private Practice alum Paul Adelstein — was still very young at the time and she was hesitant about taking on a full-time role. "As it was happening, it was probably just the worst audition experiences of my entire life. I ended up doing that thing where I started narrating everything I was feeling. So it didn't go well," she admitted. "But it worked out the way it was destined to work out and I'm incredibly grateful."
Instead of joining the cast, Weil was given the recurring role of Amanda Tanner, a character whose storyline was very important to leading lady Olivia Pope (Kerry Washington) and fans in the show's first season. But when Amanda met her end, her lifeless body being pulled out of the river toward the end of Season 1, everyone was appalled... except for Weil. "The day Amanda was pulled out of the water, that was the best day of my entire life," she said with a huge smile. "Shonda Rhimes had taken me to her office and told me Amanda was going to meet her demise and how it was going to happen. I was like, 'Can I please do that? I really want to do that!' You're not allowed to have the actor under the surface so there was a double who dived down and I was able to float and then be pulled up. How often do you get to have a dead river moment? Not very often!" she said gleefully. "I was just hanging above the river from the crane and it was the best. I remember watching Katie and Kerry and doing a dance and waving to them. It was so fun!"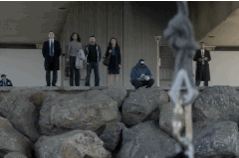 Now, after five years of guest-starring on Rhimes' series, Weil is finally stepping into a series regular role this fall in How To Get Away With Murder, the third component in the new solely-Shonda Thursday night lineup. "I got a call to go in and read. I was able to read the script beforehand, but I would have gone into that blindly," Weil said of her confidence in Rhimes. "My character's name is Bonnie Winterbottom, so that's it really," she added, half-joking about what attracted her to the role. "I think that Bonnie knows a lot," she continued, more seriously. "She probably knows all of Annalise's secrets and is probably going to learn more things. It's interesting to me to see how somebody is able to function with that much information," Weil said, noting that the cast acts "like rabid dogs" when a new script arrives. "I think everybody is suspect and, as the season evolves, you're going to find out just how far each character will go to win Annalise's approval and for their own survival. It's a very high-stakes show and it's a lot of internalized behavior and that's a new thing for me. It's a lot of fun."
But one of the most exciting challenges for Weil with How to Get Away With Murder is playing a character her own age. "I've always played people who are considerably younger, so it's nice to be playing a grown-up," she said. "Bonnie is a grown-up. She's a serious lady, man. Bonnie is very much navigating and delegating to the students. The students are the only people Bonnie and Frank [her fellow associate, played by Charlie Weber] can assert their power over and I think they're enjoying that. Bonnie presents as more warm, but she does have an edge. I can relate to her."
The actor did a lot of research in anticipation of the role. When she was initially cast, she spent three months binge-watching CBS's The Good Wife, another legal drama, to try to gain a better understanding of the lingo. And she's put watching one of her favorite shows, WE's The Divide, also a legal drama, on hold since How to Get Away With Murder started shooting out of fear the shows would cross. "Watching something else feels like a betrayal, even to our [fictional] clients. It's like, 'What are you doing? You need to find the defense!'" she joked.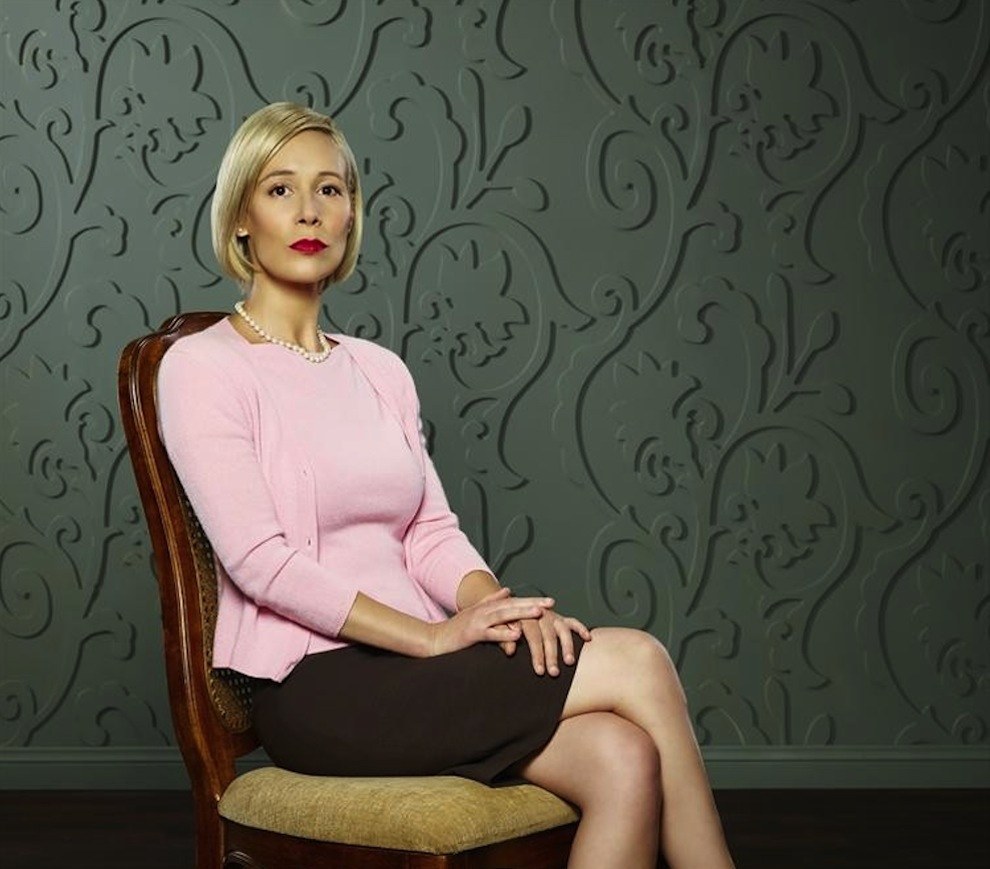 Bonnie will be Weil's biggest role to date, but the actress is still part of a large ensemble. Obviously the character is an integral part of Annalise's operation, but it's clear Davis is the show's star. Still, Weil's fine standing among the chorus. "I'm not looking to stand out," Weil said. "I'm trying to bring a fully formed, interesting, compelling person into that mix and whether she stands out is sort of out of my control. It's a really good company to be in, so I'm really OK just being there and, hopefully, being interesting. ... As Liza, I hope to stick around! But if it helps the story I'll do whatever they need me to do."
Clearly, the actress has learned a lot from watching Paris evolve on Gilmore Girls, taking How to Get Away with Murder day by day and not judging Bonnie, instead fully embracing whatever comes her and the character's way. "I'm very happy right now," she said. "I'm on this really exciting smart show. I love everybody I'm working with. It's four minutes from my house. It's right next door to the Scandal people. I get to say hi to them every day. It's good stuff. I really want for nothing at this moment. I'm just looking at every day as a new challenge. And that's what's so great about this job."